Club Achievements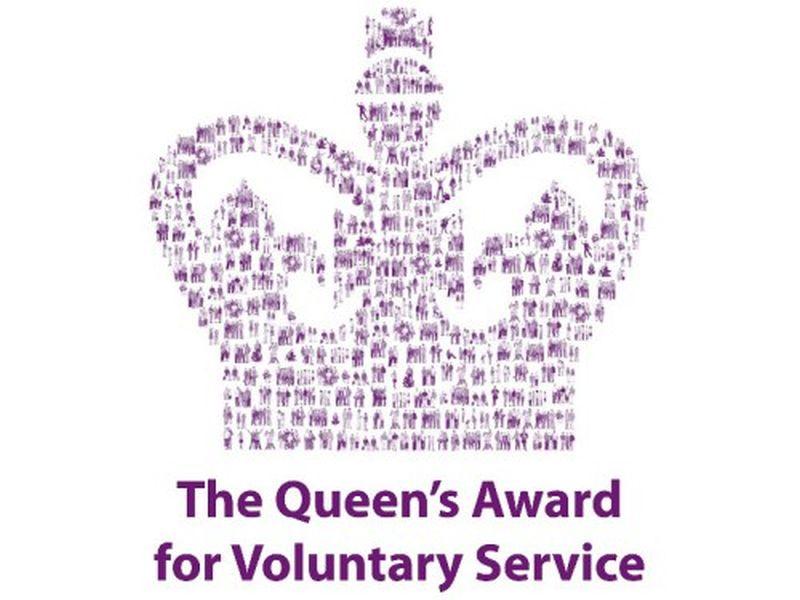 During the current and past Rotary years, Elgin has received various awards for the work the club and the individual Rotarians carry out.
The Queens Award for Voluntary Service
Rotary Club of Elgin, in 2015 has been award The Queen's Award for Voluntary Service. Recently at our meeting Grenville Johnston, an honorary member and Lord Lieutenant of Moray announced this to to the club. Below is a sumary of the announcement
"President Lawrence, Rotarians, Ladies and Gentlemen
The Queens Award for Voluntary service is the highest award given to volunteer groups across the United Kingdom. It is known as the MBE of Volunteers.
I am delighted to announce that the Rotary Club of Elgin has been awarded this honour.
Specifically the bar is higher for local groups who are part of a national or international organisation. To achieve this honour requires an organisation to have quite outstanding idea's, enthusiasm and people. All of you who are in involved with the club have that in abundance.
The citation for the Award states "An ambitious, innovative and successful programme of activities are delivered annually for local and international initiatives. Funds raised support and encourage many other voluntary organisations in delivering their essential services.
President Lawrence when I received the news I wrote to our Honorary Member HRH the Princess Royal to inform her. I received the following reply:
Her Royal Highness was very pleased to read that the club is to be awarded The Queen's Award for Voluntary Service 2015 and sends her congratulations and best wishes to the club for their significant achievement.
Ladies and Gentlemen this is perhaps one of the most historic awards that the club has received. In due course the award will be presented to you and we might have a party!!
Grenville Johnston
H M Lord-Lieutenant of Moray
Paul Harris Fellow
Like many Clubs in the UK, a Paul Harris Fellowship is awarded by the Rotary Club of Elgin to individuals who have given outstanding service. The award is made to Rotarians and non-Rotarians in recognition of the work they have done. Members of the Elgin Club have been recognised over the years within the Club and also by other Clubs within the wider Rotary family.
Paul Harris Fellowships have been presented by Elgin Club to it's own members; Alistair Russell, Alex Scott, Raymond Wood, Glen Elliot, Jim Young, Brodie Ross, Graeme Archibald, David Small, Iain Jamieson, Carol Stewart, Bill Ross and Bill Duncan.
The club also conferred the honour on non-Rotarian Sally Wood Lamont.
As a result of the successful Golf Exchanges between Elgin and the Rotary Clubs in Pennsylvania, the Pennsylvanian Rotarians conferred Paul Harris Fellowships on four Elgin Rotarians;John Grigor, Jim Young, Raymond Wood, and Glen Elliot.
President Andy Jamieson presented IPP Sandy Ritchie with the Paul Harris Fellowship Award on the occaision of 2017 Christmas Party for his services to Rotary. Sandy has had many accomplishments within Rotary. In his Presidential Year he took it upon himself to champion two projects. The first of these projects was the introduction of a Rotakids Club at New Elgin Primary School and this club has gone from strength to strength and inspired other schools to establish Rotakids.His second project during his Presidential year was to pick up the baton on Sally Magnusson's Playlist for Life initiative which assists dementia sufferers through introducing music they have known in their lives.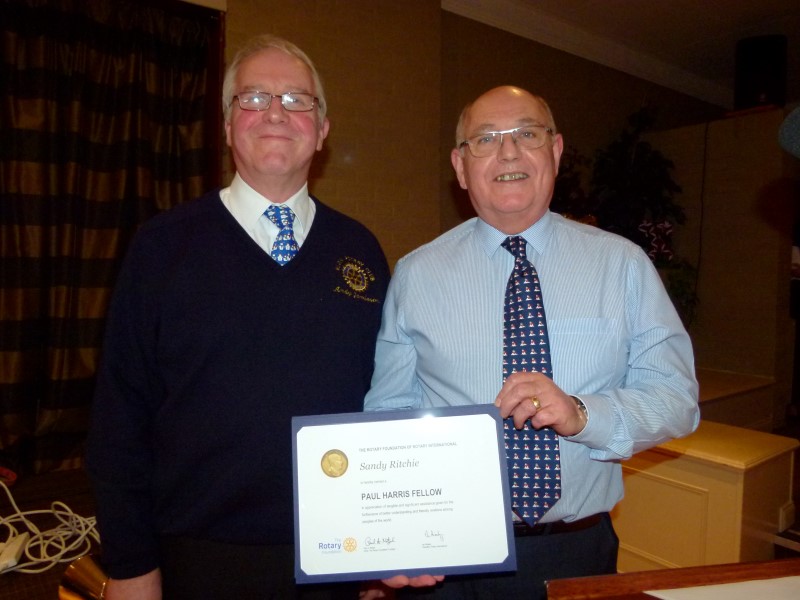 St Andrews Quaich
This trophy was donated to the club by the Rotary Club of St Andrews. It is presented on an annual basis to a Club Rotarian, who has excelled in some way during the Rotary Year.
Previous years winners of this Quaich have been Ian Davidson, Lorna Williamson, Michelle Anderson, Kate Asher, Carol Stewart, Finlay Weir, Ian Shayer, Iain Jamieson, G. Alistair Campbell, Lawrence Fraser, Graeme Archibald, Brodie Ross, Iain Maccartney, Jim Young and Glen Elliott
2018-19 Winner is Brenda Munro on presenting President George said "Brenda has been the inspiration and the driving force and has consequently put in many hours of work in coming up with the idea and developing both the Elgin Rotary Club Triple Challenge and Rotafun. Brenda clearly is a very deserving recipient of this award."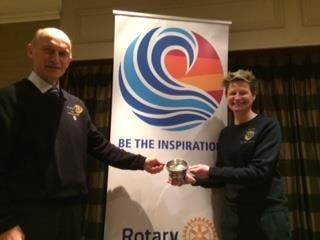 Stepping up to the Plate
This award is chosen and presented by the President, to a Rotarian who has done just that - "stepped up to the plate" and contributed above and beyond that of normal expectiations.
President Andy Jamieson presented the award to Past President Hugh Carter saying "this award is all about your contribution to the club during my Presidential year. I was delighted when you agreed to become the Convenor of the Youth Committee. I was fully aware that this was a very busy committee and would require a committed and dedicated individual as the Convenor. You have led your committee from the front and with your guidance they have successfully completed many projects and youth competitions as well as RYLA, ERLI, and Moray Young Citizens Awards.
For me, one of the highlights of your achievements is the successful Reinvigoration of the School Liaison Group which now has all secondary schools in our area including Gordounston fully and actively engaged.
You have desmonsrated your continued commitment to Elgin Rotary Club through your leadership of the Youth Committee, always ensuring that all targets were met and projects delivered on time.
On a personal note I thank you for all the support and guidance you have provided to me since I became President.
Previous Award Winners
2017 Margaret Stenton
2016 Lorna Williamson
2015 Neil Cruickshanks

Rotary Community Awards
Rotary Club of Elgin, for the past few years have also passed out awards to others within the area, recognising the works that they have done
Community Awards
2018 - May Gilchrist of Coast to Coast, Charity Walk, Cycle or Horse Ride in aid of Macmillan Cancer Support

2017 - June Roy
2016 - Elgin Street Pastors and Andy Simpson
2015 - Fochabers Fiddlers
2015 - Moray Curling Development Group and Cantare and Friends
2014 - Pam Gillan for services to music in Moray and the Directors of Piping at Forres
Young Citizen of the Year
2018 - Kurtis McQuade of Keith Grammer School
2017 - Heather Prentice of Forres
2016 - Scott Fiske of Elgin
2015 - Emma Main and Laura Jane Smith of Buckie
2014 - Angus Lawson of Elgin
Robertson Construction - Elgin Rotary Shield
2017 - Awarded to two Top Craft Apprentices, the first time in the 35 years. The winners were Kyle Florence the Joinery Nominee from Huntly and David Balfour the Brickwork Nominee from Ballindalloch.
2016 - Mateusz Markuszewski, Joiner (David Urquhart Joiners)
2015 - Sutherland More, Electrician (Tullochs)
2014 - Steven MacKenzie, Electrician (McDonald & Munro)
Sport Moray Special Achievement Award

2016 - Craig Barron
2015 - Callum Jacklin
2014 - Daniella Holder and Daniel Breerton
2013 - Alastair Hay
Elgin Strathspey & Reel Fiddle Competition (Under 14's) Bow & Shield Award
2017 - Rosie Winchester, Keith
2016 - Rosie Winchester, Keith
2015 - Rosie Winchester, Keith