Club Achievements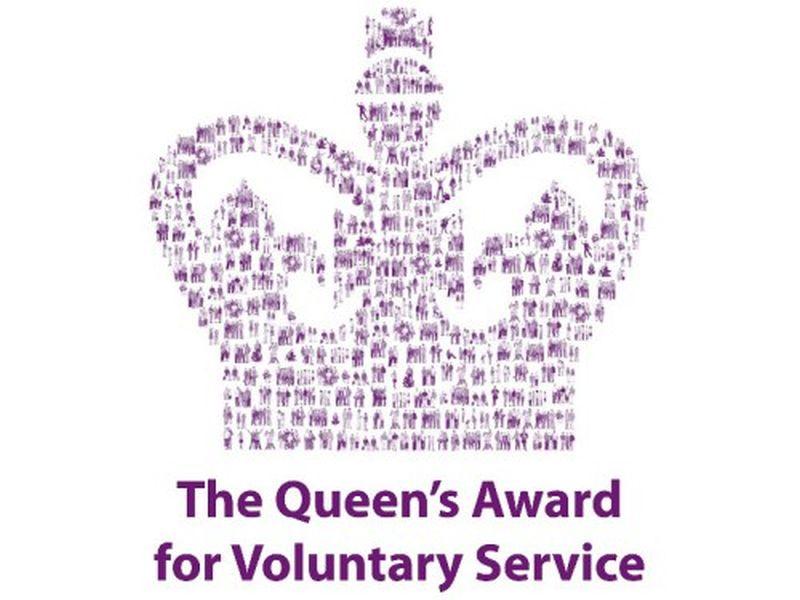 During the current and past Rotary years, Elgin has received various awards for the work the club and the individual Rotarians carry out.
The Queens Award for Voluntary Service
Rotary Club of Elgin, in 2015 has been award The Queen's Award for Voluntary Service. Recently at our meeting Grenville Johnston, an honorary member and Lord Lieutenant of Moray announced this to to the club. Below is a sumary of the announcement
"President Lawrence, Rotarians, Ladies and Gentlemen
The Queens Award for Voluntary service is the highest award given to volunteer groups across the United Kingdom. It is known as the MBE of Volunteers.
I am delighted to announce that the Rotary Club of Elgin has been awarded this honour.
Specifically the bar is higher for local groups who are part of a national or international organisation. To achieve this honour requires an organisation to have quite outstanding idea's, enthusiasm and people. All of you who are in involved with the club have that in abundance.
The citation for the Award states "An ambitious, innovative and successful programme of activities are delivered annually for local and international initiatives. Funds raised support and encourage many other voluntary organisations in delivering their essential services.
President Lawrence when I received the news I wrote to our Honorary Member HRH the Princess Royal to inform her. I received the following reply:
Her Royal Highness was very pleased to read that the club is to be awarded The Queen's Award for Voluntary Service 2015 and sends her congratulations and best wishes to the club for their significant achievement.
Ladies and Gentlemen this is perhaps one of the most historic awards that the club has received. In due course the award will be presented to you and we might have a party!!
Grenville Johnston
H M Lord-Lieutenant of Moray
Paul Harris Fellow
Like many Clubs in the UK, a Paul Harris Fellowship is awarded by the Rotary Club of Elgin to individuals who have given outstanding service. The award is made to Rotarians and non-Rotarians in recognition of the work they have done. Members of the Elgin Club have been recognised over the years within the Club and also by other Clubs within the wider Rotary family.
Paul Harris Fellowships have been presented by Elgin Club to it's own members; Alistair Russell, Alex Scott, Raymond Wood, Glen Elliot, Jim Young, Brodie Ross, Graeme Archibald, David Small, Iain Jamieson, Carol Stewart and Bill Ross
Recently Bill Duncan (Past President) was awarded with a Paul Harris Fellow.
Bill has been active in the International projects that have been organised by this Club, and with others has visited other Clubs in D1010 to present the details of our work improving water & sanitation to communities in Nepal, and elicit donations towards these projects. He and his wife have been on two of the fact-finding trips to Nepal, the last of which in his role as Convener of our International Committee.
His International involvement has also been associated with the work that this club carried out in support of schooling and medicine in Cluj, NW Romania.
Bill a "hands on" person, who is always willing to help out with his practical skills – whether at Bothy Ballads, Marafun/Motorfun or refurbishment projects that we have taken on for community bodies. In doing so, and showing this commitment, he has displayed those high ethical standards expected of the dedicated Rotarian that he is. He is always there to provide wise council and advise when asked, and his views are well respected by the Club.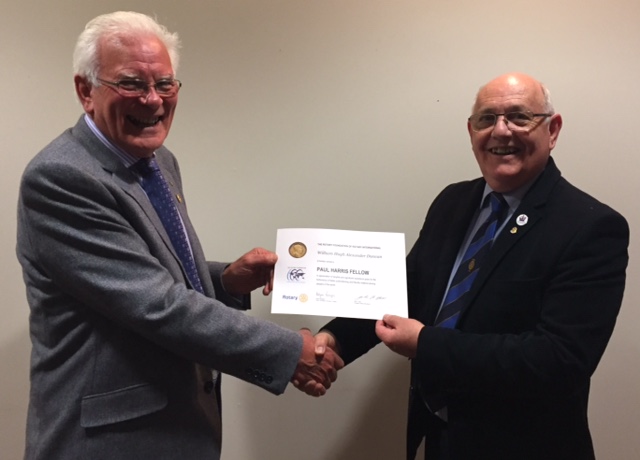 The club also conferred the honour on non-Rotarian Sally Wood Lamont.
As a result of the successful Golf Exchanges between Elgin and the Rotary Clubs in Pennsylvania, the Pennsylvanian Rotarians conferred Paul Harris Fellowships on four Elgin Rotarians;John Grigor, Jim Young, Raymond Wood, and Glen Elliot.
St Andrews Quaich
This trophy was donated to the club by the Rotary Club of St Andrews. It is presented on an annual basis to a Club Rotarian, who has excelled in some way during the Rotary Year.
Previous years winners of this Quaich have been Michelle Anderson, Kate Asher, Carol Stewart, Finlay Weir, Ian Shayer, Iain Jamieson, G. Alistair Campbell, Lawrence Fraser, Graeme Archibald, Brodie Ross, Iain Maccartney, Jim Young and Glen Elliott
This years winner, Lorna Williamson - somone, when something needs to be done, you can rely on this person to get their sleeves rolled up and both organize and perform the tasks that are required.
Lorna has been a leading light in youth activities – PSQ, writing, chef, photographer competitions and an ever present supporter to the Rotoract Club. And when there is any requirement for catering requirements – coffee mornings, food and drink tents, BBQ skills and the like, you can always rely on this person.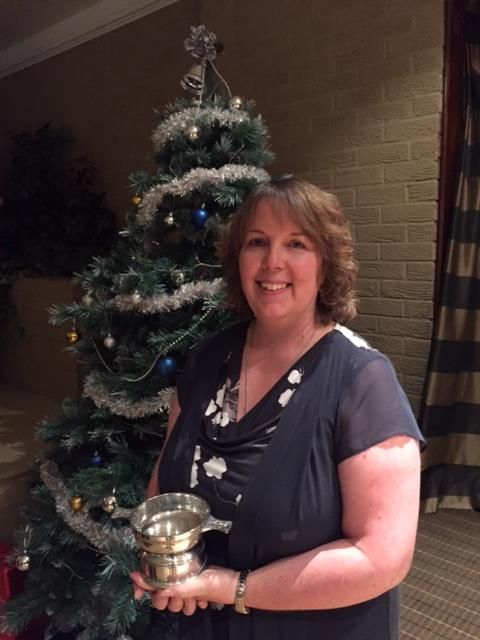 Stepping up to the Plate
This award is chosen and presented by the President, to a Rotarian who has done just that - "stepped up to the plate" and contributed above and beyond that of normal expectiations.
President Sandy Ritchie chose to award Secretary Margaret Stenton with this award in the closing lines of his farewell speach. He thanked "Secretary Margaret for her support, her advice and direction, her knowledge of Rotary and this Club throughout not only his year in office but the two previous years under Presidents Donald Miller and Lawrence Fraser remarking we are all indebted to your sterling effort and as you are now about to stand down after 3 years of service, I would like to take this opportunity to thanking you for "stepping up to the plate" by presenting you with – The Plate."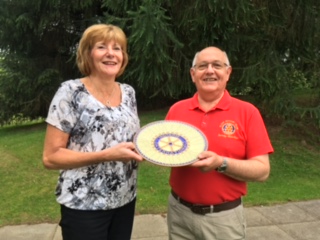 Previous Award Winners
2016 Lorna Williamson
2015 Neil Cruickshanks
Past Winner of this award was Neil Cruickshanks for his work as convener for our International Committee for the past year. Neil, on hearing the news of the Nepal Earthquake, within 24 hours had contacted various organisations who agreed for Rotary to carry out collections in the stores for the Earthquake. Through the collections and other fund raising activities the club has raised in excess of £13,000 for the disaster fund.
President Donald awarded Lorna Williamson with the plate for her efforts in a year that not only extended to the responsibilities of Convenor of our Youth Committee, but went much further. Lorna literally stepped up to the plate to take charge of the Motorfun and Picnic in the Park catering as well as organising the food and fare for the Internationail Garden Party
Rotary Community Awards
Rotary Club of Elgin, for the past few years have also passed out awards to others within the area, recognising the works that they have done
Community Awards
2016 - Elgin Street Pastors and Andy Simpson
2015 - Fochabers Fiddlers
2015 - Moray Curling Development Group and Cantare and Friends
2014 - Pam Gillan for services to music in Moray and the Directors of Piping at Forres
Young Citizen of the Year
2017 - Heather Prentice of Forres
2016 - Scott Fiske of Elgin
2015 - Angus Lawson of Elgin
2014 - Emma Main and Laura Jane Smith of Buckie
Robertson Construction - Elgin Rotary Shield
2016 - Mateusz Markuszewski, Joiner (David Urquhart Joiners)
2015 - Sutherland More, Electrician (Tullochs)
2014 - Steven MacKenzie, Electrician (McDonald & Munro)
Sport Moray Special Achievement Award

2016 - Craig Barron
2015 - Callum Jacklin
2014 - Daniella Holder and Daniel Breerton
2013 - Alastair Hay
Elgin Strathspey & Reel Fiddle Competition (Under 14's) Bow & Shield Award
2016 - Rosie Winchester, Keith
2015 - Rosie Winchester, Keith