President for 2015/16
Meet new president Sarah Hiscocks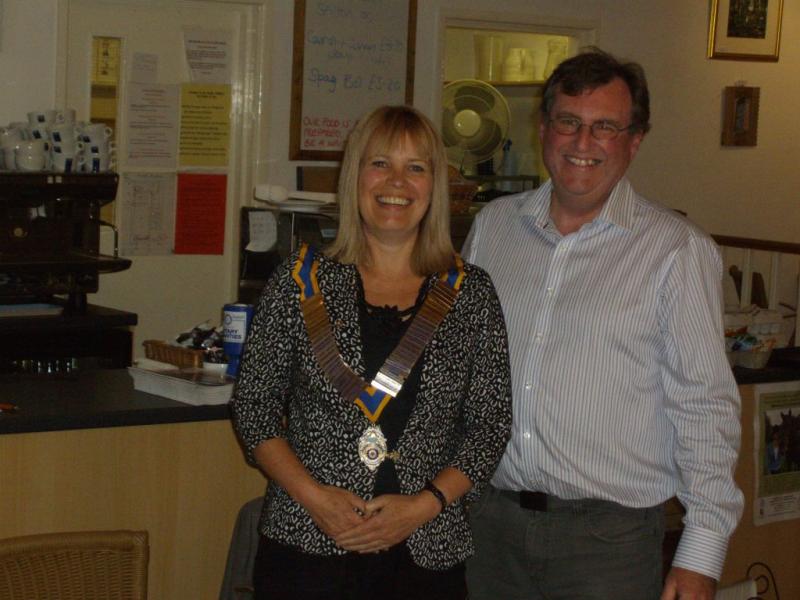 The new rotary year begins on 1st July, outgoing Melksham Rotary President handed over to Sarah Hiscocks at the annual handover meeting in June, in turn Sarah handed over the president elect role to Verly Ives who will be club president in 2016/17.
It is traditional for the incoming president to thank the past president for their leadership and hard work, in Steve's case reference was made to the match funding grant for the Senegal project with the Rotary Club of Guingamp, and then for the incoming president to few words on their coming year. Sarah spoke of her intention to carry on with the good work that Steve had started in Senegal, plus hopes that the forthcoming year more community activities could take place in the Art House Cafe, alongside the normal cafe activities.
Sarah joined Melksham Rotary in 2013, having been a member of Wessex Mead Rotary in Trowbridge for 11 years. One of the attractions of the club was the Art House Cafe, and although Sarah works full time as a Project Manager, she often volunteers on Saturdays in the cafe too. When asked what she will bring to the club as a president she replied "enthusiasm for our current commitment to serve the residents of Melksham and to continue in our fundraising and service activities in the town"