FOODBANK COLLECTION AT TESCO
Wadebridge Rotary Club assists a Food Bank collection.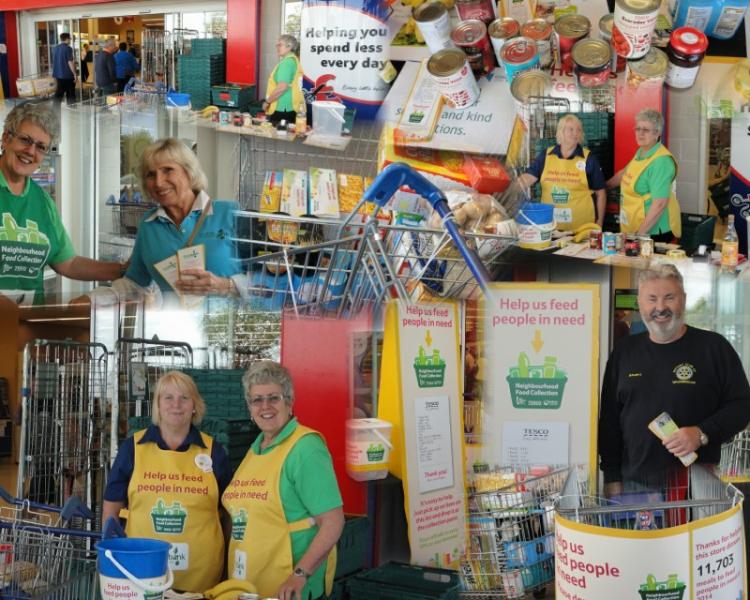 RESULT OF COLLECTIONS
The collections of food at Wadebridge and Padstow Tesco stores over the three days totalled 2.5 tonnes. This will provided meals for 6,177 local people in crisis. Wadebridge FoodBank thanks all who donated and to all the volunteers who helpd in the collections.
Foodbank, Tesco & Wadebridge Rotary Club join hands to help
"Did you know 4,000 children and 5,300 older people in North Cornwall are living on the edge of poverty?" So how can we stand to one side and not do something to help – one day through no fault of our own making we too may find ourselves in this statistic.
A number of Wadebridge Rotary Club members gave their time, alongside Jackie and others, like Vera, from the Foodbank to approach the shoppers at Wadebridge Tesco on Friday and Saturday at the beginning of July, with a simple question along the lines of: "Do you think, when you are going round the store today, you drop an extra item or two into your trolley and leave it for the Foodbank as you leave?" Foodbank's mission is to provide for those who are in crisis and have nowhere else to turn - three days' worth of nutritionally balanced food in exchange for a foodbank voucher.
And, you will be unsurprised to learn that the vast majority said "Yes, of course, what sort of things are you looking for?" Volunteers gave out a short, but relevant, list of items that are considered most useful and appropriate to those in need of help as supplied by the Foodbank. There's nothing more complicated to it than that, really.
One really interesting issue arose as, rather uninformed volunteer (yes, it was me), was asked by a disgruntled shopper "Is Tesco making yet more money out of this exercise?" Stumped for an answer this volunteer quickly made a point of seeking out those who knew better what the position was. And at this juncture, Jackie of the Foodbank was, fortunately for this volunteer, joined by Marion Willetts, recently appointed as the 'Wadebridge Tesco Community Champion' – who better to ask!
And this is what I learned: "We (Tesco) weigh all the items donated by customers, at the end of the day, and place a monetary value on each kilo weighed, spread equally across the goods donated. Then we total up this value and add one-third of this sum in cash, which is paid directly into the Foodbank account." "So", I said "Tesco is making a contribution of some considerable value to this collection? "Yes" said Marion "and that's our way of being partners in this great enterprise to help people in local communities". On a personal note, I was delighted to hear this explanation – I can tell you, it made me feel a whole lot better as I stood there asking Tesco's customers to make a small contribution to help those in, hopefully, temporary need.
So a HUGE thank you to the Wadebridge Tesco shoppers and customers for your generosity and understanding – Wadebridge Rotary Club are delighted to be able to play a very small part in this great project; it shouldn't be needed, but it is.
Report and photo collage by Graham Renwick