Twinning with the Rotary Club of Lille Vauban
We have been twinned with the Rotary Club of Lille Vauban for a number of years. Each year we try to visit our twin club or to host a visit by their members.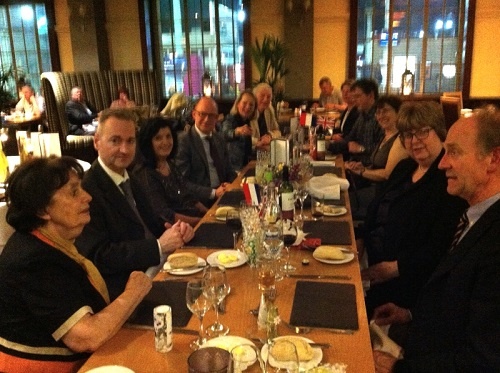 There have been several visits to and from our Twinned Club, the Rotary Club of Lille Vauban. The latest visit was in November 2016, when Bill attended a World War One Commemoration, kindly hosted by our friends at the Rotary Club of Lille Vauban.
In 2015, we hosted members and guests from the Rotary Club of Lille Vauban. Our guests arrived on Friday evening when they were able to rest after their journey and eat a meal in their accommodation. On Friday we travelled to York. The trip coincided with the Tour de Yorkshire in York, of which we saw a little, but we mainly proceeded to a tour of our own - namely a tour of York Minster. We had lunch in a city hostelry, where some of our guests tasted the delights of plate-sized Yorkshire puddings and gravy and, of course, the local ale, in front of a welcoming log fire on what was a rather chilly day.
On Saturday evening we returned to Hull for a very enjoyable meal at the Mercure Hull Royal Hotel, where our club normally meets.
On Sunday morning we enjoyed a walking tour of Hull, led by Malcolm Sharman, husband of Dot and member of the Civic Society, which, in spite of the rain, was most interesting. We then went to Janet's appartment overlooking the marina for an aperitif and some excellent hospitality before a meal at the Minerva pub close to the marina, where many of our guests sampled the delicious fish and chips.