WHEELS 2015 A GREAT SUCCESS
Report & Slideshow of Wheels 2015
A Rolls Royce of a Year! Another Wheels, Another Record!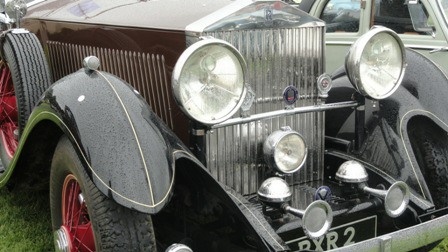 Wheels 2015 turned out to be an event that became an overnight success after 19 years! "That was the best yet" said one "I had no idea it was so big" said another "Can't wait 'til next year" said a third!
A record number of pre-registered vehicles (around 1000), a record number of paying public through the gate (circa 2500) and if anyone counted the under 12s then the number of public on site, including the Exhibitors and Auto Jumblers & Traders with most having two per vehicle, must have been around 5000! Add to that total the Police, Air Force and Army cadets along with the caterers, children's entertainers and the army of volunteers, then WOW! What a year.
The Rotary Club of Wadebridge, for whom Wheels 2015 was the biggest event ever undertaken, wants to say an ENORMOUS THANK YOU to everyone involved. Through your endeavours and generosity we believe the nett proceeds, from Wheels 2015, for distribution to Children's Hospice South West, The MacMillan Cove Appeal, People & Gardens Cic and many other local charities, organisations and projects will be in excess of £19,000!!!
As this is written more positive comments arrive, such as "Thank you to all involved for a wonderful day, it just keeps getting bigger and better!!! All at Scoobybits Subaru Club Cornwall. Had a great day!!! See you again in 2016" and "I'm sure I speak on behalf of all the BMW Southwest UK club, a truly fantastic day. A great array of old to modern. Looking forward to celebrating the 20th anniversary with you next year". And from a neighbouring Rotary Club in Lostwithiel, who have been great supporters of Wheels over the years, came: "Well done for such a great event. What a wonderful selection of classic cars and such friendly people. You all deserve a pat on the back. Such a winning formula, and everything goes to good causes".
Winners this year are: Best in Show, Wolesey 21/60; Best pre 1960, Green Ford Popular; Best Post 1960, Red Jaguar 3.4; Best Stationary Engine, Bamford Clipper Chaff Cutter; Best Motorcycle, Norton Commando VMCC/108; and Best Commercial, 1947 Austin 3 Tonner. Congratulations and thanks to you all – prizes were graciously presented by Wadebridge Town Mayor, Cllr Pamela Starling.
Report by Graham Renwick. Photos by Jane Pickles