Latest Turton news

Nursery grateful for donation
Turton Rotary Club's donation of £500 to the Alexandra Nursery in Bolton, was gratefully received by headmistress Mrs Barbara Kenny as it helped the nursery buy a large amount of outdoor play equipment and trollies for wheeling them in at night to prevent vandalism, which is a serious problem in their area.

Andrew's gift to charity
Past president Andrew Waller hands over a cheque for £580 to the Wipe your Tears charity based in Farnworth, which helps families with young children, especially from broken homes.
Andrew presented the cheque to Wendy Hutchins, chief executive and her daughter Genny the charity coodinator with Liz Waller looking on.
Turton plan a big night out

TURTON Rotary Club are hoping for a full house when they host a charity evening in aid of the Christie NHS Foundation Trust.
Star performers Arthur Writeus and the Hip Joints will be topping the bill at Dunscar Conservative Club on Friday, October 20, starting at 7pm with Gary Ryan, starring as Neil Diamond, in support.
Tickets cost just £10 including supper and anyone interested contact Peter Gaskell on 07860237062 or email him at petergaskell99@gmail.com.
Helping hand for local charity

Immediate past president Andrew Waller (left) hands over a cheque for £500 to Christine Ogden, a local organiser from Muscular Dystrophy UK, as president Peter Gaskell looks on.
Former members make a welcome return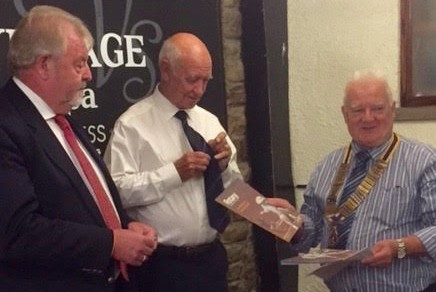 Welcome home for Graham Howarth (centre) and Bill Taylor, former members who returned to the club and were inducted by president Peter Gaskell.
Peter's 'Smarties' idea proves a winner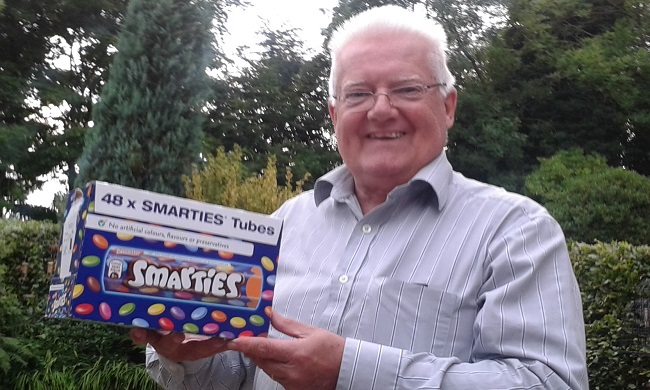 TURTON Rotary Club's new president has come up with a smart plan to raise mone.
Peter Gaskell has decided to replace the weekly 'box for others' collection at the Thursday meetings with a box of Smarties he is hoping the members will fill with 20 pences.
He said: "I thought 20 pences would fit in there nicely so decided to give every member a box of Smarties and hope they return it full at the end of 12 weeks.
"Each box holds about £10 worth so we could raise about £200 every three months.
"That will be divided equally between Foundation and local charities and the club will also benefit as it will be gift aided."
Peter takes the Turton hot seat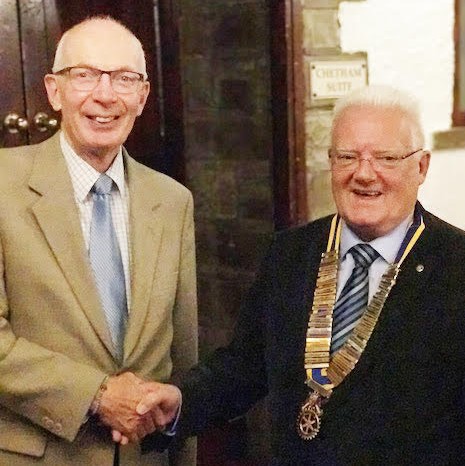 Peter Gaskell (right) takes over as President of Turton
Rotary Club from Andrew Waller
Big finish to another duck race succes

TURTON Rotary Club members pictured with their basket of ducks just prior to the big race. (Picture courtesy The Bolton News)
IT was a photo finish at this year's Turton Rotary Club duck race when thousands of pounds were raised for 35 local charities.
The final stretch saw a group of a dozen ducks all bunched together as they bobbed their way down the fast-flowing Bradshaw Brook, cheered on by a large crowd who had come out to support the annual event.
It was an exciting finale to another successful day at Bradshaw Cricket Club, with families lining the route.
The final figure of £7,500 was not as high as in recent years but organisers were still delighted with the outcome.
The competition sees 2000 numbered plastic ducks, which all correspond to tickets sold, released into the brook over two heats with each of the winners going into a grand final. First duck home wins the £1,000 first prize with four more cash prizes. There is also a children's race, with tickets bought on the day, which was won by Shannon Parkinson.
Race organiser Jim Turner was delighted with the response.
"It was perfect duck racing weather as we had a fast-flowing stream that kept the ducks moving," he said. "Thanks must be given to our sponsors and everyone who helped make it another successful day and all the hard work worthwhile."
Some of the many charities to benefit this year include Lagan's Foundation, Walmsley Unitarian Church, Griffin Explorers and Derian House.
Mr Turner added: "The duck race has probably been going now for 25 years and it has grown over the years.
"It has become a part of the social calender.
"A number of charities sell tickets to raise money and we and other rotary clubs sell tickets too.
"This year we have had a lot of local businesses support the duck race and from that alone we have raised £3,000 for which we are very grateful."
The first prize of £1,000 went to Jon Makin from Little Lever, second prize of £200 to Edith Pierce from Horwich, third prize of £100 won by Graham Howarth, fourth prize of £75 by Joy Sherlock and fifth prize of £50 was won by Roy Edge.
Click on 'What We Do' at the top of the page and then Turton Duck race for more pictures.