Nepal - Rebuilding the Bhumlichok Community Centre
We have funded the rebuild of Bhumlichok Community Centre
Bhumlichok
During August 2015, the Rotary Yorkshire District were contacted by Major Lil Bahadur Gurung MBE of the Rotary Club of the Himalayan Gurkhas (based in Khatmandu). He had overseen a survey of some of the remote village communities in Nepal which were devastated by the earthquakes in April and May 2015. From this survey they had compiled a list of the most important projects for which they were requesting our assistance.
All the projects have been taken up by various clubs in the Yorkshire District. Our part in this was to fund the rebuilding of the community centre in the village of Bhumlichok.
This village is very remote and very small farming community. It had some 350 people living in 88 houses, of which 70 were destroyed and the remaining 18 badly damaged. Most of the villagers were now living under tarpaulins. This was been manageable during the monsoon season, but presented severe problems during the winter.
There was a women's community centre in Bhumlichok, now destroyed. The idea was to rebuild the centre, and use it for temporary housing during the winter months. It would accommodate perhaps 12 families in communal spaces internally divided by tarpaulins. In spring, rebuilding of houses would recommence and when the families could be re-housed the community centre would revert to its prime use.
The cost of rebuilding was estimated at £3150. The magnificent response to our 2016 Desktop Calendar initiative raised this amount and we have sent the funds to Nepal.
While some progress was made, the project had been held up by the great difficulties being experienced in importing vital supplies from India - which have now been eased enabling the rebuild to be progressed.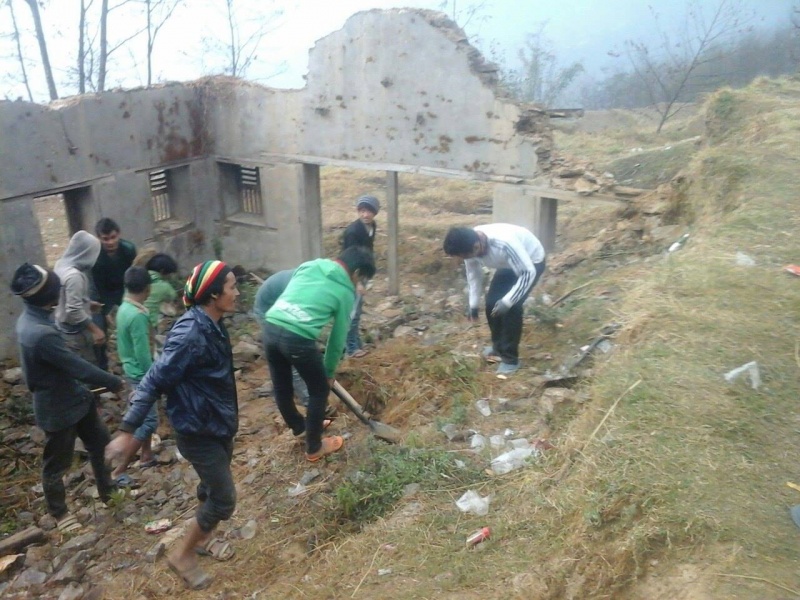 Villagers hard at work clearing the site in preparation for the rebuild.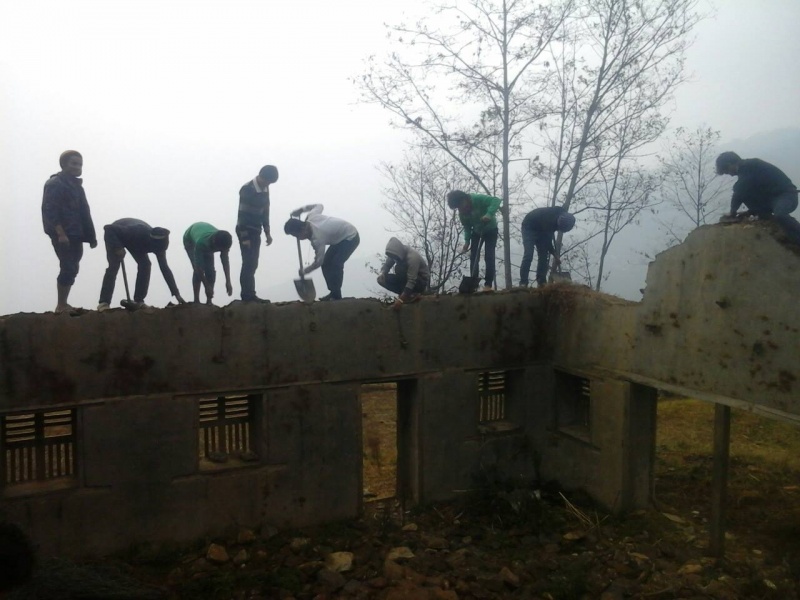 Rebuild Complete
The rebuilding of Community Hall in Bhumlichok, Lamjung, West Nepal sponsored by the Rotary Club of Ilkley Wharfedale is now complete. The Community Hall benefits entire village and area community.
The Hall was handed back on the 24th May and our Club has received an email which includes the following statement:
"All locals who would benefit from restoration of earthquake damaged community hall, have requested with the Rotarians present that their "NAMASTE and Thank you" be passed on to the donors in RC Ilkley Wharfedale, which we are proud to do so. On behalf of every member in RC THE HIMALAYAN GURKHAS, we thank RC Ilkley Wharfedale for their trust on us. We are proud to be your trusted Rotarians in the frontline. ".
We are very pleased to have funded this project.