Benfleet's charity work
Benfleet Rotary Club gives generous support to many charities. Most are local, but we also respond to disasters and other good causes
Charities and good causes
Between July 2015 and July 2017, Benfleet Rotary club gave grants to the following charities and good causes.
Brinn Bevan - young athlete support for Olympic Games
Benfleet Young Carers - pantomime visit
Benfleet Rotary Club's annual Arts & Crafts Competition
Essex & Herts Air Ambulance
Girl Guides
Cancer Research
Dementia UK
Westwood Academy Trust
Cedar Hall School
Legacy XS
Essex Marching Corps
Trust Links
Essex Seniors Cricket Club
The Childrens' Trust
Alzheimers Society (Benfleet Dementia Café)
COPES
Thundersley ATC
The Dogs Trust
Shelterbox (tents for earthquake victims)
CLIC Sargent
Queensway Youth Charity
The Children's Trust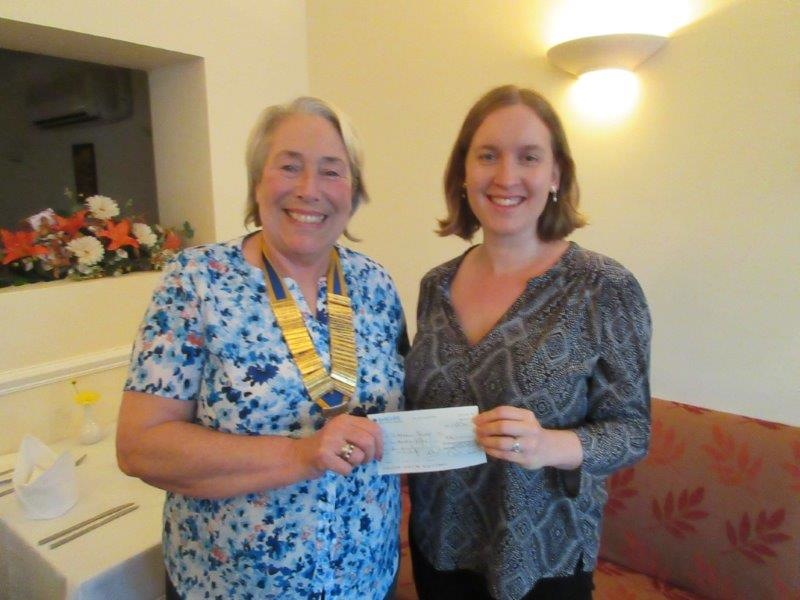 Jessica Allchin is the Community Fundraising Manager in Essex for The Children's Trust, the UK's leading charity for children with brain injury. She visited Benfleet RC on Thursday 17 August 2017 to raise our awareness of the charity. In a very inspiring talk, she told us about the work of the trust in their residential facility in Surrey and in the community.
The picture shows President Susan presenting a cheque for £250 for the work of the Trust that is not funded by the NHS. More information about the Trust can be found on their website https://www.thechildrenstrust.org.uk/
Essex Air Ambulance
In the picture, past President Wendy Goodwin presents a cheque for £750.00 to Frank Rush on behalf of Essex Air Ambulance. The President's husband Dennis Goodwin attended the meeting and expressed his thanks for the services rendered by them in his hour of need when he was flown to Addenbrookes Hospital in Cambridge