News for 2018-2019
News items for the current Rotary year
Latest Club News
Rotary Radio UK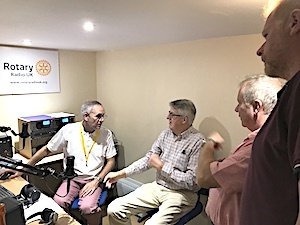 Presenter Steve Wood & Invicta club members
Club members attended the opening of Rotary Radio UK at The Criterion in Blue Town on Saturday 13th October 2018.
Club members Steve Wood and John Robinson had the idea of starting radio broadcasting for Rotary last year. Having obtained buy-in from Rotary South East, Steve & John formed a team of people, obtained funding, and located premises for a studio and equipped it.
So after a few weeks of trialling recorded taster shows, Rotary Radio UK finally went live at 12noon on 13th October 2018.
District Governor Brenda Parsons attended the opening event and was pleased to say a few words into the microphone.
---
RYLA Weekend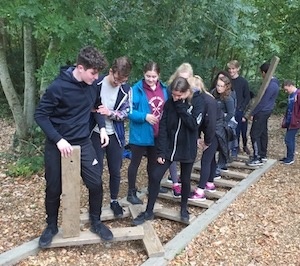 Young leaders at Bowles Outdoor Activity Centre
The district's Autumn Rotary Youth Leadership awards residential weekend took place over the weekend 5th-7th October at the Bowles Outdoor Activity Centre near Tundbridge Wells.
Twenty-four 14-17 year olds joined the weekend sponsored by eleven clubs from the district. This included 3 girl guides sponsored by the Rotary Club of Sittingbourne Invicta.
The RYLA activity course is all about getting teenagers to discover and realise their potential as good leaders, communicators and team players. A group (max 24) of teenagers from all over the district are taken through a series of exercises to help them develop these skills with the help of qualified activity leaders from the Bowles Activity Centre. "Pushing The Envelope" is a phrase used very early on describing how participants are helped to move from their comfort zone in to one where their resilience and coping ability is tested so they gain better control in challenging situations resulting in growing confidence and ability to work as a team player and show leadership skills.
---
Visit To Hoorn
On Friday 21 September, a party of nine from the Club travelled by car to Hoorn in The Netherlands, where they were the guests of the Rotary Club of Hoorn thus renewing friendships that have been built over the last few years of association between the clubs.
The focus of the weekend visit was to help the Rotary Club of Hoorn to celebrate seventy years since it was founded in 1948. Also joining in the celebration was a group from the Rotary Club of Bochum in Germany with whom Hoorn have had a long relationship.
Members of the Rotary Club of Hoorn extended a warm and very generous welcome, hosting many of the the visitors at their homes and arranging an excellent programme offering opportunities to see the area, learn about its history and get to know each other better. It started on Friday evening with a buffet supper of Indonesian and Chinese dishes held at the home of Hans and Simone de Rooij. On the following morning there was a trip on a restored steam railway north to the old town Medemblick on the coast of the Isjelmeer followed by a cruise and lunch on the Isjelmeer. After a walking tour of Enkhuizen the party returned by train to Hoorn. Dinner in the evening was held at a local restaurant and a chance to learn more of the history of the Rotary Club of Hoorn, which included a long and active association with the Rotary Club of Sittingbourne and Milton, and the projects it has supported.
The visitors left on Sunday morning after a leisurely breakfast and a farewell gathering, looking forward to welcoming visitors from Hoorn next year.
---
Handover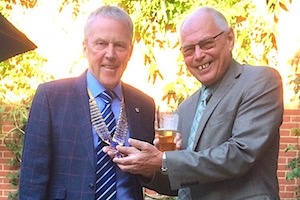 Chris Porter handing over to John Williams
President Chris Porter handed over his chain of office to incoming President John Williams at a joint meeting with partners on Monday 2nd July 2018.
New President John, thanked Chris for his leadership over the past year and presented him with a past-president jewel, pin and tankard.
President John then presented chains of office to John Frewin (President-elect), Martin Lukehurst (President nominee), John Holley (Treasurer) and Jeff Hall (Secretary).
---
Summer BBQ
The last event of the 2017/18 Rotary year was a Summer BBQ in Bredgar on Saturday 30th June 2018.
Good company, sunny weather, delicious food, plenty of drinks and a very talented musical duo all made the afternoon a great success. Thanks went to David and Mandy Wilkinson and Chris and Sue Porter for organising the event.
---
Community Chest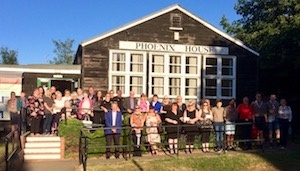 Attendees at Phoenix House
The Rotary Club of Sittingbourne Invicta Community Chest Awards presentation took place at Phoenix House on the evening of Thursday 28 June 2018.
Our Community Chest supports local charities and community groups with funds to sustain and promote their activities.
At the event Invicta President Chris Porter presented cheques, totalling £5600 from Invicta's charity fund, to 24 groups. This brings the total to over £30,000 that has been donated since the annual awards scheme started in 2012.
---
Invicta Welcomes Roger & Janice
On 25th June 2018, Chris Porter ended his Rotary year as club president by welcoming two new members into the club.
Roger Selling, who helped us with the build of four Caterham 7 kit cars whilst at Swale Skills Centre, joined the club as a full active member. Janice Hook, a former club member and ongoing supporter of the club, returned to the club as an Associate member.
---
Cycling to Arras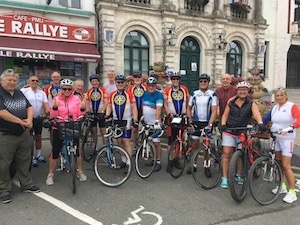 Invicta cyclists join others from Arras in Pernes
Six club members set out on a cycle ride from Sittingbourne to Arras on 19th June 2018. The first leg of the journey was to Dover and the ferry to France. In the afternoon, our six members cycled to St Omer via Ardres and stayed overnight in a town centre hotel. After an early breakfast, the six cyclists rode to Pernes where they met other cyclists from the Rotary Club or Arras Vaughban. Everyone then cycled on to Arras for lunch together.