Latest Club News
Club news items for the current Rotary year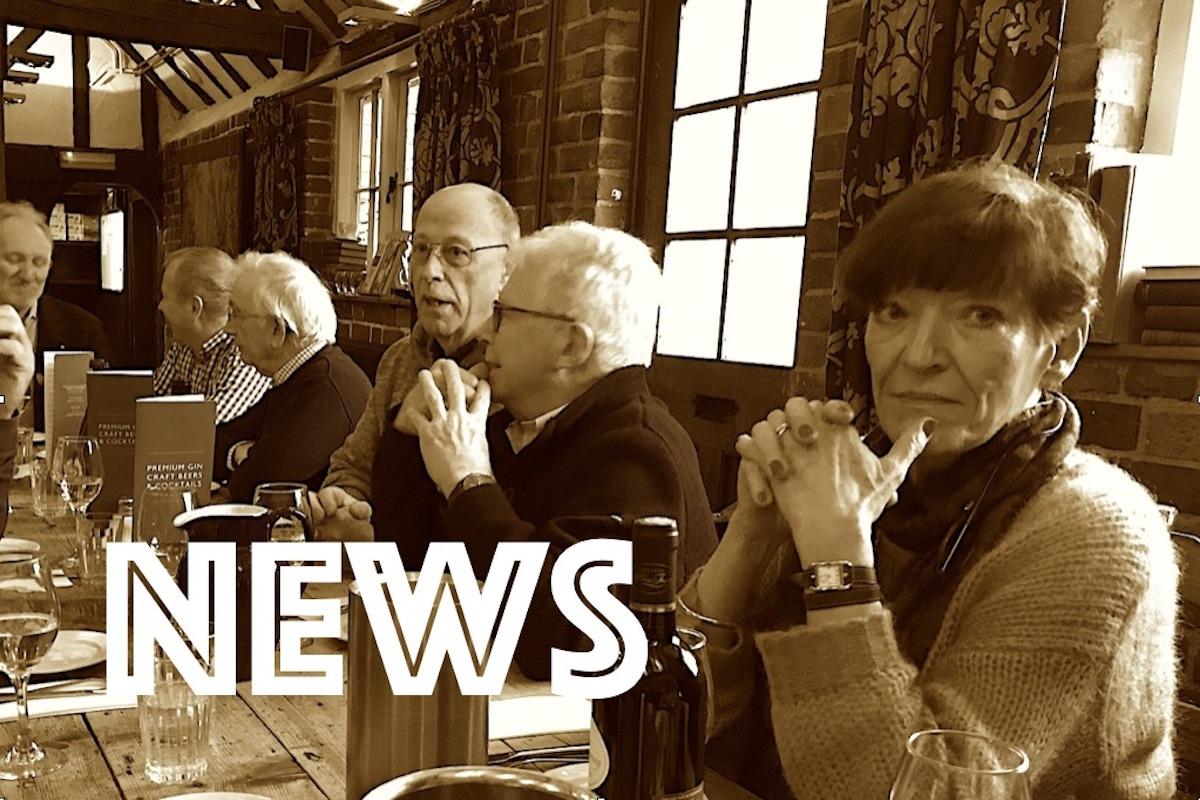 Latest Club News
Golfing Success!
Sittingbourne Invicta was once again victorious at the annual District Golf Competition held at Boughton Golf Club yesterday Thursday 5th September. They bring back the team shield that has been won several times by both Sittingbourne Invicta and Sittingbourne and Milton teams.
The Sittingbourne Invicta "B" team of Chris Porter, Martin Williams, Alan Joy and John Frewin came in with a team score of 77 points, winning by a single point. They beat teams from Gravesend, Thanet and Canterbury Sunrise.
The individual champion of the day was Sittingbourne Invicta's Martin Lukehurst who scored 37 points and will be bringing home the impressive silver trophy. He was joined in the Sittingbourne Invicta "A" team by Mike Gee and Patrick Philips.
---
On the River Medway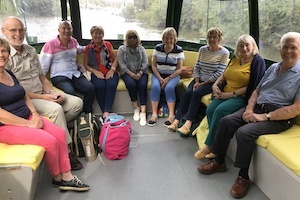 Social outing on Kingfisher
A few club members enjoyed a day messing about on the River Medway on Sunday 11th August 2019. This annual event on our social calendar also raised £135 for The Kingfisher Medway Trust.
The club party travelled up river to Oak Weir Lock where they picknicked before returning to Wateringbury with an ice cream stop at Tea Pot Island on the way back.
Club members Dudley Cramp and Graham Ledger volunteered to help going through the locks and George Cole had a short spell steering the boat.
---
Congratulations John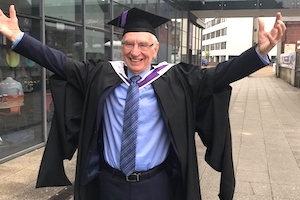 John Fisher on graduation day
Club member John Fisher has spent two years undertaking distance learning through Portsmouth University, and has recently been awarded with an MA. in Naval History.
Congratulations go to John who proves you're never too late to learn.
Club members are now looking forward to hearing John's talk on Admiral Nelson at our club meeting on Trafalgar Day.
---
President's Handover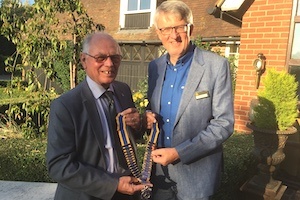 John Williams & John Frewin
On Monday 15 July, outgoing President John Williams handed over the responsibilities of leading Invicta to incoming President John Frewin.
John, a founder member of Invicta, has taken just 30 years to step up to the "top job" in the club. At a ceremony in Hempstead House Hotel, he thanked John Williams for his efforts during 2018/19 and looked forward to a busy and enjoyable year ahead.
---
Visit of RIBI President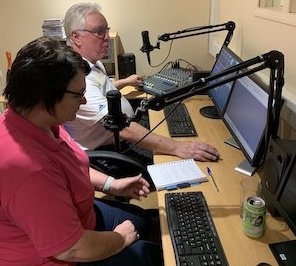 RIBI President Donna Wallbank at RRUK
On Thursday 11th July 2019, Rotary Radio UK was delighted to welcome RIGBI President Donna Wallbank and her husband Steve to the studios at The Criterion on the Isle of Sheppey.
Rotarian Jenny Hurkett showed the party around the restored music hall, and Steve Wood and John Robinson conducted the studio tour.
While she was here, Donna recorded a couple of jingles for the station and Steve interviewed her about her Rotary journey and her plans for her Presidency.
---
Pesky Pigeons Defeated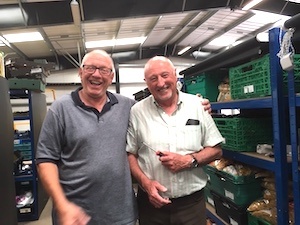 Ian & Chris at Sittingbourne Foodbank
On the morning of 10th July a small group of Rotarians gathered at the Sittingbourne Foodbank warehouse, to assist their volunteer, Ray, in fixing 24 roller blinds to the front of the shelving units where food is stored. The blinds were needed as there are pigeons that come and go in the warehouse, and which can access food stock if unprotected.
Rotary Club Of Sittingbourne Invicta successfully applied for a District Grant, which was matched in order to purchase the blinds and fittings.
The work was smoothly accomplished under Ray's expert guidance, and the pesky pigeons are now defeated.
---
Community Chest Awards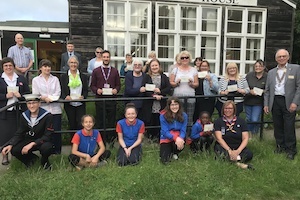 2019 Community Chest Beneficeries
Twenty-two local groups assembled in Phoenix House Sittingbourne on Thursday 27th June to receive their cheques as beneficeries of our 2019 Community Chest Awards.
The 9th Sittingbourne Guides will be going on a summer camp with their funds. The Salvation Army will be purchasing a new freezer with their donation. Companionship at Christmas will continue providing free dinners for lonely people with their funding. And the list goes on!