News for 2018-2019
Club news items for the current Rotary year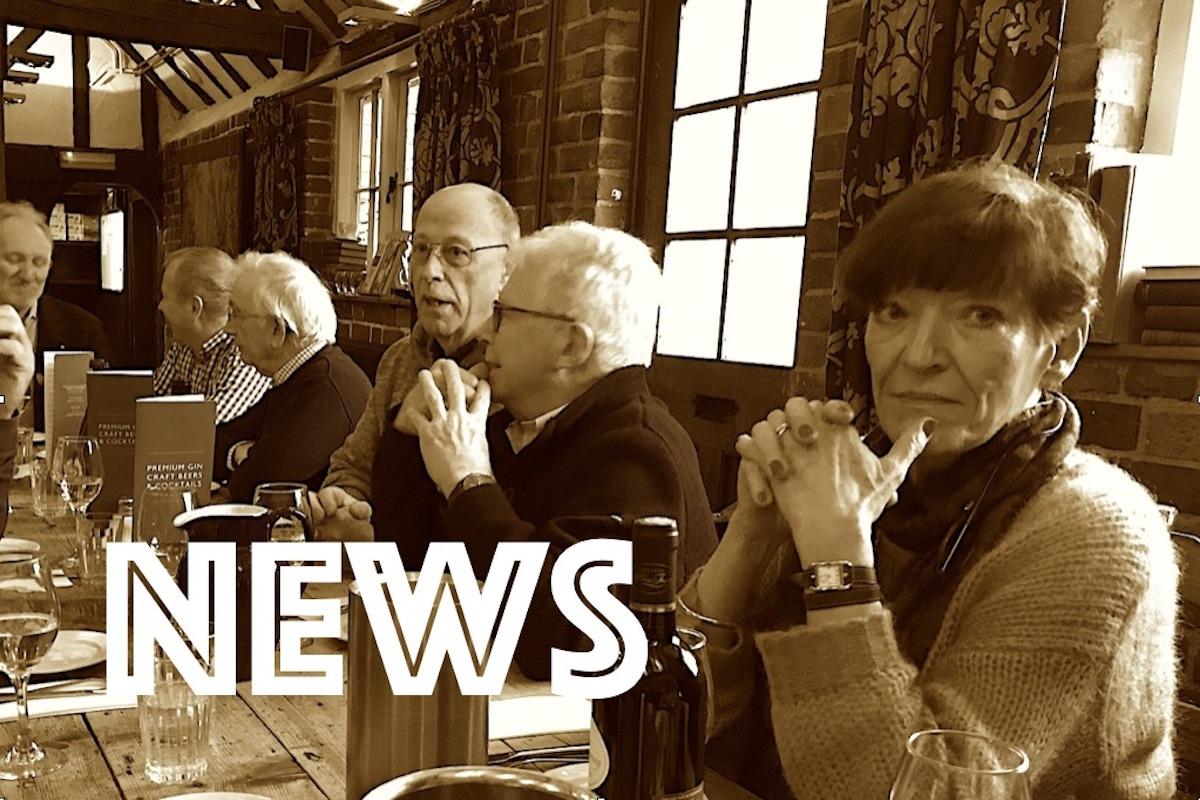 Latest Club News
Rotary Radio UK at The Criterion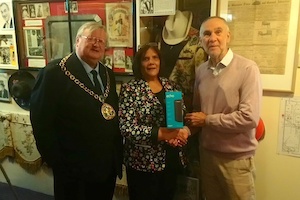 Steve Wood presents an Amazon Echo
The Criterion in Bluetown celebrated its 10th anniversary of opening on 5th June, and Rotary Radio UK marked the event with the presentation of an Amazon Echo (kindly funded by Sittingbourne Invicta Rotary Club). This now means visitors to the café at The Criterion can listen to the station.
RRUK continues to grow in popularity and now has 4500 unique listeners across over 100 countries worldwide.
---
The Living Land
Eleven club members volunteered as stewards for groups of school children at this year's The Living Land on 2nd May 2019.
A total of 2650 children from 53 schools from across Kent attended this year.
---
Grand Charity Auction
Rotarians, family and friends attended the club's Grand Charity Auction at The Appleyard on Saturday 9th March 2019.
Auctioneer Clive Emson once again provided much amusement whilst auctioning off 95 lots which raised over £14,000 for charities supported by the club.
President John Williams gave special thanks to Mike and Denise Gee for organising this very successful event.
---
Invicta Saving Lives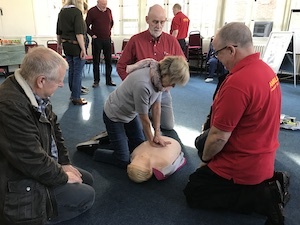 Practising the resuscitation technique
Rotary International celebrated 114 years of Rotary Service to our communities on Saturday 23rd February 2019.
This was also the day when Invicta organised two short training sessions at Phoenix House in Sittingbourne for Rotarians, family, friends and the public on the use of defibrillators and how to administer emergency resuscitation. This completed one of our projects to provide emergency equipment to a Sittingbourne Community First Responder part funded by the club and use of a district grant.
Three Sittingbourne Community First Responders conducted the two training sessions attended by about twenty people. The use of a defibrillator and CPR was demonstrated after which those in attendance practised the technique on a dummy.
---
Invicta Celebrates 30 Years Of Service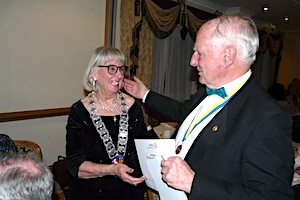 DG Brenda presents Lyn with a 30-year award
Members of the Rotary Club of Sittingbourne Invicta celebrated the 30th anniversay of the club's charter at Hempstead House Hotel on Friday 18th January 2019.
Special guests at the event were District Governor Brenda Parsons, president of Sittingbourne & Milton Dennis Taylor, president of Isle of Sheppey David Brown, president of Minster-on-Sea Andy Brown, president of Faversham Sue Hoey & president of Hoorn Alex Groen.
A total of 127 Rotarians, family members and friends of the club attended the event starting with pre-dinner drinks, followed by entertainment from table magician Etienne Pradier and three actors from Comedy Diner Shows taking on parts from the TV show Fawlty Towers. A 3-course dinner was then served.
Speeches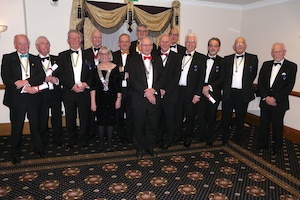 12 of the club's founder members
Dennis Taylor, President of the Rotary Club of Sittingbourne & Milton spoke about his club's 82 year history, which would sadly be coming to a close at the end of June 2019. Dennis also spoke about his club's role in helping the Sittingbourne Invicta club to form 30 years ago.
Alex Groen, President of the Rotary Club of Hoorn in The Netherlands, congratulated the Club on its anniversary and expressed their wish to continue our close international relationship. Our French contact Club, Rotary Club of Arras Vauban had earlier also sent their congratulations and best wishes.
Presidential Citation
District Governor Brenda Parsons announced that Sittiingourne Invicta was one of just four clubs to gain a presidential citation for 2017/18 and was pleased to present Immediate Past President Chris Porter with a citation for the club. DG Brenda also presented Rotary Foundation Chairman Martin Lukehurst with a banner for being the second highest giving club in the district during 2017/18.
30-year Awards
DG Brenda then presented Founding President Lyn Baxter with a 30-years of service certificate and read out a letter from RI President Barry Rassin.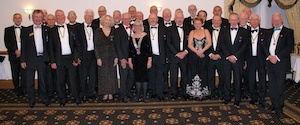 28 presidents & DG Brenda
Current President John Williams then had the pleasure of awarding 30-year long service awards to 8 still current active founder members; Beverley Willis, Martin Shirley, John Holley, Jeff Hall, John Frewin, Lyn Baxter, Dudley Cramp & Martin Lukehurst. In addidtion, two further 30-year long service awards were given to Andrew Collins (now a member of the Wadhurst club) and Ken Clark (now a member of the Hythe club).
Photos & Slideshow
Past Presidents Richard Thompson and Duncan Brice then joined the other founder members for a group photo of 12 founder members together with current President John Williams and DG Brenda Parsons.
The evening ended with a slide-show covering many of the club's achievements during the past 30 years and the club members involved. One significant achievement is the donation of £300,000 to various charities and good causes.
Finally, a group photo of 28 presidents and past presidents of the club together with DG Brenda Parsons completed the club's 30th anniversary celebrations.
---
Helping Sittingbourne Foodbank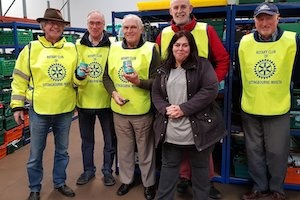 Job done! All stock now in a new warehouse
Two shifts of volunteers helped Sittingbourne Foodbank move their stock of donated items to a new warehouse on Thursday 17th January 2019.
It took two large van loads to transfer all the donated stock to the new warehouse and volunteers were on hand to load and unload the van.
---
More Joy This Christmas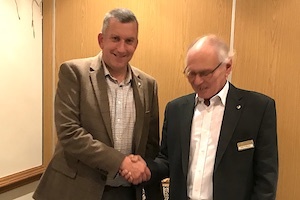 Alan Joy & President John Williams
President John Williams was pleased to induct Alan Joy into the worldwide fellowship of Rotary International at our meeting on Monday 3rd December 2018.
Alan lives in Wormshill, and recently helped with the planting of 5000 purple crocus corms in Wormshill.
Alan brings our membership to 38 active members.
---
Indoor Bowls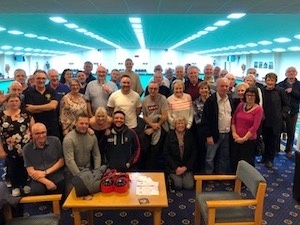 Bowlers from Sittingbourne Invicta & Minster on Sea
Over 40 bowlers from the Rotary Clubs of Minster on Sea and Sittingbourne Invicta held an indoor bowling competition on Wednesday 14th November 2018 at the Swale Indoor Bowls Centre.
The evening began with an hour of practise followed by a buffet. The bowlers then formed six teams from each club, and completed 9 ends. The Home team was declared the winner at the end of the evening by just one point. Regardless of the scores, everyone enjoyed the evening of fun and friendship.
---
World Polio Day
World Polio Day was established by Rotary International over a decade ago to commemorate the birth of Jonas Salk, who led the first team to develop a vaccine against Polyiomyelitis. It is also the day each year we focus attention on the No 1 programme priority for Rotarians across the globe is the fight to eradicate polio from this world.
Invicta members were busy on 24th October to raise awareness of Rotary's 30-year fight to eradicate polio from the world. Seven club members were joined by three local residents and planted 5000 purple crocus corms in the village of Wormshill.
John Robinson spent a busy morning on Rotary Radio UK talking about Rotary and polio. President John Williams and Rob Fenton did the same on Sfm Radio the day before.
Much use was also made of social media to raise awareness of the need to continue the battle against polio until every child is no longer at risk of contracting this diadbling disease.
---
Rotary Radio UK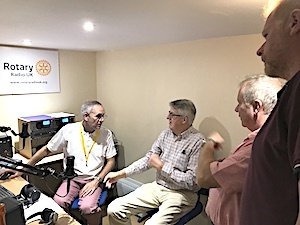 Presenter Steve Wood & Invicta club members
Club members attended the opening of Rotary Radio UK at The Criterion in Blue Town on Saturday 13th October 2018.
Club members Steve Wood and John Robinson had the idea of starting radio broadcasting for Rotary last year. Having obtained buy-in from Rotary South East, Steve & John formed a team of people, obtained funding, and located premises for a studio and equipped it.
So after a few weeks of trialling recorded taster shows, Rotary Radio UK finally went live at 12noon on 13th October 2018.
District Governor Brenda Parsons attended the opening event and was pleased to say a few words into the microphone.
---
RYLA Weekend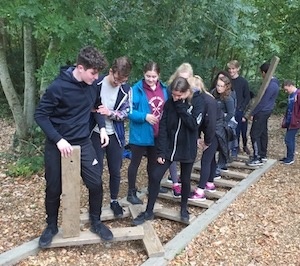 Young leaders at Bowles Outdoor Activity Centre
The district's Autumn Rotary Youth Leadership awards residential weekend took place over the weekend 5th-7th October at the Bowles Outdoor Activity Centre near Tundbridge Wells.
Twenty-four 14-17 year olds joined the weekend sponsored by eleven clubs from the district. This included 3 girl guides sponsored by the Rotary Club of Sittingbourne Invicta.
The RYLA activity course is all about getting teenagers to discover and realise their potential as good leaders, communicators and team players. A group (max 24) of teenagers from all over the district are taken through a series of exercises to help them develop these skills with the help of qualified activity leaders from the Bowles Activity Centre. "Pushing The Envelope" is a phrase used very early on describing how participants are helped to move from their comfort zone in to one where their resilience and coping ability is tested so they gain better control in challenging situations resulting in growing confidence and ability to work as a team player and show leadership skills.
---
Visit To Hoorn
On Friday 21 September, a party of nine from the Club travelled by car to Hoorn in The Netherlands, where they were the guests of the Rotary Club of Hoorn thus renewing friendships that have been built over the last few years of association between the clubs.
The focus of the weekend visit was to help the Rotary Club of Hoorn to celebrate seventy years since it was founded in 1948. Also joining in the celebration was a group from the Rotary Club of Bochum in Germany with whom Hoorn have had a long relationship.
Members of the Rotary Club of Hoorn extended a warm and very generous welcome, hosting many of the the visitors at their homes and arranging an excellent programme offering opportunities to see the area, learn about its history and get to know each other better. It started on Friday evening with a buffet supper of Indonesian and Chinese dishes held at the home of Hans and Simone de Rooij. On the following morning there was a trip on a restored steam railway north to the old town Medemblick on the coast of the Isjelmeer followed by a cruise and lunch on the Isjelmeer. After a walking tour of Enkhuizen the party returned by train to Hoorn. Dinner in the evening was held at a local restaurant and a chance to learn more of the history of the Rotary Club of Hoorn, which included a long and active association with the Rotary Club of Sittingbourne and Milton, and the projects it has supported.
The visitors left on Sunday morning after a leisurely breakfast and a farewell gathering, looking forward to welcoming visitors from Hoorn next year.
---
Engage 2018 Conference
This year's district conference was held at the University of Canterbury from 7th to 9th September 2018 with 20 members and partners attending. There was a new format this year with fewer speakers and breakout sessions.
---
Handover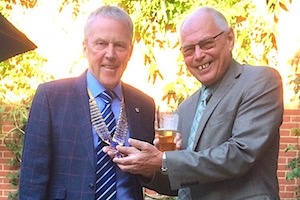 Chris Porter handing over to John Williams
President Chris Porter handed over his chain of office to incoming President John Williams at a joint meeting with partners on Monday 2nd July 2018.
New President John, thanked Chris for his leadership over the past year and presented him with a past-president jewel, pin and tankard.
President John then presented chains of office to John Frewin (President-elect), Martin Lukehurst (President nominee), John Holley (Treasurer) and Jeff Hall (Secretary).
---