News for 2017-2018
News items for the current Rotary year
Latest Club News
Sausage Sizzle
Club members volunteered on the Sausage Sizzle stand outside Bunnings, Sittingbourne, on Sunday 20th May 2018.
This was felt a good way of engaging with the local community, and will be repeated next year.
---
8th Annual Sittingbourne 10K Race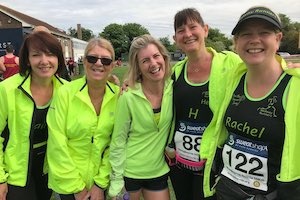 Chris and Sue Porter on top of the O2 Dome
A full turn out of club members, partners and friends was needed on Sunday 13th May 2018 for our 8th annual Sittingbourne 10K Race from the Westlands School.
In addition to our own food stand, this year we were pleased to see charity stands from Young Lives Foundation and Medical Detection Dogs. This was the first year we had a children's climbing wall and ice cream van adding to the amenities on the site. We were also please to welcome back the Sfm Radio mobile broadcasting studio who provided lively music as well as an opportunity to speak about Rotary subjects on live radio.
There were 297 runners in our 10K Race. The first man to finish was Lee MmcMeekin running for Medway & Maidstone AC with a time of 35m 25s. The first woman to finish was Olwen Cockell running for the Sittingbourne Striders in a time of 45m 12s.
---
Rotary Golf Day
Good golf, good company, good food and entertainment added up to a very successful Invicta Golf Day held at Sittingbourne and Milton Regis Golf Club on Monday 14 May. There was a strong turnout of members and guests making 18 four ball groups.
The individual winner was Keith Cleary of Stora Enso and the team prize went to the SCA Paper team of Neil Coleman, Peter Helfrich, Gary Young and Barry Keech. Unfortunately there was no Hole in One to claim the car, sponsored by Navigator Company, for that achievement.
The event raised £4300 for the Young Lives Foundation and other charities and causes supported by Invicta Rotary.
---
The Living Land
Twelve volunteers from the Club accompanied groups with their teachers around the various exhibits at The Living Land on the Detling Showground on 3rd May 2018.
Acting as guides for schoolchildren in years 3 and 4 visiting the Kent Showground for the Living Land show is both worthwhile and good fun.
On one day a year the show introduces 2500 children to agriculture, food production as well as the countryside and natural environment. There is a lot to see and do with many hands on experiences. The sheep show pictured here is a highlight, enjoyed by adults as much as the children.
---
St. George's Ball
Over a hundred club members, family and friends attended the St. George's Day Ball at the Shepherd Neame Brewery in Faversham on Saturday 29th April 2018.
Marylebone Jelly provided the evening's entertainment with dancing going until late in the evening.
Club member David Wilkinson organised a silent auction which raised £4000 on the night for the club's charity fund.
---
Walking the Dome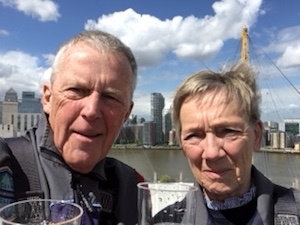 Chris and Sue Porter on top of the O2 Dome
President Chris & Sue Porter and Angela Williams decided they would increase our charitable funds by undertaking the challenge of walking the O2 Dome.
They completed the walk during April and raised £640 from sponsorship.
---
Martin Meets HRH Princess Ann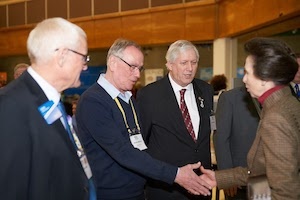 Mattin Williams is introduced to HRH The Princess Royal
The 93rd Rotary in Great Britain & Ireland annual Conference 2018 was held in the seaside resort of Torquay on Friday 6th April – Sunday 8th April 2018. This was attended my club member Martin and Wendy Williams.
A great weekend was had by all. Highlights included a tree planting ceremony on Torquay seafront, a visit by Royal guest Her Royal Highness The Princess Royal, some amazing speakers and the Beach Party of all beach parties on Saturday night.
---
Planting Trees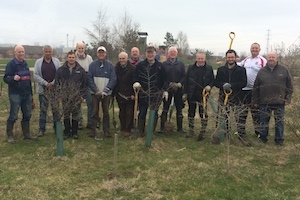 Tree planting in Milton Creek Country Park
Rotary International President Ian Risely challenged every Rotary club to make a difference by planting a tree for each of its members between the start of the Rotary year on 1 July and Earth Day on 22 April 2018.
The Rotary Club of Sittingbourne Invicta took on this challenge and planted over 200 trees in Milton Creek County Park on Wednesday 21st & Sunday 25th March 2018.
Trees were supplied by The Woodland Trust, and planting was supervised by Kris Staples, Park Ranger.
Two tree packs were planted aimed at supporting wildlife and providing all year colour.
It was good to see a good turn out of volunteers over both planting days. Sixteen voluntees totalled 48 hours of tree planting.
---
St Patrick's Day
On a tour of Leeds Castle
We were pleased to have thirteen friends from the Rotary Club of Arras Vaughban join us for our St Patrick's Day celebtations on Saturday 17th March 2018.
The day started with lunch in The Dirty Habit, Hollingbourne, before undertaking a tour of Leeds Castle on a bitterley cold afternoon.
In the evening in Stockbury Village Hall, everyone enjoyed an Irish meal together with a guiness and Irish whiskey tasting. A live band provided the evening's entertainment along with a brief appearance of six young energetic Irish dancers.
The French contingent came together again for coffee in Milstead before departing for their return journey.
---
A Busy Few Days
Volunteering club members had a busy few days 8th - 10th March 2018.
Firstly, 11 club members gave two very productive hours each during the Marie Curie Great Daffodil Appeal outside Morrisons resulting in £1000 for this charirity.
A further 50 man hours of club member volunteering at Phoenix House saw the installation of new kitchen units. This was in addition to funds raised and a district grant to purchase a new range cooker that was installed just before Christmas.
---
Invicta Welcomes Matthew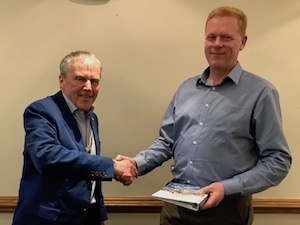 President Chris Porter welcomes Matthew Tottle
Matthew Tottle was welcomed as a club member at our meeting on Monday 26th February 2018.
Matthew brings our membership to 37 active members, two Associate members and three Honorary members.
---
Rotary Radio UK
The project to establish a radio station for Rotary in RIBI was agreed at District Council on 15th February 2018 and the project team is now fully engaged in setting up the studios, installing the equipment and preparing for test broadcasting in March.
The studios are based at The Criterion Heritage Centre in Blue Town on the Isle of Sheppey and are being built as part of a major enhancement to the Centre.
The Rotary Radio UK project team are now looking for enthusiastic people to join the team as music show presenters, newsreaders, news and sports presenters and others.
---
Carols By Candlelight
Club members, partners and friends commenced the Christmas season with our annual Carols by Candlelight service at Holy Trinity Church, Milton Regis, on Monday 11th December 2017. Distict Governor Carol and Brian Vizzard also joined us for the service.
The Reverend George Rogers presided over the service, and the Freegard Singers lead the singing.
President Chris Porter read the first lesson, and other lessons were read by Penny Twaites, Ann Frewin, Steve Wood, Beverley Willis and John Williams.
Following the Carol Service, the congregation proceeded to the Parish Hall where hot soup, crusty bread, snacks and a glass of wine were enjoyed.
---
Welcoming Sam Wood to Rotary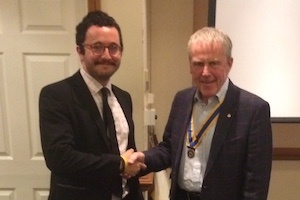 Sam Wood & President Chris Porter
President Chris Porter was pleased to welcome Sam Wood as the club's first Associate Member on Monday 27th November 2017.
Sam has already joined his father, Steve Wood, in working towards the start-up of Rotary Radio UK.
Sam, by far our youngest member, lives in Newington with his fiance Jenny and his dog Freddie, and has recently returned from a 7 month trip around the world.
---
World Polio Day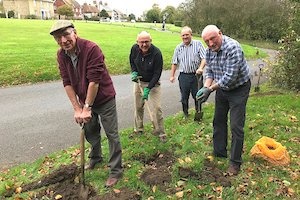 Planting purple crocus corms on World Polio Day
Tuesday 24th October 2018 is World Polio Day, and to mark the occasion five club members took to planting 5000 purple crocus corms on Rodmersham Green.
Whilst planting was going on two landscaping contractors asked if we were planting crocuses. Yes, we replied, we're planting pruple crocus corms - now ask why purple and they did. Having explained that purple is the colour painted on childrens' fingernails after polio immunisation and that it was World Polio Day, they promptly donated £20 to PolioPlus. Thanks Lex and Ed for your donation.
A fine display of purple crocuses were later seen on 12th March 2018.
---
District Conference in Bournemouth
Conference this year was held in a windswept Bournemouth from Friday 20th to Sunday 22nd October 2017.
With nearly 400 attendees from across Rotary South East, Invicta was very well represented with a party of thirty accompanying President Chris Porter and Sue for the weekend. Once again Invicta were winners of the conference attendance cup.
As ever there was a mix of recreational and social activities, golf for some at the Isle of Purbeck Golf Club, a club dinner on Friday evening, as well as conference dinner with music and dancing on Saturday evening. The formal session on Saturday and Sunday in the Bournemouth International Centre featured talks and exhibits, discussing Rotary's activities and were a good opportunity to meet other Rotarians and discover new approaches and opportunities.
---
Welcoming Lick Vara to Rotary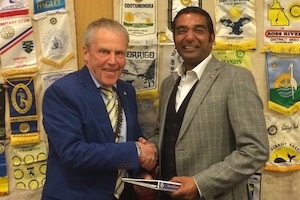 President Chris welcomes Lick Vara
President Chris Porter had the pleasure of welcoming Lick Vara to membership of the the club on Monday 16th October 2017.
Lick, who lives in Stockbury, takes our club membership back up to 36 active members.
We look forward to seing Lick and Annie at many of our events in the future.
---
Club Outing On Kingfisher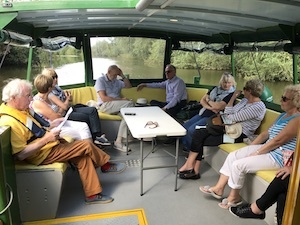 Club members on the River Medway
Club members enjoyed a social outing on Kingfisher on the River Medway on Sunday 6th August 2017.
An all Invicta crew (Richard, Steve, Michael & Beverley) along with nine Invicta passengers embarked from the Medway Wharf Marina at 10:15am and journey up-river to Oak Weir Lock where a picnic lunch was enjoyed by all.
An ice-cream stop was made at Tea Pot Island, Yalding on the way back.
As well as it being a club social outing, members also donated £150 to the Kingfisher Medway Trust.
---
Cricket at Canterbury
Although some purists may argue that the 20:20 Blast is "not cricket" a group of 14 club members, spouses and various offspring, took the bold decision to find out for themselves and attended the Kent match against Somerset at Canterbury on 27th July 2017.
The match began in warm summer sunshine and our group settled back to watch the fun, consume their food and drink and conduct an expert analysis into whether 20:20 can be construed as "cricket". Big hitting is a feature of 20:20 and there was sufficient of this to keep us all happily involved.
Kent came out to bat after a short interval between innings, and members of the group began to don jumpers and coats as the sky darkened. We soon found out whey there is a duck in the Duckworth Lewis Method of deciding the result of weather-effected matches as the rain soon reached tropical volumes. At this point, we decided we had gained sufficient evidence on the matter of whether 20:20 is "cricket" and retired to our cars to consider the verdict. (Report: Steve Wood)
---
Club Handover
Chris hands over to Chris
The club's handover meeting took place at Hempstead House Hotel on Monday 3rd July 2017.
This was a meeting with partners and marked the end of Chris Bunting's year as club president and the beginning of Chris Porter's Rotary year ahead.
Outgoing president Chris Bunting is pictured (right) handing the president's chain over to incoming president Chris Porter (left).
Once the formalities of the induction of the Officers had been completed new President Chris Porter started the next part of the Meeting by saying what an amazing Club we have and for the support we give to the Community.
President Chris said he was looking forward to an enjoyable year during, which he was sure he would receive the full support of the Chairmen of all the Committees, old and new, and of the Members.
---
Paul Harris Fellows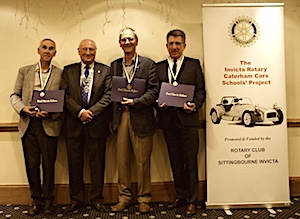 Steve, Rob & Roger receive their PHFs
Outgoing President Chris Bunting was pleased to have one last task to perform in his year of office. This was the awarding of Paul Harris Fellowships - Rotary's highest award for service.
So on Monday 3rd July Chris presented Paul Harris Fellowships to:
Steve Wood; past president of the club, now a volunteer skipper on Kingfisher and a presenter on Hospital Radio Swale
Rob Fenton; past president, current Public Image chairman and chairman of the Trustees of Phoenix House during a difficult period with the building threatened by council development plans
Roger Selling; a non-Rotarian, for his work as supervisor during the building of four Caterham Seven cars by young people at the Swale Skills Centre