News for 2018-2019
News items for the current Rotary year
Latest Club News
Handover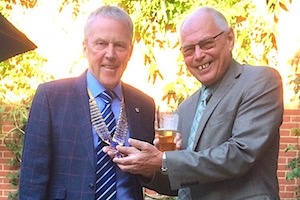 Chris Porter handing over to John Williams
President Chris Porter handed over his chain of office to incoming President John Williams at a joint meeting with partners on Monday 2nd July 2018.
New President John, thanked Chris for his leadership over the past year and presented him with a past-president jewel, pin and tankard.
President John then presented chains of office to John Frewin (President-elect), Martin Lukehurst (President nominee), John Holley (Treasurer) and Jeff Hall (Secretary).
---
Summer BBQ
The last event of the 2017/18 Rotary year was a Summer BBQ in Bredgar on Saturday 30th June 2018.
Good company, sunny weather, delicious food, plenty of drinks and a very talented musical duo all made the afternoon a great success. Thanks went to David and Mandy Wilkinson and Chris and Sue Porter for organising the event.
---
Community Chest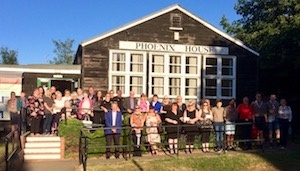 Attendees at Phoenix House
The Rotary Club of Sittingbourne Invicta Community Chest Awards presentation took place at Phoenix House on the evening of Thursday 28 June 2018.
Our Community Chest supports local charities and community groups with funds to sustain and promote their activities.
At the event Invicta President Chris Porter presented cheques, totalling £5600 from Invicta's charity fund, to 24 groups. This brings the total to over £30,000 that has been donated since the annual awards scheme started in 2012.
---
Invicta Welcomes Roger & Janice
On 25th June 2018, Chris Porter ended his Rotary year as club president by welcoming two new members into the club.
Roger Selling, who helped us with the build of four Caterham 7 kit cars whilst at Swale Skills Centre, joined the club as a full active member. Janice Hook, a former club member and ongoing supporter of the club, returned to the club as an Associate member.
---
Cycling to Arras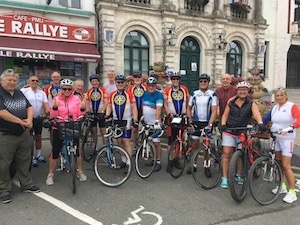 Invicta cyclists join others from Arras in Pernes
Six club members set out on a cycle ride from Sittingbourne to Arras on 19th June 2018. The first leg of the journey was to Dover and the ferry to France. In the afternoon, our six members cycled to St Omer via Ardres and stayed overnight in a town centre hotel. After an early breakfast, the six cyclists rode to Pernes where they met other cyclists from the Rotary Club or Arras Vaughban. Everyone then cycled on to Arras for lunch together.