News for 2017-2018
News items for the current Rotary year
Latest Club News
Club Outing On Kingfisher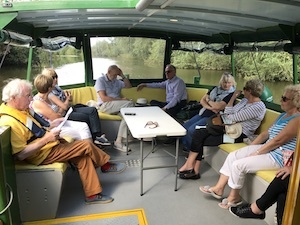 Club members on the River Medway
Club members enjoyed a social outing on Kingfisher on the River Medway on Sunday 6th August 2017.
An all Invicta crew (Richard, Steve, Michael & Beverley) along with nine Invicta passengers embarked from the Medway Wharf Marina at 10:15am and journey up-river to Oak Weir Lock where a picnic lunch was enjoyed by all.
An ice-cream stop was made at Tea Pot Island, Yalding on the way back.
As well as it being a club social outing, members also donated £150 to the Kingfisher Medway Trust.
---
Cricket at Canterbury
Although some purists may argue that the 20:20 Blast is "not cricket" a group of 14 club members, spouses and various offspring, took the bold decision to find out for themselves and attended the Kent match against Somerset at Canterbury on 27th July 2017.
The match began in warm summer sunshine and our group settled back to watch the fun, consume their food and drink and conduct an expert analysis into whether 20:20 can be construed as "cricket". Big hitting is a feature of 20:20 and there was sufficient of this to keep us all happily involved.
Kent came out to bat after a short interval between innings, and members of the group began to don jumpers and coats as the sky darkened. We soon found out whey there is a duck in the Duckworth Lewis Method of deciding the result of weather-effected matches as the rain soon reached tropical volumes. At this point, we decided we had gained sufficient evidence on the matter of whether 20:20 is "cricket" and retired to our cars to consider the verdict. (Report: Steve Wood)
---
Club Handover
Chris hands over to Chris
The club's handover meeting took place at Hempstead House Hotel on Monday 3rd July 2017.
This was a meeting with partners and marked the end of Chris Bunting's year as club president and the beginning of Chris Porter's Rotary year ahead.
Outgoing president Chris Bunting is pictured (right) handing the president's chain over to incoming president Chris Porter (left).
Once the formalities of the induction of the Officers had been completed new President Chris Porter started the next part of the Meeting by saying what an amazing Club we have and for the support we give to the Community.
President Chris said he was looking forward to an enjoyable year during, which he was sure he would receive the full support of the Chairmen of all the Committees, old and new, and of the Members.
---
Paul Harris Fellows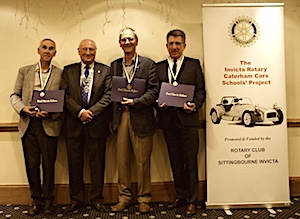 Steve, Rob & Roger receive their PHFs
Outgoing President Chris Bunting was pleased to have one last task to perform in his year of office. This was the awarding of Paul Harris Fellowships - Rotary's highest award for service.
So on Monday 3rd July Chris presented Paul Harris Fellowships to:
Steve Wood; past president of the club, now a volunteer skipper on Kingfisher and a presenter on Hospital Radio Swale
Rob Fenton; past president, current Public Image chairman and chairman of the Trustees of Phoenix House during a difficult period with the building threatened by council development plans
Roger Selling; a non-Rotarian, for his work as supervisor during the building of four Caterham Seven cars by young people at the Swale Skills Centre