Groundwater "" Appleyard Community Service award.
Groundwater "" Appleyard Community Service award presented annually to a local person or group who have stood out as worthy of recognition for their endevours in the community.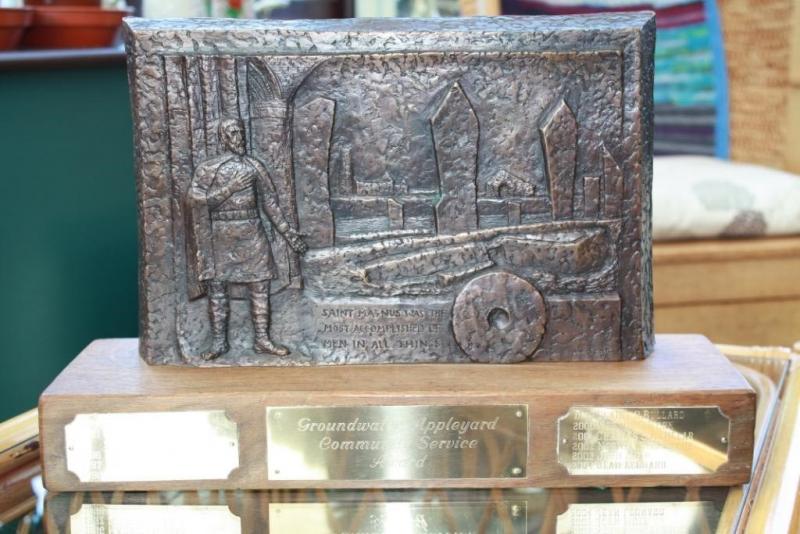 Rotary Club of Orkney
Groundwater – Appleyard Community Service award.
This award was instituted in 1994.
The award comprises a heavy bronze plaque on a wooden base. It was made by Ian Scott of Antabreck, North Ronaldsay. 01857 633222. iwlscott@btinternet.com
There are a number of illustrations on the plague.
Front left: St Magnus on the left with details of the cathedral as background .
Front centre: Inscription 'St Magnus was the most accomplished of men in all things'.
A mill stone. Behind the mill stone is flowing water or a representation of a crop.
Above the water/crop is a chambered tomb (similar to the Dwarfie stone, Hoy) to signify the resting place of his bones.
Front Middle view. The Ring of Brodgar stones:
Left of centre. St Magnus Church, Egilsay;
Right of centre. A smaller church/building possibly representing his burial place at Birsay.
The following people/organizations have been awarded this trophy.
| | | | |
| --- | --- | --- | --- |
| Date | Name | Date | Name |
| 1994 | Mr & Mrs J Maxwell | 2006 | Rita Jamieson |
| 1995 | Orkney Health Board, Sports and Social club. | 2007 | Kirkwall City Pipe band |
| 1996 | Maurice C Gray | 2008 | Ann Edwards |
| 1997 | Dougie Shearer | 2009 | Margaret Thomson |
| 1998 | Glenys Hughes | 2010 | Andrew Askew |
| 1999 | Elaine R Bullard | 2011 | Elspeth Linklater |
| 2000 | Magnus S Work | 2012 | Yvonne Cook |
| 2001 | Charles L Miller | 2013 | Gavin Cullen |
| 2002 | Norman Rushbrook | 2014 | Freda Burgher |
| 2003 | John Muir | | |
| 2004 | Jean Leonard | | |
| 2005 | Kenneth Thomson | | |