Classroom Box
Classroom Box - A charity set up by Rotary Becket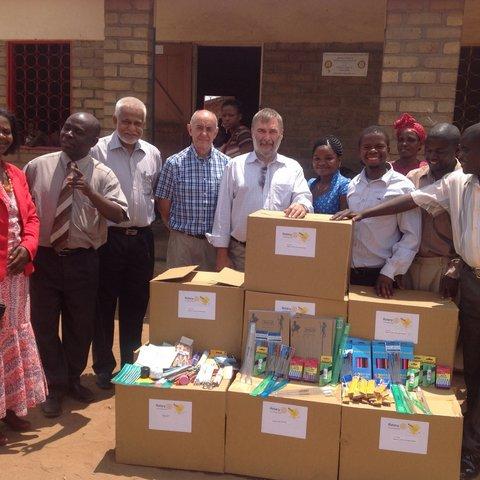 Classroom Box Project.
The Classroom Box project was started by the Rotary Becket in 2006 with the object of providing boxes of basic educational material to schools in developing countries where there is a limited or non-existence of items that we in this country take for granted.
"Difficult to imagine - but try. A class of 50 children sitting on the floor, the teacher has just handed each one a single sheet of note paper torn from an exercise book so that they can write their end of term examination. The questions have been written on the "blackboard" - the plastered front wall of the room which has been painted black. The children write very small so as to get all the answers on the single sheet. If they don't have a pen or pencil, they have to share.
In developing countries, children are killed by illnesses that become deadly in combination with poor sanitation and malnutrition. In addition, families stricken by extreme poverty are trapped in a cycle that only leads to more unnecessary deaths. It's a cycle that is not interrupted, because there is no access to education.
In some small way Rotary Becket wished to help in interrupting this cycle, by assisting in educating those in the developing world, whilst giving local children the opportunity to experience the benefits of helping those less fortunate and at the same time, learning about life in a developing country.
Boxes originally contained pens, pencils, writing pads, coloured pencils, rulers for 25 children. Also included are 5 geometry sets, two staplers, staples, glue sticks, chalk, a tin of blackboard paint and a paint brush.
Boxes subsequently included a few additional items such as an inflatable globe".
In 2010 members of Rotary Becket set up a separate Charity "Classroom Box" (Charity No 1136516 )
Boxes have been sent to the Rotary Club of Arcadia, East London, South Africa for distribution to locally identified needy schools. Feedback from the South African Rotary Club has been excellent. In view of a long established relationship that Becket has had with the Rotary Club of Lilongwe in Malawi, a considerable quanta of Classroom Boxes have been distributed to Malawian schools overseas by the Lilongwe Club
Revisit this section to see updates and more information
For further information contact Rtn Ian Hill, a Trustee of the Charity