Schoolbags for Nepal
Giving children who have nothing the means to get more from school.
Schoolbags for Nepal
The earthquakes didn't just destroy thousands of homes - it also demolished schools and orphanages - mand of then in the poorest rural areas. The Juniper Trust has been funding and organising the rebuild in these rural areas.
However, even with a classroom and a teacher, children can't learn very much when they don't have pencils and paper. They need to practice their literacy and numeracy skills as they learn. An education could be their passport to a life out of hardship and poverty.
We are now supporting the Juniper Trust by providing funds for them to acquire Schoolbags full of educational materials for children who will attend the rebuilt schools. Each Schoolbag is a rucksack filled with stationery, pens, pencils, geometry set, ruler etc - learning resources that will enable a child to write, draw, colour, calculate and - above all - learn. It will also contain eating utensils and a water bottle.
The Cumberland School is providing funds for materials to be made into school uniforms by local tailors.
The rebuilding programme, assembly of the Schoolbags and provision of uniforms are all providing local employment.
We intend to provide large numbers of Nepali schoolchildren with these SchoolBags, assembled in Kathmandu and transported to schools and orphanages in the most remote areas by the Juniper Trust, as part of their normal trekking activities.
We raised £1,350 from sales of the 2016 desktop calendar.
We are very grateful to the organisers of the "Concert for Street Children" held on 20th December 2015 for donating £350.
We raised £330 from the collection we held at the Xmas lights turn on on 28th November 2015
We raised £270 from a collection at Tesco on 22nd December 2015.
Together with other funding, this means we have been able to make our first donation of £3,000 to the Juniper Trust for this purpose. This will provide Schoolbags for approximately 315 children in the newly reconstructed schools.
The first of these schools is Yowa Barsa Lower Secondary School in Monjo - 65 pupils. We are pleased that the schoolbags were distributed on 15.5.2106, and photos of that event are included at the top of the page.
Our next target schools are
Sagarmatha Primary School - 15 pupils
Shree Uma Kinda School - 114 pupils
Budha Kinja School - 131 pupils
We will update this page with more news as it arrives.
2017 News
We donated a further £5500 to the Juniper trust in January 2017 - raised once again from sales of the desktop calendar for 2017 and from the donation made after the "Concert for the Streetchildren" in December 2016 for which we are very grateful.
This donation should enable the provision of Schoolbags to a further 550 children The Juniper Trust have made great progress with the various schools they are reconstructing and they have now completed the original list of 10 :-
Balakanya 80 Children
Budha Kinja 140 Children
Janassewa 220 Children
Juving 240 Children
Jyamire 100 Children
Sagarmatha 20 Children
Satkanya 90 Children
Seti Devi 130 Children
Uma Kunda 120 Children
Yuwa Barsa 60 Children
They are now considering further reconstruction requests.
Unfortunately our club member Andrew Broughton was due to visit Nepal and many of these schools but slipped and broke his hip while on his final practice walk in Littondale. The indomitable Andrew will doubtless recover and replan his visit at a later time and will provide a personal insight.
We carry on....
We need to carry on with further support for this cause as there are will be more children still to equip in the Juniper Trust schools alone - so if you want to support us please click the MyDonate button below.
You will be given the opportunity to Gift Aid to maximise it's value. You can also leave a message for us to accompany the donation - please put "Nepal Schoolbags" to make sure we know where you want the donation to go.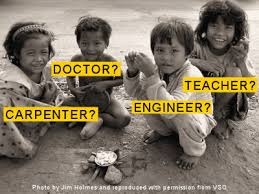 Thank You.
Andrew Broughton handing over a cheque for £3,000