Help for Orchard Vale Trust
Simon Carswell with David Lane and Steve Bocquet (right) of Avalon Rotary presenting a cheque for £3,500 to staff and clients at Orchard Vale Trust.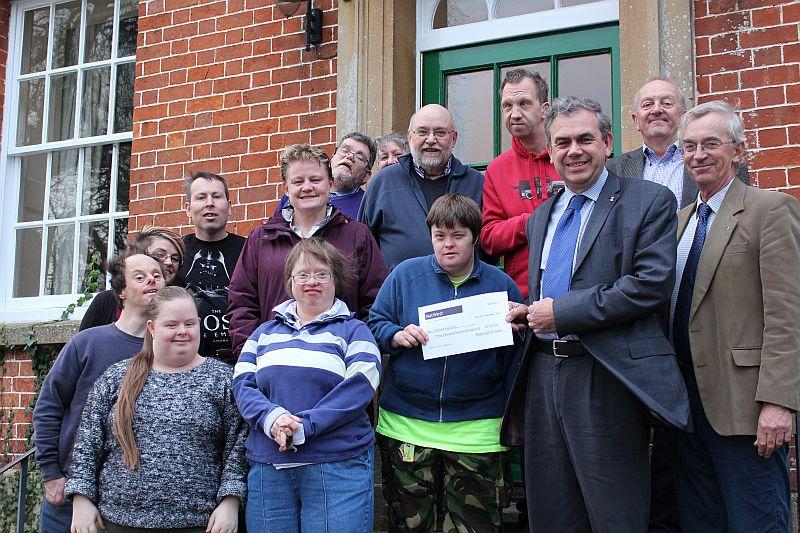 As a consequence of over 100 players taking part in The Rotary Club of Avalon's Charity Golf Day at Wells Golf Club in June, Orchard Vale Trust were presented with a cheque for £3,500 on 24th November. Orchard Vale Trust provides homes and opportunities for people with learning disabilities, and are based in Wookey and the funds will be used to involve residents in creative activities such as art and photography. David Lane, who organised the event with fellow club members Bob Burns and Steve Bocquet, reported that the annual event had been a resounding financial and social success.

The following letter of thanks has been received.
Dear Simon,
Re: Orchard Vale Trust
Thank you very much for the most generous cheque for £3300 you sent for Orchard Vale Trust.
This is a significant contribution to our current projects. We are in the process of building a new workshop at our main site in Wookey, which will be used for photography and other artistic work by our residents and also people with learning disability who come to use our workshops each day. We are also completely renovating our home in Nlidsomer Norton, to benefit the staff and residents there. We cannot provide the high standard of care we aspire to just on local authority fees, and charitable giving such as yours is absolutely key to what we do, so on behalf of the trust thank you very much indeed. Financial support is of course very important, but also is the knowledge that people and organisations in the community support what we do, and for this too we are very grateful.
So thank you so much for choosing to support Orchard Vale Trust. lf you would like to visit one of our sites to see how we are using your generous gift please let me know and I would be delighted to arrange this.
With very best wishes to you and your club members for a happy and peaceful Christmas,
Chris Absolon,
Chair of Orchard Vale Trust