Steve's Diary
A selection from our facebook page compiled by our secretary Steve Molloy.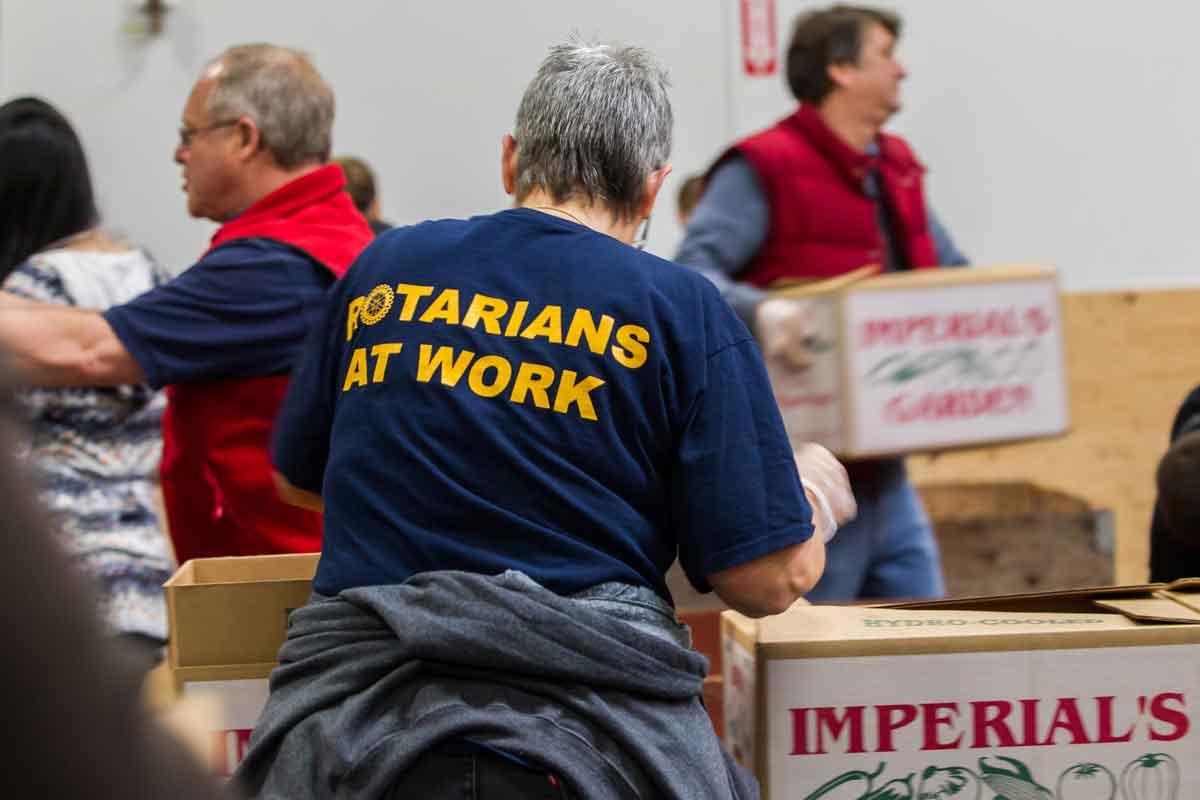 Clevedon Yeo Rotary Club
31 January 2018
Want to know a little more about the Glastonbury festival? One of our members that has worked as a senior manager on the security operation is giving a talk with a powerpoint presentation at the Walton Park Hotel at 7-30pm on Wednesday 21st March.
There is no charge for the event but a collection will be held for the prostate cancer appeal at Southmead hospital at the conclusion.
A bar is available (but you'll need to buy your own!)
If you are interested just come along.
---
Clevedon Yeo Rotary Club
20 January 2018

A little story. When we started selling the tickets for our Christmas hamper raffle to raise money for local good causes the very first ticket was brought by a lad who stated
"I'm living in the woods in Clevedon-This would be good for me to win" He handed over his £1 and was given ticket number 1!
Unfortunately he didn't win but his gesture to support local charities was appreciated.
It wan't until I saw the North Somerset Times this week that I recognised him again as Paul Spencer (see page 5) living in the woods.
We couldn't hesitate in supporting him and will be giving £50 to his Go Fund me appeal. We'd love to give more but we like to spread our donations far and wide and have recently given £1300 to the Clevedon and District foodbank.
Good luck Paul-Your generosity of spirit deserves it's rewards
Best wishes-All at Clevedon Yeo Rotary club
PS Come on Clevedon-It's nice to see you giving Paul your support
---
Clevedon Yeo Rotary Club
03 January 2018

Presenting the foodbank cheque for £1300! AND our Treasurer has a smile on his face! Great cause supported by a great little club!
---
Clevedon Yeo Rotary Club
22 December 2017

Just a quick seasonal update. Thanks to the fabulous support of the local people we sold out our Christmas hamper raffle tickets raising, after expenses, nearly £1000 for local good causes. And the winner lives in Clevedon! The winner was drawn by the staff at Tesco whose support we are extremely grateful for.
We have also presented a cheque for £1300 to Clevedon and District Food bank. We will continue our work with energy and enthusiasm in 2018 so can we wish all our supporters a great Christmas and a happy and prosperous 2018.
Clevedon Yeo Rotary Club. A small club doing Great things for our local community.
---
Clevedon Yeo Rotary Club
8 December 2017

Clevedon Yeo Rotary Clubs' SENSATIONAL STUPENDOUS FANTASTIC Christmas hamper raffle is going well. Our keen and efficient staff were at Hill road last night for the fayre. Around half of our tickets now gone with all proceeds going to local charities. Catch us at Tesco's next Wednesday 13th or Saturday 16th for your chance to support our good work and be in with the chance of a Bumper Christmas prize. See you there!
---
Clevedon Yeo Rotary Club
28 November 2017

£150 's worth of tickets sold on Saturday-Great effort-all for local charities. Come and see us at Hill Road St Nicholas Fayre on the 7th Dec or at Tescos on the 13th and 16th December if you haven't got your ticket yet
---
Clevedon Yeo Rotary Club
25 November 2017 ·

At Clevedon Christmas lights switch on event in the town centre selling our sensational Christmas hamper tickets. ALL proceeds to local charities.
---
Clevedon Yeo Rotary Club
6 November 2017

Great night out on Saturday celebrating 100 years of Bristol Rotary club-Good people doing great works for over a century. Just hope we can emulate that feat locally!!!
---
Clevedon Yeo Rotary Club
4 November 2017

Great quiz last night!-Hall packed and brains exercised by chief inquisitor Rob. 10 rounds of questions, good food, good raffle and good fun. Thanks to everyone who supported it and, after the cash is counted and banked, we should be able to give (with the help of a matching grant from Rotary HQ) a sizeable cheque over £1000 to the foodbank in Clevedon.
Here is a photo of the winning team and a photo of our chief interrogator Rob looking a bit like mission control at NASA!
Clevedon Yeo Rotary Club-A small club doing BIG things for our community
---
Clevedon Yeo Rotary Club
28 October 2017

Busy morning-club members have just finished planting 5,000 Yes Five Thousand crocus bulbs at the following locations in Clevedon. The roundabout Nr Tesco's (Central way/Southern way junction), Six ways roundabout and the approach to Clevedon from Tickenham (by the boat). There are also loads on the Motorway roundabout by Aldi.
When you see them come up next spring (fingers crossed) please remember they are planted to highlight the global issue of Polio eradication-a passionate project for all Rotarians and to improve the look of the town and brighten it up in the spring.
It is yet another example of the work completed in Clevedon by your Rotary club.
On to our quiz next week with the aim to raise a four figure sum for the local foodbank
Clevedon Yeo Rotary-Working hard to improve our community
PS it was also nice to be featured on BBC Bristol this morning. Thanks Ali Vowles and her team
---
Clevedon Yeo Rotary Club
17 October 2017

Quick update-A couple of club members added to our long list of community activities by clearing up all the fallen leaves outside of the Community centre last Saturday. Although after the recent winds it'll probably need doing again but it keeps us fit!!!
Here is a photo of our good work before the winds blew!
And we will be shortly planting 5,000 crocuses in the verges around the town to highlight the End Polio now project.
Well done Gang
---
Clevedon Yeo Rotary Club
10 October 2017

Quick club update-Several members attended the Moscow state circus in Bristol last night collecting for homeless charities (and watching the show in between!) Quite a few Rotary clubs in the area are helping out with collecting for this tremendous cause.
Unfortunately we had to give the uniforms back!!!
---
Clevedon Yeo Rotary Club
5 October 2017

QUIZ NIGHT 3rd NOVEMBER

The next Rotary quiz night is on the 3rd November at the Friary hall at the top of Marine Hill in Clevedon
Now the important part
We need to make it the biggest quiz EVER as our President has secured a matching grant from Rotary HQ and every penny we raise will be matched £1 for £1 so we need a FULL HOUSE.
All proceeds are for the Clevedon Foodbank a tremendous cause so please come along.
Teams ideally of 4. Lets have a fun night and prove how generous (and clever) Clevedonians are!
Just phone the number or drop an email details on the poster below to book your places.



---
Clevedon Yeo Rotary Club
29 September 2017
Club update-Business meeting next week to decide on our activities for the Autumn/winter period. It will include planting 5000 Crocus bulbs around Clevedon to raise the profile of Polio eradication (and to brighten up the town in the Spring), Renovating our sign on the Motorway roundabout, various other fundraising activities and (sorry to mention it in September) our Christmas bash!
Nice to also receive acknowledgement of our donation to Bristol Children's Hospital-A great cause (From a Bristol City bucket shake collection earlier in the year)
Clevedon Yeo Rotary-Improving where we live by our actions, energy and enthusiasm with friendship and fun.
---
Clevedon Yeo Rotary Club
21 September 2017

Great night last night listening to the exploits of local Clevedonian Jack Legg climbing Kilimanjaro for Meningitis research. One of our club banners reached the summit. Great work Jack, you spoke entertainingly and we were happy to have assisted by sponsoring your trip. Local Clevedon young people doing great things.
---
Clevedon Yeo Rotary Club
16 September 2017

Club update Great day at Marlens festival in Clevedon yesterday.
Our Eggy Splat game was a great hit again (Eggy Splat copyright Clevedon Yeo Rotary 2017!)
We were also selling pre owned DVD's and CD's and engaging with the crowds.
A total of £165 was raised which will be put to good use in the local community.
Shame there were not more people there but weather wasn't great.
Sam and the team did a great job putting the event on and deserve everyone's support.
Next week we will be listening to a local speaker at our club night who, with some sponsorship from the club, raised thousands of pounds for meningitis (well done Jack Legg) by climbing Kilimanjaro!!!
We will also, in the autumn, be planting 5,000 (Yes Five thousand!) Crocus plants around Clevedon to raise awareness of Polio eradication.
And finally (for now) the Rotary logo will be appearing on the shirts of Clevedon Ladies Rugby team following our sponsorship.
The photos on this post show our the magnificent Eggy Stump itself, Our keen Eggy Stump team, our stall, one of the security team having a go and the great rugby club shirt
A local club helping our local community
---
Clevedon Yeo Rotary Club
3 September 2017

Quick update-Great car Treasure hunt last Wednesday finishing at a hostelry in WSM. The questions and clues weren't too difficult!*?!
From the proceeds plus a raffle on the night we will be donating over £160 to the British Heart Foundation. A great charity.
We will also, as a club, be at the Tides festival on the 16th September so look out for our stall.
---
Clevedon Yeo Rotary Club
25 August 2017

Latest club news-Busy week-Boules team thrashed Clifton on Tuesday at the Ring 'o Bells, Nailsea (well 7-6 is a win!) powered by various forms of liquid supplies.
Then on Wednesday a GREAT evening at the Avon Valley Railway for a Fish and Chip Supper on the steam train. Great evening, good food and fun and great views.
Look out for us at the Tides/Marlens festival in September where we will be again providing a fun event for everyone and raising money for local worthwhile charities
Clevedon Yeo Rotary 'Working to make our community a better place'
The photos below reflect our fun week.
---
Clevedon Yeo Rotary Club
19 August 2017

Just a quickie-A retired member Ron McKecknie has, after a few recent issues, had a heart pacemaker fitted. He is now recovering at home. As an ex district Guvnor he has worked tirelessly for Rotary over the years and we all wish him a full and speedy recovery.
Rotary-Caring for it's members past and present and looking optimistically to the future
---
Clevedon Yeo Rotary Club
9 August 2017

Just a quick update. The event we sponsored 'Nutty Noah' was a resounding success (Held at the barn on Great Western Road) The organisers have already had loads of emails from grateful Mums. It was packed out with local children.
Here is this weeks competition. In the photo below one person is Nutty Noah and one person is Rotarian Mike Lindsay. You have to guess who is who. Answers on a postcard to........(only kidding Mike!)
It's supporting our local community it's what we do!