FOODBANK COLLECTION FOR CHRISTMAS
Wadebridge Rotarians assist in a Foodbank collection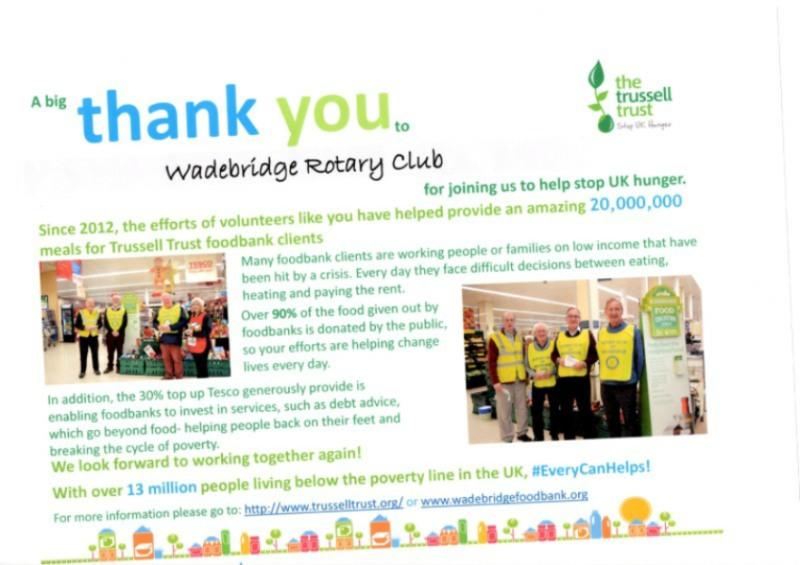 Show related pages
CHRISTMAS FOODBANK COLLECTIONS
In early December Wadebridge Foodbank organised a three day collection of donated food at the Tesco Stores in Wadebridge and Padstow. Wadebridge Rotary Club was asked to assist and a small group of Rotarians attended on one of the days, to collect food so generously donated by shoppers.
The overall result was that over 1.8 tonnes was collected over the three days. As a result the Foodbank store cupboard was replenished and the food collected was a welcome addition to the Christmas foodboxes and provided about 5,553 meals to local people in crisis. Particular families needing help included a self-employed man who had had a bad accident and was not able to work for a long time, or the mother who is working two jobs and had to flee with her children from domestic violence, or the young carer looking after their father who has mental health problems. With public support these famililes have been supported during Christmas.
Since 2012 through the efforts of volunteers some 20 million meals for Trussell Trust clients have been provided. Over 90% of the food given out is donated by the public. In addition the 30% top-up generously provided by Tesco enables Foodbanks to invest in services, such as debt advice, helping to get people back on their feet again and breaking the cycle of poverty. With over 13 million people living below the poverty line the need is great.