Rotary Rocket
New car for the Green Power Challenge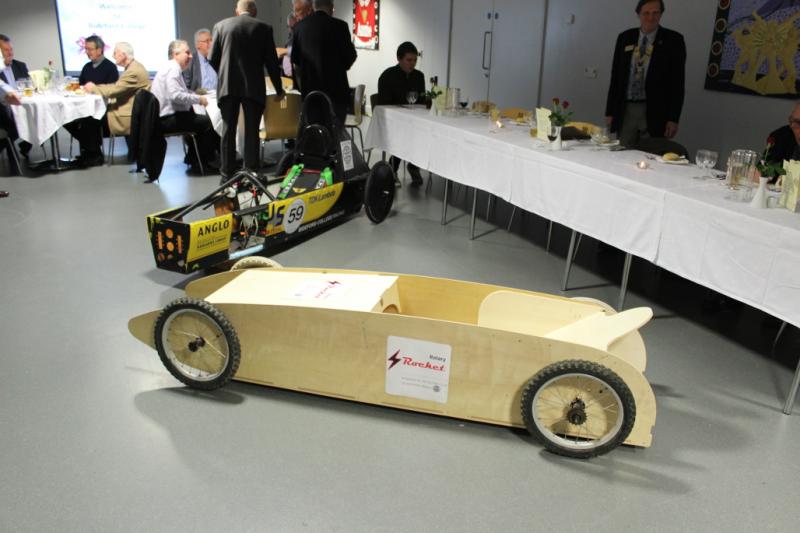 Rotary Rocket update February 2017
It has been a steep learning curve since the first presentation of our concept car to Bideford Bridge Rotary Club members in October 2015 and then the unveiling to delegates at the Torquay District Conference.
With 7 cars at various development stages there is no doubt that our target of 10 cars is achievable.
The end of 2016 saw a major achievement of Investec Investment Bankers sponsoring us, the financing at a local level by the Balsdon Trust and the realisation that our project is more than just a build and race project.
The purpose of this update is to outline a structure that schools may choose to use, if it feels appropriate to them.
To begin it is our intention to designate a rotarian each school to coordinate activities and mentor where appropriate.
We would suggest that schools should consider involving students in:-
Bugeting and Sourcing
Building
Income (Sponsorship and fund raising)
Communication
The logic is to involve students in all aspects of our project with perhaps 6 students in each area that could be rotated on a regular basis.
Build is perhaps self-evident, but communication and discussion with schools further down the development road could make a real difference.
A sponsorship team contacting local businesses will quickly finance some of those hidden costs that need to be addressed, transport etc.
Fundraising is a real winner, school disco's, raffles, bake-offs, there are so many ideas that an energetic team can produce.
Communication - let your school know what you are doing, what the Rotary Rocket means to you. Contact your local newspaper with some photographs and utilise social media. The more publicity you create the easier sponsorship and fund raising will be. In the area of communications parents are vital in supporting students and just getting involved.
The Greenpower Challenge
After 6mths of design development and testing the Bideford College Technology department unveiled their prototype Rotary Rocket race car before an enthusiastic audience of Rotary members at Bideford College on Wed 16th December 2015.
Based on their experience of competing in the Greenpower Trust's electric race car competition over the last three years, Bideford College have researched and developed a low cost "starter Kit" that will be made available for less than £1000 and enable any school or college to build a car for entry in the annual Greenpower electric car race car challenge.
The partnership between Bideford Bridge Rotary Club and Bideford College provides the College with financial support and mentoring for the next 2 years as the Rotary Rocket race car is built and raced up and down the country by Bideford students.
All of the race car design and build has been done in the College with upwards of 25 students aged between 11 and 16yrs involved. Don Carter, Bideford Bridge Rotary Club's Youth Service Committee Chairman, sees the project going from strength to strength, "the car will race for the first time in Newquay on the 14th May 2016 and then on to Rockingham, Merrifield, Castle Coombe and then back to Rockingham in October for the season's final race"
Says Don Carter "We are in contact with other Rotary Clubs who will hopefully contact schools and colleges in their own area creating a partnership to develop, build and race their own Rotary Rocket"
Commented Don Carter "the Greenpower race day is great fun with 3 drivers, a 4 student backup team and plenty of parental support. Hats off to the Technology Department at Bideford College, without their commitment there wouldn't be a project. The out of work hours, particularly the Wednesday evening club makes it all happen, well done to them"
It's not surprising that the preoccupation is with the race day, but it's the skills that the students learn when designing and building the car that really matter. The project teaches students to work in a team environment and learn to lead when necessary and learn skills that will prove invaluable in their future education and careers.
Greenpower have recently awarded Bideford College Technology Department the Centre of Excellence status.The College are happy to provide support to any college or school that wants to join the Greenpower challenge and needs some help.
Says Don Carter "this is a very exciting project that will show how Rotary can work with a local College and prove that the sciences can be fun. I hope that more Rotary Clubs will join us and we will see the project active throughout North Devon"
The car that was displayed at the District Conference in Torquay, March 2016.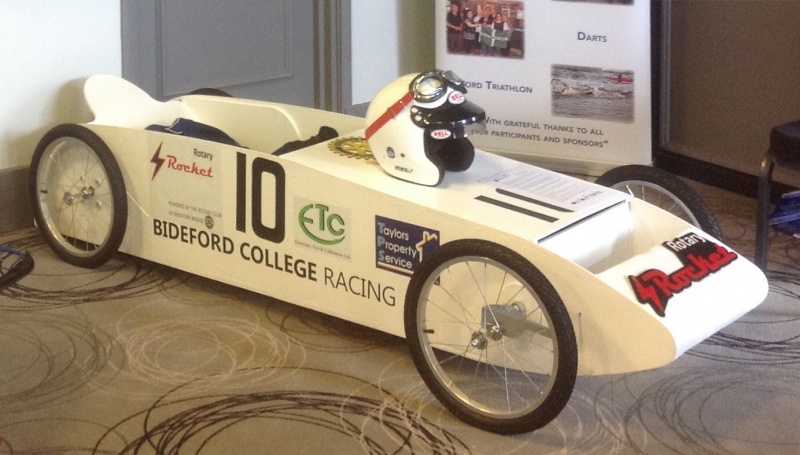 Technical Notes
The car is built from poplar and beech plywood for lightness and strength, reinforced to meet very stringent safety standards.
Powered by 12 volt batteries the car has a top speed of 23mph and runs for approximately 90mins each race.
There are 3 drivers, each drives for approximately 30mins, and a pit backup team of 4 students.
Greenpower have homologated the main aspects of the car however some flexibility is allowed.
Greenpower are a charitable trust set up by the Institute of Engineering and Technology to advance the education of young people in the sciences.
Dimensions
The car is 2.2 meters long, 0.6 meters wide
For further information