News
News and details of our fundraising and other activities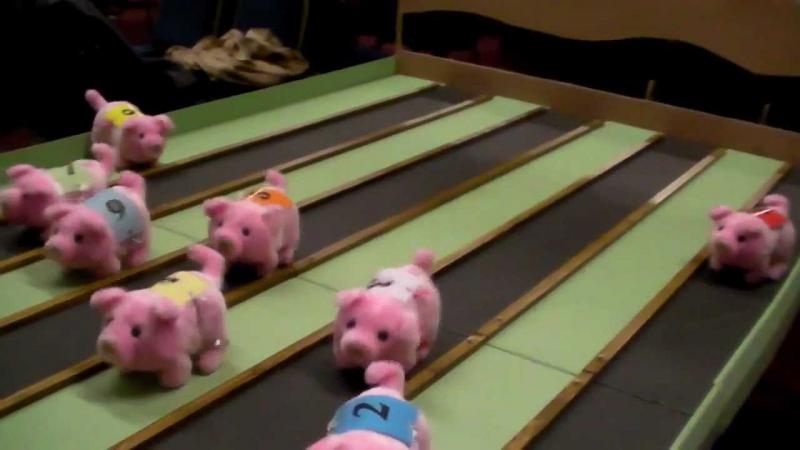 On Friday 19th February 2016, the Rotary Club of Sowerby Bridge held a pig race night to raise funds for the Calderdale Flood Relief fund. The "pigs" (no animals were harmed in this production) were raced on a small track at The Sportsmans Inn in Greetland, where Rotarians, their friends and family placed bets on which would win. Also you could buy any of the pigs in the races to be their owner and also win a monetary prize. Metcalfe's tote bookmakers gave the odds once all bets were placed. For the last race, the winners of the previous 6 races came back to race in the Grand Final. A pie and pea supper was served half way through the evening. Over £500 was raised during the evening. Special thanks go to the Pig Race Action Team (PRATS), as well as the evening's sponsors including Country Stores of Hebden Bridge, Bluebird Care Calderdale, D Sales (UK) Ltd, Pediwear Show Centre, Halifax as well as all Rotarians who sponsored races.
We have also recently held quiz evening at The Sportsmans Inn. There was a picture round (20 pictures of fruit to be named) and the first 20 questions were posed. There was an interval for pie and peas, with the last 10 questions posed. The winning team won with an incredible 46 points out of 50.
Our community convenor, David Durbin has recently reviewed our community endeavours for our AGM:
"This Rotary year has been a mixture of the old and new.Following on from Hazel's defibrillator year (a hard act to follow)it is surprising what we have actually achieved!

The projects in no particular order that we have done or supported are as follows,
Car boot sale,Halifax Agricultural Show,Totally Locally market,Up and down t'street campaign,Rushbearing festival,Remembrance Sunday parade,Memory Lane Cafe bucket collection,Bric a Brac stall at Sowerby Bridge market,Afternoon tea and flower arranging demonstration,White Windows Xmas Fayre,Winter Lights parade and collection,Santa Sleigh Overgate collection,the Charity Lunch and the Navigation walk.

The hours used were approx 400 and involved 64 Rotarians and supported by 12volunteers (non Rotarians).At the current rate of £7.50 per hour this equates to approx £3000.

While the majority of our activities have been the regular ones we have added something new in the Car boot sales and our support for the newly formed Memory Lane Cafe.The successful Afternoon tea and flower arranging event was also a new idea.
During the year we have donated £1119 to Memory Lane ,raised over £900 for Overgate and £172 for the Elland Male Voice Choir and obtained a grant of £5000 for the Canoe Club.We have also applied for match funding for Overgate and this will enable them to purchase new equipment to the value of £2000.

All the above has continued to keep the Club in the public eye and shown our support for the local traders.None of which would have been possible without all your support and on behalf of the Community Committee I would like to say a massive thank you."