DEMENTIA FRIENDLY CLUB
MIRFIELD ROTARY IS THE FIRST IN YORKSHIRE TO BECOME DEMENTIA FRIENDLY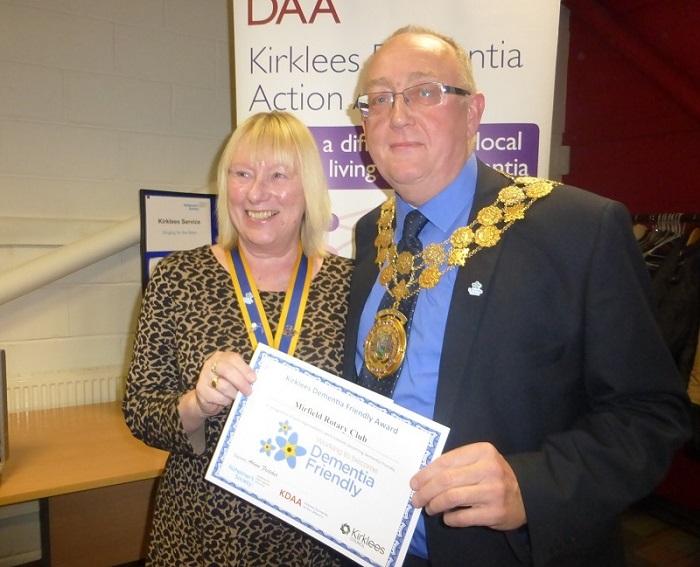 FIRST FOR MIRFIELD ROTARY CLUB
'I feel quite passionately that people living with dementia and their families need and deserve the best support and care available and most important of all, information as to where they can access facilities.' President Sue Charlesworth
Mirfield Rotary has become the first Club in Yorkshire to be accredited as a 'Dementia Friendly' Club. The accreditation was awarded by the Mayor of Kirklees at a special ceremony last week.
Some months ago club members started to learn about the extent of the challenge many people in the community face due to dementia. They were assisted by Kirklees Dementia Action coordinator, Elaine Bostock.
The club invited speakers and also arranged a training session. Some members chose to accept the role of becoming 'dementia friends'. It became clear that the club had a strong commitment to do its best to raise the profile of dementia in the community. A decision was then taken to join the KDAA and agree on an action plan.
This led to the Club being accredited as the first Club in Yorkshire to be a Dementia Friendly club.
Dementia is a clinical condition. There are about 180 dementia patients registered at the Mirfield Health Centre. Once the diagnosis is established there are reasonably adequate support mechanisms in place to help such patients.
But, there are big gaps in the way people with impending dementia are supported. Many who provide public services – shop keepers, hair dressers, bus drivers etc - may not recognise the difficulties some people with impending dementia face.
Sue Charlesworth, the President who led the club through the process said: 'The work we as a Club have done in this area links in to the Rotary District Community Aims for 2015-16, one of which was to contact/reach out to the Elderly. We have worked hard this Rotary Year to raise our Club profile in Mirfield and to use our skills to serve the local community. Our work in the area of dementia has been a central part of this plan. I feel quite passionately that people living with dementia and their families need and deserve the best support and care available and most important of all, information as to where they can access facilities. The project is a long term one which will go on far beyond this Rotary year but we have been out there taking part in activities and raising awareness to help create a Dementia Friendly Community in Mirfield. We have raised significant funds for Dementia related charities and this work will continue together with helping the KDAA in their community initiatives.'
Elaine Bostock, Project Coordinator, Kirklees Dementia Action Alliance said: "We are delighted to be working with Mirfield Rotary club. Together we can deliver better outcomes for people with dementia, their families and carers. It is wonderful to have support at a local level so that we can raise awareness and tackle issues and stigma that people living with dementia and their carers face each day".