Presentation to the Sea Gull Theatre Pakefield
Picture of Ian presenting certificate to Karen Read the Venue Manager at the Seagull Theatre to mark the donation of a grant towards the flooring refurbishment costs.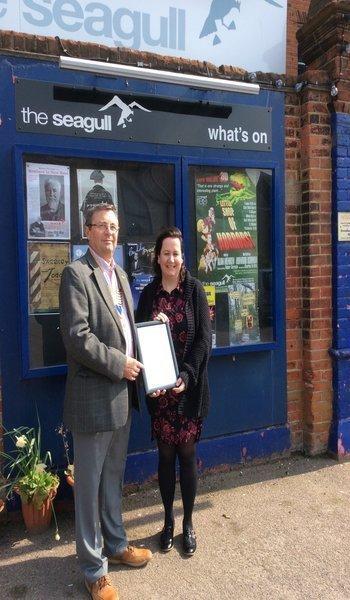 The Seagull Community Theatre
This afternoon Sheila Davies and President Ian Davies had a tour of the Seagull Theatre Pakefield http://www.theseagull.co.uk
The reason for the visit was to present a certificate acknowledging our support of their flooring project to Karen Read the Venue Manager. We were shown the flooring in the auditorium and were amazed to learn that t was all being laid by volunteers. In fact, the whole theatre is run by volunteers except for two part time paid employees.
This is an excellent local not for profit community asset. It is in need of continual updating, but the volunteers we met were certainly very enthusiastic.
I was not aware of the number of community groups that use this facility, and over 200 children attend classes in theatre and dance weekly.
We caught a rehearsal for a production by FABBA Theatre for Adults with Learning Disabilities and the enthusiasm of the actors was excellent. Sadly the upstairs rehearsal studios cannot be accessed by those with severe disabilities. Access is on a very long and expensive shopping list of the Venue Manager.
If you look in their brochure you will see the Rotary logo.
If we wanted to find a local community group in need of support, this would fit the bill. Rotary could assist in updating a dance or rehearsal studio and have it named after Rotary. I'm sure that such a project would be worthy of a Foundation Grant.
For £100/year we can sponsor two seats in the auditorium or if they were holding a fundraising event, we could volunteer to assist them to raise money.
Thank You Rotarian David Collins for producing Certificate