Our annual Community Service Award
Jayne Biggs gave a presentation explaining her fund raising activities to provide life saving defibrillators to be fitted into schools and clubs.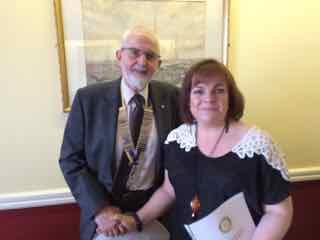 At our meeting on Tuesday, 12th april, 2016, we presented our annual Community Service Award. The recipient this year was Jayne Biggs who has, since her daughter's heart attack at the age of 7, almost four years ago, thrown herself into fund raising to enable defibrillators to be fitted into schools and clubs, anywhere there are numbers of children. Since she started fund raising, almost three years ago, she has been able to place defibrillators in several schools locally and it is her intention to continue to do so until all the schools are fully equipped. The defibrillators have a commentary which gives details to the user how to operate them and no specialist training is required, and no harm can be caused to a patient so long as the instructions are followed. Jayne and her husband Tony have experienced the worst possible nightmare and their reaction has prompted them to raise money for the equipment which hopefully will save lives in similar circumstances to those of their daughter. President Martin Keable presented Jayne with a Certificate together with a cheque for her Charity and she was thanked by Rtn Henry Dent for her presentation.