Visit of the Mayor of Wirral
former club member Les Rowlands talks to the club about his year in office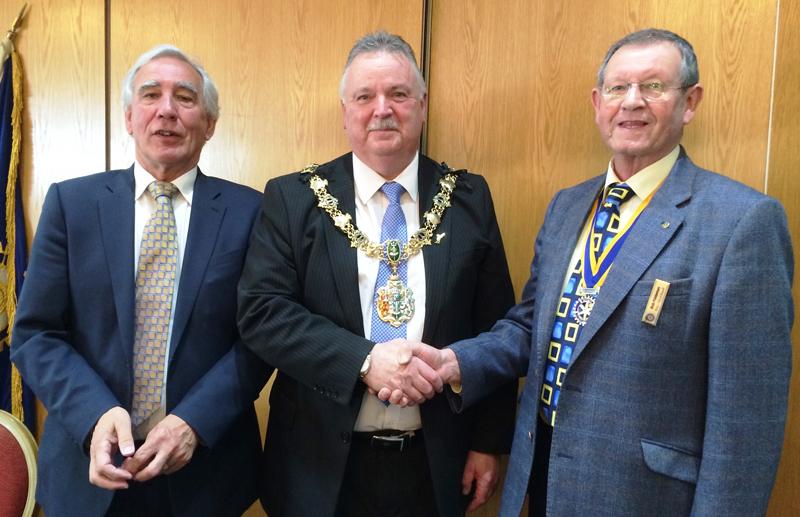 Mayor Les Rowlands is a distinguished ex memeber of our Rotary Club. He was an active member some twenty years ago and he recalled his involvement in the Limbs for Ghana project and his correspondence with Brother Tarcisius. He told of Brother Tarcisius sending a photo of a small boy with an amputated arm with the comment that children's prosthetics were difficult to make. Shortly after Les found a child's size artificial arm amongst the limbs collected from Clatterbridge Hospital and was later delighted to receive a photograph of the boy wearing that arm. Les was pleased that the Ghana project was still going strong and what a great benefit it was continuing to be.
Les then described his first week as Mayor which proved to be exceptionally busy. After his inauguration he attended the Queen's Garden Party meeting such VIP's as the First Sea Lord and then going to Kensington Palace to meet Princess Anne. In the final three days of the week it was the occasion of the Three Cunard Queens in the Mersey. Again there were many VIP's to meet and he was pleased to learn from the CEO of Cunard that the intention is to bring back Cunard cruise liners to Liverpool. His year continued to be very active and to date he has attended over 600 functions. He initiated the first Wirral Civic Day for twenty North West Mayors and was delighted to show off Wirral's attractions and places of notable interest to them.
Les said that for his year he chose to support thre charities and throughout the year he has held monthly charity meetings in Wallasey Town Hall. The Clatterbridge League of Friends which this year donated £25K for a breast treatment machine. North West Ambulance now has three operational helicopters. The Wirral Alzheimer's Society which supports people with demantia, especially dear to Les as his father in law is suffering from that illness. After organising for the ballroom in the Town Hall to be reopened for functions and public hire, Les arranged a Tea Dance for over 300 guests.
The club appreciated Les taking time to talk to members and the opportunity for some "older members" to renew a few pleasant memories with him. Les said that in May he completes his term as Mayor, an experience he has thoroughly enjoyed and he will the retire as a Councillor.