Fifty ........ not out
North Walsham rotarian's 50 years of active service in the community marked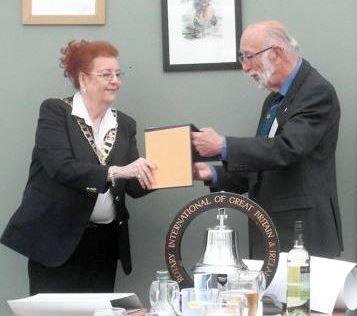 Fifty …. Not out
A truly amazing record of service was recognised at North Walsham Rotary Club on May 16 at their weekly meeting at the Scarborough Hill Country Inn and marked by the Club, the Rotary District [Eastern England] and even the International Rotary movement.
The club gathered to mark the achievements of one of its members, local optician and historian, Mike Ling, who has passed the milestone of fifty years' service as an active Rotarian in the town. During that time he has served on every Club committee and been president twice. He is passionate about the community and its needs, an authority on the history of North Walsham and involved in many local clubs and charities.
Mike received a number mementos to mark this special occasion: an engraved piece of glass and a signed certificate from his fellow Club members, presented by Club President Ted Gadsden, a Paul Harris Fellowship with sapphire presented by the Rotary District Governor, Dorothy Pulsford-Harris, and a signed certificate and letter from the President of Rotary International. Needless to say, Mike was almost speechless. What a great evening. Everyone left with a smile on their face.
This was Mike's second Paul Harris Fellowship, the first presented to him by the RCNW "twin club" in Odense in Denmark for his work with the link. The award bears the name of the founder of Rotary in 1905 in Chicago. It is very rare for a rotarian to receive this accolade twice which makes this presentation so special. Mike has Rotary in the blood, as his father was a founder member of the Club in 1946.