EasyFunding Donation History - Its so easy and its free!
So who is supporting the Free Donations for Charity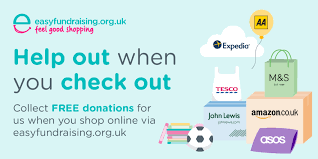 £853.13 Total raised by 23 supporters of
The Rotary Club Of Lowestoft East
Point Supporters
Do you shop online? Do it through easyfundraising.org.uk and raise a free donation for Rotary Club of Lowestoft East Point Charity Trust Fund every time you shop! £858.91 raised so far by 24 supporters of our Club - Are you a supporter yet? https://new.easyfundraising.org.uk/donation-reminder/ Download and install on your browser to remind you to press the donation! (July 2016)
Top supporters of EasyFunding in the Rotary Club of Lowestoft East Point are
1st Claire G. £427.23
2nd Richard F £93.11
3rd Lee M. £92.25
4th Sarah J £80.64
5th Steve J. £50.25

Welcome Pauline Archer to EasyFunding. We now have 24 people registered and supporting the Trust Fund
1. Start at easyfundraising
Let's say you want to buy a pair of shoes from John Lewis. Instead of going to johnlewis.com directly, you first go to easyfundraising.org.uk.
2. Make a purchase
From the easyfundraising website, click through to John Lewis to make your purchase. This tells John Lewis you came from easyfundraising. The price of the shoes is exactly the same.
3. Get a donation
After you buy your shoes, John Lewis will give you a cash reward that you can turn into a donation for your good cause. easyfundraising collect this and send it on at no extra cost.
4. Get the easyfundraising Donation Reminder
You can skip steps 1 and 2 with the easyfundraising Donation Reminder. Just click the reminder when you shop to receive any eligible donations. You'll never forget a free donation again!
Powered by easyfundraising.org.uk