AMBASSADORIAL SCHOLAR FOR 2016-17
Rotary Foundation funds post-graduate scholarships to foster international understanding. Some are Foundation Grant Scholars and others - funded mainly by individual Districts - are Ambassadorial Scholars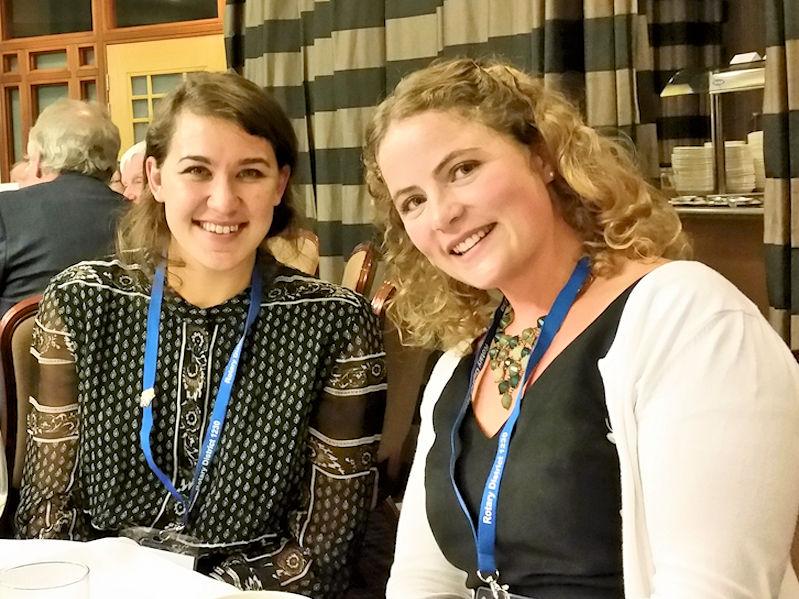 This year - 2016-17 - we are delighted to be the host club for Ambassadorial Scholar Anya Eber

(right, in the photo).
Anya has settled in quickly at the beginning of her 1-year Rotary Ambassadorial scholarship at Glasgow University. She has found an excellent apartment and is delighted with her lectures and fellow-students.
She attended the District Conference on 1st and 2nd October, where she met fellow Rotary scholars Jordan Koletic from North Carolina and Nao Shiraishi from Japan.
Anya's Rotary Ambassadorial scholarship is sponsored by the Bainbridge Island Rotary Club in District 5020 - Western Washington State, USA, and Vancouver Island, British Columbia, Canada.
She is doing a Masters programme on the international trafficking of stolen art and artefacts - a natural continuation of her earlier studies of archaeology at Brown University (USA) and criminology at the University of Oxford.
Our aim, as Anya's Host Club, is to ensure that Anya's year is stimulating and successful educationally, but also enjoyable and personally fulfilling.
In the past, we have been the sponsoring Club for three Ambassadorial Scholars:
PAUL McGONIGAL spent a year at the University of New South Wales in Australia studying International Human Rights Law.
DONNA FINLAYSON spent a year at Lund University, Sweden.
MARK KELLY spent a year at the University of Berkeley, California, studying Architecture.
All three of these young people are now following successful careers and continue to promote the aims of Rotary.