President Paul Wilkinson Walk 8th April 2017 - Cancer Awareness
Sat 8th April 2017 at 09.00 - Wed 12th April 2017 - 18.00
President Paul Wilkinson will be Walking West Coast to the East Coast of England. Contact Paul if you would like to join him on the walk or just sponsor him to raise funds for the Sandra Chapman and Louise Hamilton Centres at the James Paget Hospital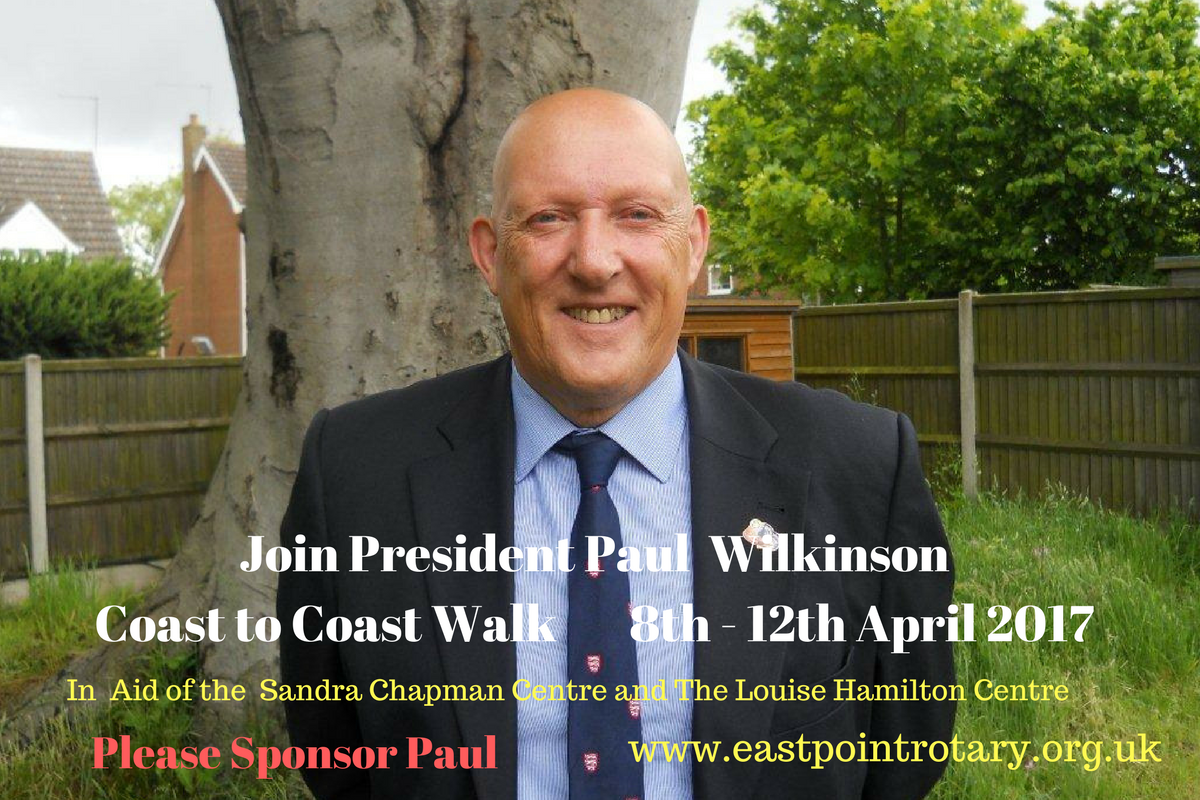 Well, I intend to walk from the west coast to the east coast of England during the school Easter holidays in 2017 ( 8th -12th April) as a Fund raiser – others may wish to join in, or just sponsor. Both my sons have said they will walk with me all being well. I have shared this with the members of the Club and I would value your support to plan a way forward.
https://mydonate.bt.com/events/paulwilkinson/406190?



The Presidents Walk: 8th to 12th April 2017
This walk is to raise funds, to be equally shared, between the Sandra Chapman Centre and the Louise Hamilton Centre at the James Paget University Hospital. The reason for the walk is the support my first wife received prior to her death in May 2000, aged 45.
We have received a letter from the Chief Executive confirming this. Secretary Martin has the original for the Club records.
My son and daughter in law are providing walking support and a car.
DETAILS – so far...
Friday 7

th

April – drive to Newcastle, leave car and train to Carlisle.

Stay 2 nights at The County Hotel, Carlisle – CA1 1QP

Saturday 8

th

April – Start The Walk – OS Landranger Map 85 – Grid reference 225628.

Second night at The County Hotel.

Sunday 9

th

April – 2

nd

Day`s walking - set out towards Haltwhistle and Bed & Breakfast at, The Bridge House, near Cawfields, NE49 9NW.

Monday 10

th

April – 3

rd

day walking – set out towards Hexham and The Station Hotel, NE46 1EZ.

Tuesday 11

th

April – 4

th

day – set out towards Heddon – on - the –Wall. Western outskirts of Newcastle – Upon – Tyne. Overnight accommodation to be booked.

Wednesday 12

th

April – 5

th

and final day – set out for Wallsend – 3.5 miles east of Newcastle.
Club Support: What`s needed?
A sponsor form that is up to date with Charity Commission regulations.

Ability to sponsor online as well as on paper

Advertising on social media and a blog!

An A4 poster to send out to possible sponsors – other Rotary clubs?

An article for District 1080 News

President to visit other Clubs and speak on behalf of.

East Point members to seek sponsorship
Rough Walking Planning so far
Bowness to Carlisle – 15 miles
Carlisle to Gilsland – 19 miles (area near Cawfields OS Landranger Gr.Ref 71,67)
Gilsland to Chollerford – 21 miles (on the wall – just north of Hexham Gr. Ref. 91,70)
Chollerford to Heddon - on - the - Wall – 15 miles (western outskirts of Newcastle Gr. Ref. 13.67)
Heddon - on - the – Wall – Tynemouth – 15 miles (Wallsend a bit less)
Clearly these are all approximate!
It would be my intention to walk a bit further on day one – much of day one is flat and some on concrete!
- In order to knock a couple of miles off the next two days – which will be hardest - all things being equal!
So Join me or if you prefer not then I have my Sponsor Form for Fund Raising . All the money raised will go to the two dedicated Charities.
Paul Wilkinson
President of the Rotary Club of Lowestoft East Point
January 2017
To Sponsor Rotary Club of Lowestoft East Point -President Paul Wilkinson 'Coast to Coast Walk' https://mydonate.bt.com/events/paulwilkinson/406190?