Lowestoft Santa Sleigh 2017
Planning is already under way for the Sant Sleigh starting first Monday 4th December 2017 - Looking forward to Christmas in Lowestoft !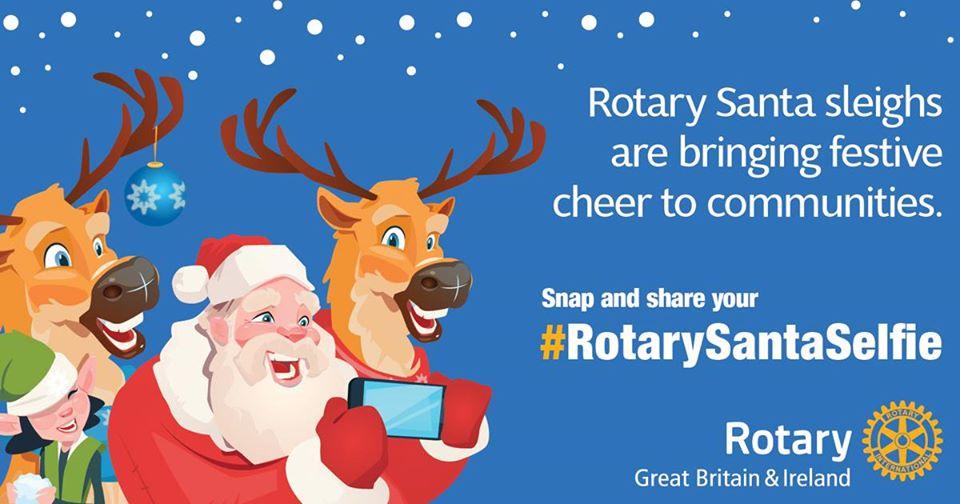 The Routes are out now! Santa and Rudolph will hit the streets in Lowestoft from 4th December 2017 from 5.05 pm
Don't forget to bring your letters for Santa. Santa has a postbox for anyone to post a letter to Santa which Santa will look at after each run. Santa can't guarantee to answer them all but he will definitely read them.
MONDAY 4TH DECEMBER 2017
MEET AT CO-OP ASHBURNHAM WAY - CARLTON COLVILLE - 5.05 P.M
Left into Ashburnham Way
Right into Cowslip Crescent
Left into Ashburnham Way
Right into Arundel Way
Right into Kingswood Avenue
Left into Chislehurst Road
Right onto Framfield Road
Left into Mayfield Road
Left into Uplands Close
Right into Elmdale Drive
Right into Ninfield Close
Turn round at end
Right into Robertsbridge turn round at end
Rejoin Ninfield
Right into Elmdale
Left at Appledore
Left at Copper Beech
Right at unmarked
Return to Appledore
Left up Ashburnham Way (no door knocking)
Right into Long Meadow Way
Left into Wheatfield (turn at end)
Park at end of Rye Close
Left into Long Meadow Way
Right into Seddlescombe Road (turn at end)
Right into Long Meadow Way
Left into Thistledown (turn at end)
Left into Long Meadow Way (stop door knocking at top)
Round right hand corner,
Left into Plovers Way
Right into Rowan Way
Left into Conrad Road
Left into Chichester Drive (turn on conc. hard standing on left towards the top)
Left into Conrad Road
Left into Burnt Hill Way
Finish at top
THURSDAY 7TH DECEMBER 2017
MEET IN LAYBY OPPOSITE SPAR SHOP IN HALL ROAD - 5.05 P.M
Down Hall Road
Right into Broad Road
Right into Clarkson Road
Right into Rock Road
Left into Hall Road
Left into Moyes Road
Right into Clarkson Road
Through into Gilpin Road
Left into Hall Road
Left into Chestnut Avenue
Left into Grange Road
Left into Sands Lane
Left into Longfield Way
Through into Herons Close
Right into Edendale
Right into Sands Lane
Left into Cheviots Road
Left into Grampion Way to End & Retrace
Left into Sands Lane
Left into Cambrian Crescent to End & Retrace
Left into Sands Lane
Left into Mendip Road
Reverse into Brendon Close & Retrace
Right into Sands Lane Return to Start via Chestnut
SUNDAY 10th DECEMBER 2017
MEET MITCHELLS GARAGE – 3.35pm
Suggest one car full of collectors is taken and parked near junction of London Rd Sth and Lorne Park Road
Start at top of Southwell Road
Right into Beaconsfield Road
Right into Lovewell Road
Left into Anchor Street
Left into Lorne Road
Right into Beaconsfield Road
Left into John Street
Right into Bruce Street onto Salisbury Road
Straight across to Lawson Road
Left into Lorne Park Road
Fill towing car and spare car
and take collectors to entrance
Waveney Crescent
Left into Waveney Crescent
Left into Waveney Drive
Left into Kimberley Road
Right into Durban Road onto Notley Road
Left into Kirkley Run
Right into Edgerton Road
Right into Maple Road
Right into Hawthorn Avenue
Left into Ashfield Crescent
Right into Hawthorn Avenue
Left into Pinewood Avenue which becomes Egerton Road
Right into Beechwood Gardens
Right into Britten Road
Left into Pinewood Avenue
Left into Homefield Avenue
Left into Southfield Gardens
Right into Eastwood Avenue
Left then right into Briarwood Road
Right into Westwood Avenue
Right into Greenfield Road
Left into Homefield Avenue
Left into Oakwood Road
Right into Westwood Avenue
Left into Broadwaters Road
FINISH AT BOTTOM
TUESDAY 12th DECEMBER 2017
MEET AT ONE STOP SHOP CAR PARK ( HOLLINGSWORTH ROAD) 5.05 P.M
Leave Pub, turn left into Hollingsworth Road
Right into Europa Road
Right into Harris Avenue
Right into Minos Road
Left into Mylodon Road
Left into Hollingsworth Road
Right into Montgomery Avenue
Right into Normandy Road
Left into Spashett Road
Right into Westhall Road
Right into Wisset Way
Left into Rumburgh Road
Right into Spexhall Way, Turn at bottom and retrace
Right into Rumburgh Road
Left into Weston Road
Right into Blyford Road
At Reyden Mews Turn round and retrace
Right into Weston Road
Left into Westhall Road
Right into Spashett Road
Left into El Alamein Road
Left into Tedder Road
Right into Mountbatten Road
STOP COLLECTING AT TOP
Fill tow car with collectors and go
Left into Montgomery Avenue
Right into Hollingsworth Road
Left into Ashley Downs
START AGAIN
Right into Somerton Avenue
Right into Mount Pleasant
FINISH AT TOP

THURSDAY 14th DECEMBER 2017 BLOODMOOR ESTATE
MEET AT TURNBERRY WAY/ALDWYCK WAY, OFF LONG ROAD - 5.05 P.M
Collect on Turnberry Wy
Wentworth Wy
Aldwyck Wy
Aspinall Cl
Velda Cl
Collectors and sleigh go to Bloodmoor Rdbt
Left into Ribblesdale off Bloodmoor rdbt
Left into Deepdale
PLEASE take your time stopping at
all junctions with cul-de-sacs to allow
collectors to knock on doors down
each cul-de-sac
Right into Colsterdale
Left into Swallowfields
Left into Long Beach Drive
Right into Deepdale
Right into Ranville
Left into Wharfedale
Right into Ribblesdale
Left into Fortress Rd
Turn at Portsch Cl
FINISH
SUNDAY 17th DECEMBER 2017
MEET AT LOWESTOFT STORAGE CAR PARK - DENMARK ROAD - 3.35 P.M
Trafalgar Street
Left into Harvey Street
Right into Steven's Street
Right into Norwich Road
Right into Clemence Street
Left into Harvey Street
Left into Selby Street
Right into Maidstone Road
Left into Trafalgar Street
Left into Norwich Road
Right into Avondale Road
Right into Sandringham Road
Left into Beckham Road
Left into Stanford Street
Right into Ethel Road
Contact Caterers to get to
Love Rd
Right into Haward Street
Left into Norwich Road
Continue onto Stanley Street
Left into Wollaston Road
Left into Love Road
Right into Yeovil Road
Right into St. Peters Street
Left into Winnipeg Road
Right into Church Road
Left into Ipswich Road
Right into St Margarets Road
Left into Sussex Road
Right into Yarmouth Road
Right into Royal Avenue
Right into St Margarets Road
Left into Queens Road to bottom
Right then right into Cambridge Road
Left then left into Oxford Road
Right into Church Road
Left into Burton Street
Right into St Peters Street
Left into Beresford Road
Left into Love Road
Right into Raglan Street
FINISH
MONDAY 18th DECEMBER 2017
MEET AT CAR PARK ON PAKEFIELD ROAD SOUTH OF CEFAS LAB – 5.05pm
(Suggest one car is taken and left at sea end of Grand Avenue to bring collectors back to start)
Right into Pakefield Rd
Left into Morton Rd
Left into All Saints Rd
Left into St George's Rd
Stop near turn
Left into Rochester Rd.
Right into Kendal Rd.
Right into Wilson Rd
Right into Pakefield St
At bottom of Pakefield St go
past Tramways,
Left into Florence Rd,
Left into Saxon Rd
Left into Sunningdale
Turn at end of Cunningham Ave
Allow collectors time to do Cunningham
and Gunningdale
Back down Saxon Rd
Left into Florence Rd
Park at end to do Oddfellows Pub and Street.
Alternatively reverse to front of Oddfellows
Onto Nightingale Rd
Right into Grand Avenue
Left into London Road
Left into Grayson Drive
Right into Cliftonville Road
Left into Nightingale Road
FINISH AT JUNCTION WITH GRAND AVENUE