2016/17 Speakers at M&P
Speakers at Club meetings
Life Story by Rtn Simon Flint

Simon's Talk at the Rotary Club on 4 June 2017
Simon (accompanied by his daughter, Ruth) gave a whirlwind tour of his life. It pre-dated his birth in 1956 and ended with today – Business Development Manager for Lagan Construction Group. Simon was born in Wolverhampton and went away to school in Shropshire, Wrekin College, where he got the requisite A levels to go to Kings College London to study civil engineering.
On graduation in 1979, Simon joined John Taylor & Sons and the highlight was three years in Qatar where he worked on the construction of the Sewage Treatment Works. He also became a Qatari rugby international. In the late 80s he did an MBA and this allowed him to branch out into Market Research, Corporate Strategy and Business Development with AMEC. In 2001, he joined Balfour Beatty and ended up specialising in energy – nuclear, offshore wind and Severn Tidal Barrage. In 2013, he joined Lagan Construction Group and headed up the Belfast based company's market entry strategy into Great Britain.
Sport has always played a large part in Simon's life and, in particular, rugby and cricket. He was heavily influenced by his county cricket father and grandfather. In addition, his father married captain of England Women's cricket, Rachael Heyhoe-Flint. Today he is secretary of Midhurst Rugby Club and President of Midhurst Cricket Club. Back in the 90s he started mini rugby and cricket at Midhurst. Today he coaches the 5 to 8s at cricket and the u13s at rugby.
Simon is a family man. He met Celia in 1977 and they married in 1980. By 1991 they had three children – Sam, Ruth and Edward. Ruth was the recipient in 2015 of a large bursary from the Rotary Club which allowed her to study at Harvard.
Simon and Ruth along with other family members entered Eggheads. It is due to be screened in November 2017. Simon is also a Governor at Churcher's College.



Taking part in Eggheads

Cricket coach
Simon's early years!


Speaker 22nd May

Parkinsons UK

At the twilight meeting on the 22nd May we had the benefit of a presentation from Valerie and Jenny from Parkinsons UK. The presentation was all the more impressive as Valerie, the main speaker, not only had never done a presentation for Parkinsons UK before, but she suffers from Parkinsons disease herself and one of the symptoms is a tendency for the voice to trail off or become faint. Happily that was certainly not a problem and she spoke with great passion.
Parkinsons disease is, and has been for some time, a national problem. One in 500 people in the UK have the condition and one is diagnosed every hour. It usually appears in those aged over 50 but can appear younger and even in those in their teenage years. Only 5% of sufferers have some sort of genetic link to somebody in the family who has the condition, meaning for the other 95% medical science really has no idea why this occurs. It really is a poorly understood condition.
The condition seems to be caused by lack of a naturally created chemical, which prevents instructions from the brain reaching the relevant muscles etc.. There is no test available before symptoms have appeared and no two people have exactly the same symptoms. Often it is physical but there can also be cognitive symptoms.
Shockingly, there have been no new treatments produced in the last 10 years and no major changes in the last 50 years. A major part of Parkinsons UK's work is trying to address that.
Parkinsons UK are trying to bridge the funding gap between new ideas and actually turning them into treatments. Stem cell research offers some hope and they are very hopeful of some progress with a treatment referred to as GDNF, for which results of clinical trials are expected very shortly.
Parkinsons UK was founded in 1969 and, as well as funding research, they do a lot of work in supporting sufferers and their families, educating health professionals, sharing best practice and campaigning for more help and attention on the issue.
The Parkinsons' nurses are a particular boon, especially with significant delays in consultant appointments and GPs being wary to change medication, due to lack of knowledge. Midhurst has a local group, which operates from the Grange, supporting sufferers and their families.
Valerie and Jenny were refreshingly open in that they are obviously after whatever monies they can raise by whatever sources. They have extensive fund raising resources available and for example will even provide the questions if someone wants to host a quiz to raise money.
The particular issue that Parkinsons UK need help with is a charity walk across usually closed paths across the Cowdray estate on 9th July. The walk starts at 10am and is a 4.5 mile course. They are hoping to get 100 walkers and already have 25. However they also need marshalls to help with the course, as they take their health and safety responsibilities etc., very seriously; even Chris Wigly was impressed with the voluminous documentation he had seen. Volunteers will need to be on site for 8.30am for a briefing but the whole event should be completed by 1pm. A board has gone round but if anybody can help, either by marshalling or joining in the walk, do liaise with Chris Wigley, who has all the details.
Tim Melville Walker
More info about the walk:
Walk for Parkinson's – Cowdray
Join Parkinson's UK on Sunday 9 July 2017 for a brand new 4.5 mile sponsored walk for Parkinson's around beautiful Cowdray. The walk across the Estate passes through woodland and fields with spectacular views of the surrounding countryside. We'll also take in the scenic golf course, the magnificent Cowdray Heritage and the Cowdray Park Polo Club grounds.
Entry fee is £10 for adults and £5 for under 16's, and all walkers will receive a Parkinson's UK T-shirt, plus a medal on completing the walk.
The funds raised from the Walk for Parkinson's – Cowdray will go to Parkinson's UK to support the vital research work taking place to find a cure for Parkinson's Disease and improve the lives of the 127,000 people in the UK who are affected by the condition. We support those living with Parkinson's and their families and friends, so that no one has to face Parkinson's alone.
You can find out more and register at www.parkinsons.org.uk/walkcowdray or contact the Regional Fundraising Team on 020 7963 3912 or email fundraising@parkinsons.org.uk
For more information about Parkinsons take a look at www.parkinsons.org.uk
SPEAKER 24 APRIL 2017

RSPB PULBOROUGH BROOKS NATURE RESERVE
NIGHTINGALES
by Rtn Peter Davis with Hugh Horne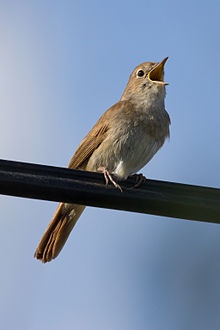 Since retiring from his work as a GP based at our local surgery Peter has become a volunteer at the RSPB Pulborough Brooks Nature Reserve and has a wide knowledge of the birds that can be seen there as has his former colleague Hugh Horne.
Pulborough Brooks is set in the sheltered Arun Valley within the South Downs National Park. The Visitor Centre and reserve is open all year and has 100,000 visitors a year – it is the most visited RSPB site in the country, especially popular for children on school trips, usually from primary schools. It boasts a great variety of habitats including wetlands, woodland, and heathland. Grazing cattle keep the grass at the correct level for breeding birds. Some of the birds Peter mentioned were Lapwing, Redshank, Snipe, Woodlark, Nightjar, Linnet, Goldfinches, Turtledove, Blackcap, White Throat and Nightingales.
Hugh Horne played us recordings of many of the birds, including the Nightingale which can be heard in the evening at this time of year.
The Nature Reserve is open to the public all year - walks lead through hedge-lined paths to viewing areas and hides where volunteers are often on hand to help point out the wildlife. If you're new to nature, introductory events, guided walks and courses are held throughout the year.
Helen Chapman
4th APRIL 2017
JOB TALK BY JOHN MAGUIRE

At a recent meeting John Maguire gave us a very full and informative job talk. Born in Liverpool in 1945, son of a coal merchant. Sadly his father died when he was nine years old. He attended St Mary's College in Crosby where he enjoyed maths and sports.
He achieved seven GCE qualifications but decided to take an apprenticeship with the English Electrical Company. From 1967- 1969 he trained as a draughtsman, going forward to working with Meccano and Dinky toys. In 1971 he joined Plessey Telecom as an industrial engineer, during this time improving his education and becoming Cost Control Manager, moving to Kirby and South Shields as Deputy Purchasing Manager, costing copper and silver etc.
In 1979 he joined Hitachi Electronics Ltd, Cardiff as Purchasing Manager in charge of transporting high volume TV's. 1200 – 1500 a day to different parts of the world. This continued until 1985 when he re-joined Plessey Military Division in Ilford until 1994. He then moved to Cowes in the I.O.W. John continued moving around building up his knowledge of business.
In 1997 John met his present wife Sandy and they married in 2002. He had three children from a previous marriage. With his business experience he decided to build his own business in buy to let investments. This proved to be successful, enabling him to enjoy his love of horses. He was part of a syndicate of several horses trained by Mike Channon, including Chilworth Lad and later Chilworth Icon. We were told to look out for a jumper being trained in Somerset by the name of Champagne George who shows promise.
Roger Poat

20 March 2017
BBC Sports Exec John Shrewsbury
John worked in Sport for 55 years, first for Hayters Sports reporting agency, secondly for a Sports Promotion Company called Bagenal Harvey/Denis Compton Ltd where he organised Sunday Cricket matches which were televised by BBC 2. This led, after 4 years, to an offer from BBC Sport to join them. He was promoted producer in 1974, specialising in Football, Athletics, and Golf, but also produced The London Marathon (his toughest challenge), Test Match Cricket, Wimbledon, Formula One, and even Greyhound racing. Plus a few others. He worked on 8 Olympic Games, 6 Commonwealth Games, and 7 Football World Cups. He directed around 600 games for Match of the Day including 15 Cup Finals, and 52 England Internationals. He was the Executive Producer for 15 Open Golf Championships and 20 Augusta Masters. He worked with David Coleman, John Motson, Peter Alliss, Peter O'Sullevan, Des Lynam,Richie Benaud, Murray Walker, John Arlott, and finally retired after the London Olympics in 2012. John took lots of questions form the floor.
6 MARCH 2017
Rotary Talk by Steve Morley - That's Entertainment
I have known Steve for more than 10 years now, he has been a hard working Midhurst Town Councillor for probably more than that, he also was on the Original MADhurst committee, I also knew he had been a Professional photographer but I wasn't prepared for the details of his past life!!
He gave a totally fascinating insight of the other side of Steve Morley and his involvement in the world of Entertainment. He covered all the aspects of entertainment and the people he had worked with, obviously in photo form. They included Music, which I believe was his first love, with photos of Bruce Springsteen, Stevie Wonder and Cliff Richard, Light Entertainment with Terry Wogan and others, Comedy with the famous duos of Morecambe & Wise, French & Saunders and Julie Walters & Victoria Wood.
Drama with Morse and Minder with George Cole and the lovable Dennis Waterman, Politics featuring a run in with Margaret Thatcher on her very first day as Prime Minister, Royalty with a couple of the biggest weddings/celebrations . Loved the story of when he was told by some armed police to hit the deck if anything went wrong, whilst waiting to catch the best photos, thought he heard a gunshot so threw himself down to be told it was a champagne cork going off in the crowd.
Onto the world of movies and being involved with Jim Henson and the Muppets with Michael Caine and Four Weddings & a Funeral and many more. Steve went on to test the audience with a quick picture Quiz but surprised us with some great early photos of Jude Law, Angela Lansbury, Bob Geldof and many others including a John Major look alike. You can always measure the level of interest by the questions asked and this talk was no exception.
Thank you Steve it was a fascinating insight into the world of a Photographer to the stars.
John Barrett
TALK BY GILLY BATE ON HER FULL TIME CAREER

ON THE ENGLISH CHALK STREAMS AND FISHING

AROUND THE WORLD
Gilly was introduced to fly fishing by her husband David. As her interest grew she went on courses and became qualified and now runs a travel company which specialises in fishing holidays.

Fishing is the most popular sport in this country with more people fishing than watching or playing football.

The chalk rivers in the UK are the best in the world due to the quality of the water and the wildlife they support. 80% of all chalk rivers are in the UK. All are privately owned and fishermen will pay up to £500 a day for fishing rights.

Gilly was so enthusiastic about fishing and explained it was not just about catching fish but about meeting people and having fun, all over the world. She explained that fishing each day is different with the fish responding to different flies and skills and experience are needed to be successful. Fishermen start by catching a fish, then want to catch lots of fish, then want to catch big fish and finally develop the skill to catch a particular fish.

We were treated to some wonderful photos of fly fishing all over the world in rivers and the sea.

Alan Robinson
Meeting Monday 20th February 2017
Speaker RTN NIGEL GOODENOUGH
I wanted to tell the Club about an International Blacksmithing event that I was part of in Ypres in October 2016, and give my thoughts on the Belgium people and on the Great War as it affected the Ypres area.
Ypres is only about 75 minutes' drive from Calais and is well connected to the Channel ports by railway. So, allowing for train and steamer journeys it would only have been, during the Great War, about 5 hours from the relative calm of London to the total destruction of Ypres. The contrast between the two ends of such a short journey had an impact on me and must been a huge shock to the soldiers arriving at the front.

Ypres stands at the centre of an east-facing bulge of high ground ('the Ypres Salient') and the Western Front more or less stayed at the edge of this high ground (a relative term – it all looks pretty flat when you are there) plus or minus a mile or two throughout the War. Thus Ypres never fell to the Germans, but was always within German artillery range. By 1915 the town was so badly damaged that the civil authorities and all the civilian population had abandoned Ypres, and by 1918 the whole town was totally destroyed. During the 1920's the medieval centre of the town was rebuilt and looking at it today you would never guess that 100 years ago, it was a heap or rubble.

The Belgium Blacksmiths' Association wanted to mark the 100th anniversary of the various battles around Ypres by producing a peace memorial. The plan was to have an international design completion for the memorial, to produce it in public in the Grote Markt (in front of The Flanders Field museum) in the centre of Ypres, and to erect it in a permanent home at the German Cemetery at Langemark. The German cemeteries (in contrast to the Commonwealth Cemeteries) are very sombre with no public art or really any form of memorial to the dead, so the erection of the memorial at the German cemetery both constituted an act of reconciliation and provided a fine piece of public art at a location that would definitely benefit from it.

The Belgium Blacksmiths Association (being rather small) asked the British Artist Blacksmiths' Association (BABA) (of which I am a member) to help them run the project, and thus my involvement. Details of the main project can we seen at www.ypres2016.com

My main work at the event involved children's forging. The Weald and Downland Museum (I'm a volunteer) pioneered hands-on blacksmithing for children (from 8 upwards) and when BABA saw this (they had one of their annual meetings at the museum a few years ago) they said they wanted to have children's forging as part of all their annual meetings. When the prospect of Ypres came along they were again keen to involve children and a scheme was hatched to get local schools to come to the main forging site to make poppies (the petals being about 4 inches across) from pre-cut blanks, the poppies then being assembled into wreaths (about 4 feet across) which would be incorporated into the main memorial. So, we spent 5 days making poppies with local children. Four smiths worked at 4 anvils so that we could do 8 children simultaneously (2 at each anvil alternately working and watching/resting). In total 3 wreaths, each made up of about 120 poppies were produced. Two are part of the main memorial and one will shortly be set up on the small roundabout in front of the Mennen Gate in the centre of Ypres. One evening we were invited to lay one of the wreaths at the Mennen Gate as part of the Last Post ceremony – very moving.

It was a great event to be involved in. Smiths came from all over the world to take part, and the support of the Belgium people and the Belgium authorities was amazing. New friendships were made (I would say forged but ......) and old ones reinforced. The work was completed on time and in November we journeyed again to Belgium for the official 'opening' at Langemark – a big municipal "do" with about half a dozen ambassadors attending, TV coverage and a very nice reception in the Mayors' Parlour to boot.

Nigel Goodenough




Monday 16 January 2017
MAKING BABIES - HOW THE NHS HELPS COUPLES CONCEIVE A PRESENTATION BY NICK PULSFORD

Nick explained that he is the Head of Assisted Conception working out of Kingston upon Thames Hospital. He has worked in Assisted Conception since 1990 and was responsible for setting it up at St. Marys Hospital, Roehampton.

The unit at Kingston is one of the largest in the South of England and covers the Kingston and Richmond area, and comprises specialist doctors, nurses and administration.

Nick highlighted many facts and figures in conception which included 1 in 8 couples have trouble conceiving, one third of fertility problems are due to male factors, one third due to female factors and one third a combination of both male and female, whilst 45% of women under the age of 35 will have a baby with IVF treatment. However, the post code lottery comes into play which means that different areas will fund different treatments.

A question and answer session concluded the presentation which generated very lively debate, especially when it came to funding from the NHS for specific cases of individual treatments.

In conclusion it was a very informative and interesting presentation on the work undertaken by the Assisted Conception unit which continuously develops the treatment and needs of couples wanting to have babies.
John Sexton




Monday 5th November

Toni Holloway, Midhurst Team Manager of Coastal West Sussex Mind
Toni Holloway, Midhurst Team Manager of Coastal West Sussex Mind, came along to tell Midhurst & Petworth Rotarians about the work this independent local mental health charity is doing in West Sussex.
Their services support people across all age ranges, both those suffering mental health problems, their families and carers. They aim to empower people to have control of their lives and be as independent as possible. They also work actively in local communities to raise awareness about mental health and tackle the stigma and discrimination which continues to affect the lives of people with mental health problems by running events and activities and providing training to staff.
A cheque for £3,000, representing funds raised at this year's Rotary Charity Golf Day, was handed to Toni by President of Rotary Club of Midhurst & Petworth Robert Morrison to be used by Mind for the work they do in this area.
If you would like to know more about Mind's work take a look at http://www.coastalwestsussexmind.org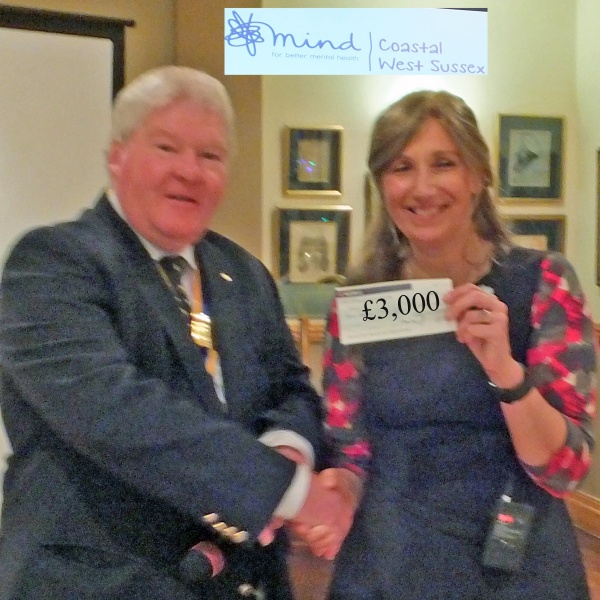 President Robert Morrison hands Toni Holloway of Mind a cheque for £3,000
****************************************************************************************


Speaker 28/11/16 Rotarian Peter Nightingale
Midhurst opened it's 3m x 3m Museum in Knockhundred Row in Dec 2001. With the theme changing monthly over the 5 years 20,000 people have seen a variety of topics - photography, Oxo, needlework, royalty, military, hairdressing and the list goes on. This year the museum has spread to adjacent premises enabling a more permanent display to grow up and more room has enabled hosting of school trips. All this has happened entirely due to enthusiastic volunteers. If you would like to be involved phone 07528 648643, take a look at www.midhurstmuseum.co.uk or pop in. AND admittance is free.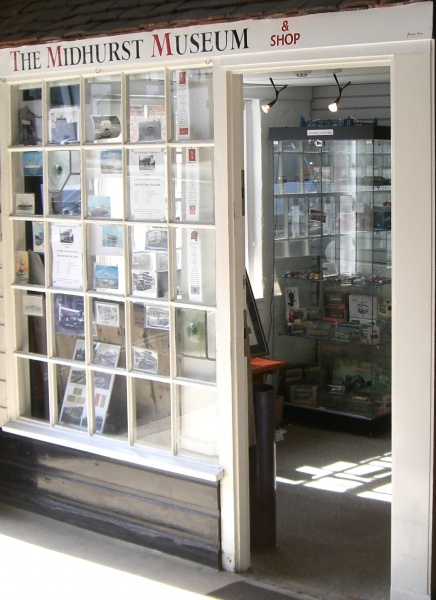 Monday 7th November 2016

Chairman of Midhurst Town Council - Mark Purves 


  

How lucky we are in Midhurst to have such a young Chairman of the Town Council – Mark Purves - a young man with fresh ideas who is passionate about his local community. Mark talked to the Midhurst & Petworth Rotary Club this evening about his chairmanship of the Council. He emphasised the priority he puts on communication reminding us that the Town Council have a stand at each Monthly Market at The Grange from 10.00 to 12.00 giving everybody easy access to their councillors. Mark was happy to take questions and was not surprised to be asked about use of the old library, continuing work to the Midhurst pond, state of the road at top of North Street and election of officers.

Report by Helen Chapman

 







Speaker 31st October 2016 Wing

Commander Glen Cole

from the Chinook Base at RAF Odiham
Glen joined the RAF straight from school and now 22 years later controls 11 Chinook aircraft and some 220 personnel. After initial flight training he was immediately allocated to helicopter training so has never flown a fixed wing combat aircraft. His current role involves among other duties training and he has flown with both Princes William & Harry being especially complimentary of William's abilities.
Glen gave us a brief history of Odiham which was originally commissioned in 1937 and opened by a high ranking German Airforce officer! Today RAF Odiham is the command centre for Chinook operations.
The Chinook first came into service with the RAF in 1968 and there have been a number of upgrades leading to the current model. The list of combat areas in which the Chinook has served is very extensive including The Balkans, Iraq, Afghanistan, Falklands etc. and Glen has been on 5 tours in Afghanistan and 4 in Iraq.
Training pilots is a very important part of his job. The RAF are aware of the problems training flights can cause (night and low flying for example) - they do try to minimise this as much as possible but if we want a defence force they must be capable and ready to meet any situation.
Glen's talk easily held the attention and it, and the subsequent question and answer session, were very informative.
Report by Rob Doney
Club Meeting on Monday 17th October 2016
Speaker: Jill Denis – The Northern Lights
The Midhurst and Petworth Rotary Club members were enthralled by Jill Denis speaking about her trio to see the Northern Lights. Her superb photography and knowledge was recorded when she stayed in Northern Norway in a log cabin beside tranquil fjords.
The wildlife, birds and animals, including friendly reindeer, were captured in wonderful pictures projected onto a large screen as well as the light 'show' itself. She explained that the light 'show' is caused by highly charged particles being released or thrown from the Sun's atmosphere and colliding with the Earth's atmosphere. This all happens at between 50 and 400 miles above the North Pole. A member commented that similar displays can also be seen at the South Pole and indeed Iping! Although rarely!
Jill explained the variations in light colour occur depending on the gas typed involved. Oxygen produces a yellow or green colour at about 60 miles up. Nitrogen produces a blue colour. Oxygen at about 200 miles above the Earth produces the rarer red colours.
Jill lives in Midhurst, studied geology and is quite expert in photography using her SLR camera with shutter speeds of 20-30 seconds in order to capture sufficient light.
Her talk was very well received and a vote of thanks was given by Peter Shaw.
Report by Peter Shaw

Jonathan Russell talk on Cowdray 3 Oct 2016

Jonathan Russell, Chief Executive at Cowdray Estate for the last 2 years gave us a talk about the past, present and future of our
local estate



He described his origins on an Oxford farm followed by a 10 years in the army. He then qualified as a surveyor. Cowdray estate is his second post since his army career.
The Pearson family bought the Estate in 1909 based on finances from international engineering projects. It comprises of 16,500 acres mainly locally with some overseas. They employ 170 staff – 30 more than 2 years ago. What they do is incredible varied: farms, houses, hotels, pubs, forestry, farm shop, cafe, golf club, events business,filming. It was clear that Jonathan saw this as a business which had to generate a return – interesting to me that the large estates around were bought by money from sources away from these estates and that that continues even today eg Roman Abramovich with other land locally to us.

Lord and Lady Cowdray are highly influential in the day-to-day directions of business and clearly see the estate developing the hosting of corporate entertainment, hospitality events and multi leisure activities events with customer experience being paramount. They are also getting involved in local community events in schools, etc.
Thank you Hazel for organising this speaker who gave an excellent talk relevant to all of our lives in this area
Report by Andrew Mitchell
REPORT ON THE VISIT OF DISTRICT GOVENOR, FRANK WEST
ON 19 SEPTEMBER 2016
There are currently 97 Rotary Clubs in District 1145 and Frank has visited 57 to date. This is now the second year of the merger into the new District and Frank's view is that it has all settled down well. He believes District is not there to tell clubs what to do but to provide support for all clubs in the activities they decide. He quoted examples of clubs working together and with outside agencies to achieve more than they could on their own.
Rotary is celebrating 100 years of Foundation and Frank would like all clubs to celebrate at local level. Foundation gives one million US dollars to good causes every day. It's support of Polio Plus has resulted in currently only 16 new cases of polio in Pakistan and Afghanistan and 2 in Nigeria. With the help of the governments concerned and the Bill Gates Charity, polio should be finally eradicated by the end of 2017.
Frank stated that in future Rotary needs to continue to change. We do not need to meet weekly, we can have friends of Rotary, social members or whatever the clubs decide to run the club, to encourage more and younger members.
All Rotarins are invited to attend District meetings.
Alan Robinson
Monday 7th Sept 2016 - Brian Smith - Balloonist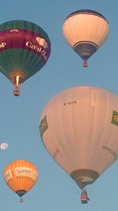 We had a number of Partners/Inner Wheel members totalling 55 in all for this meeting at Cowdray Park..
Brian started his career in British Airways as did his wife Cecilia who was also with us.They were both headhunted to act as flight controllers for the successful Breitling Round the World Balloon flight. It was interesting how reliant they were on intelligence to take the right track in the many weather systems around the globe.
When the weather is fine & calm they will probably be up in their balloon. They operate VIP Corporate Balloon Flights and Passenger rides.
More recently they have organised a Spitfire Simulator in a barn at their home in Wisborough Green. This is obviously not weather dependant and offers the chance to fly a full scale replica of the iconic Spitfire set in the atmosphere of a typical crew room. Maybe Rotary could organise a visit sometime (six at one time). All profits go to the RAF Benevelent Fund.
An entertaining and amusing talk.
Brian set up the simulator in April, 2013, and has already raised more than £1,400 for the RAF charity.

Read more at: http://www.midhurstandpetworth.co.uk/news/fly-a-spitfire-in-wisborough-green-1-5809896 An entertaining and amusing talk.
Geoff Payne
Meeting on Monday 22nd August 2016
Speaker: Rtn David Cross, Chairman of District 1145 Foundation Committee
David Cross had been invited to our meeting to explain the ways in which The Rotary Foundation is funded and what it does with the money received. The Rotary Foundation is Rotary's own and only charity, a not-for-profit organisation supported and funded by contributions from members and other supporters. The income is invested and used to finance Rotary projects. By matching funds provided by Rotary clubs Districts and the World Fund can grow the money by up to three and a half times: Let's say a Club planning a project puts £1000 into the project and applies for a District Grant, the District can match the £1000 and apply to the Rotary Foundation for matched funding of half the Club's money and one hundred percent of the District money - thus making £3,500.
How is the Money is spent:
Polio Plus: The Bill and Melinda Gates Foundation (please note that Foundation is American for Charity – Ed) supports Rotary's campaign for the eradication of Polio and if the donation is to Polio Plus the Gates Foundation will put in twice the donation, thus making it three times the value. In 1985 when Rotary joined with the World Health Organisation and UNICEF to eradicate Polio there were 350,000 cases of Polio reported in 125 countries. In 2015 there were 80 cases reported in just two countries – Pakistan and Afghanistan. To eliminate Polio is a massive task and immunisation programmes are being carried out as there will be a need to immunise for three years after the last case is reported to ensure the virus has been wiped out.
Peace Centres: Six universities across the world offer Peace and Conflict Resolution Studies MA Courses – one is in the UK at Bradford. The scholars are funded 100% by the Rotary Foundation.
Grants:
(i) District Grants – support for Rotary projects locally or overseas, up to £1000 per project which should involve Rotarians and constitute a Service Project. The projects must be sustainable (ie, provision of spare parts and training local people how to use the machinery and to replace parts, etc.). In addition the projects must adhere to at least one of the six areas of focus: Peace and Conflict prevention and resolution; Disease prevention and treatment; Water and sanitation; maternal and child health; Basic education and literacy; and Economic and Community development.
(ii) Global Grants – Rotary projects overseas or in the Home community and must have an international partner (District Committee can help identify the international partner if required). The projects must adhere to at least one of the six areas of focus and be sustainable. The project must invest at least $30,000 into a community.
Global Scholars: University scholars funded by their Home District overseas who send them to benefit from a higher education qualification. Local Rotarians are asked to mentor them while in their studies.
Vocational Training Teams: Groups of young professionals who are training for a skill or profession where there is deemed to be a benefit from a short stay in an overseas country learning how the work is carried out there. The Team may be "Overseas to UK" or "UK to Overseas" and the costs are funded by the Rotary Foundation.
How is all this funded?
Contributions are made to The Annual Fund, the Permanent Fund or the Polio Plus Fund. It is up to the donor to decide and declare where they want the donation to go! (Whilst David spoke about the donations made by the Club year on year, individual members are encouraged to make personal donations to the funds if and as they wish – Ed).
The Annual Fund income is invested (in a wide spread of investments – details are available in the Foundation Annual Report) for three years and then distributed between District Grant accounts and the Global Grant account. Both may be applied for (see above). The Permanent Fund income is put into the capital fund and the income earned is spent on Rotary projects as mentioned. The Polio Plus income speaks for itself!
The overall aim of The Rotary Foundation is to:
a. End Polio forever;
b. Strengthen members' knowledge, engagement and financial support for the Foundation;
c. Increase the quality and impact of humanitarian services through Rotary grants and the areas of focus;
d. Enhance the image and awareness of the Rotary Foundation's record of achievement, particularly the success of Polio Plus, and the Rotary Foundation's 100 years record.
"Don Donations to The Rotary Foundation enable Rotary the world over to achieve amazing things.
Pete Peter Nightingale
----------------------
Editor's Note: Our Club's all-time giving to The Rotary Foundation is $105,585. We have 15 Paul Harris Fellows, 13 Sustaining Members, and 2 Benefactors.