Crucial Crew 15th to 25th November 2017
Three Club Project - We are looking for Rotarian Volunteers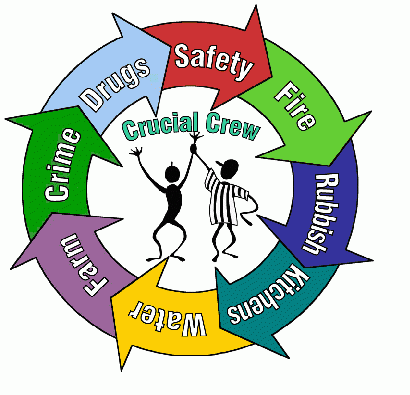 CRUCIAL CREW November 2017 ( East Point Project Committee)
Once the Ron Sampson cycle event in September has finished and the Dictionaries for Life have been handed out to the enlightened children we have only a few weeks before we be looking for volunteers for |Crucial Crew.
We at East Point Rotary Club have for several years contributed greatly to this activity by sending members to assist in manning the Waveney District program located again this year at the Lowestoft Community Church ,Hadenham Road Lowestoft NR33 7NF
All our members who have assisted in this activity over the many years of our involvement report back that they have really enjoyed their experience .
It is a National program of about eight scenarios for year six pupils covering: cycling safety, fire safety, a smoke filled room experience , crime reduction and awareness etc etc all much needed controlled set ups giving the children an insight to life's hazards.
It is a half day style program in which we at East Point assist in by taking groups from one scenario to another. It is always well supported by East Point and recommend this to every member. Volunteers are invited to attend one or more morning or afternoon sessions.
Sometime October we shall receive the registration forms which need completing promptly and returning to the organizers. Retuning this application also gives you the opportunity to select or suggest your preferred date and time to attend.
For any further information , please contact me .
Phil Meaden