The Rotary Club Christmas Tree Lighting Ceremony Saturday 24th November
The Rotary clubs Christmas Tree Lighting Ceremony will take place on Saturday 24th November with the switch on by the Town Mayor Councillor Rex Whittaker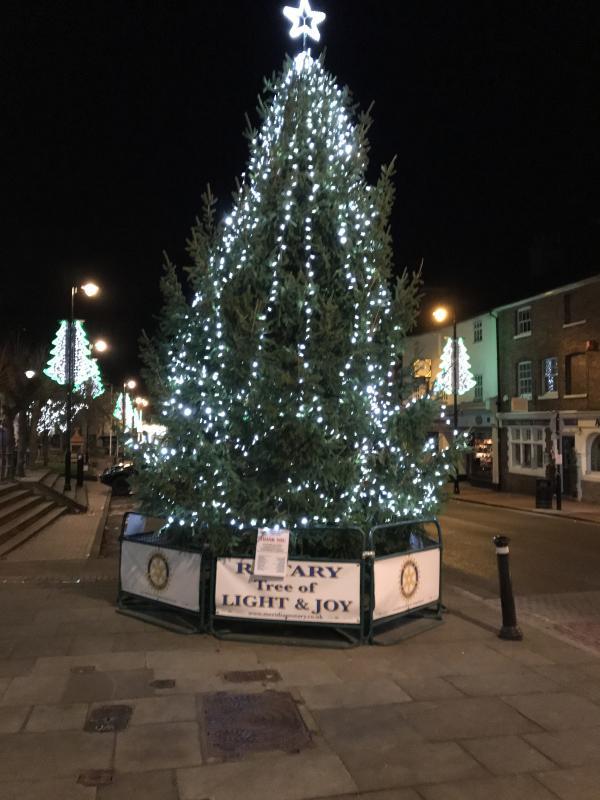 CLICK HERE TO SEE SOME PHOTOGRAPHS OF LAST YEAR'S EVENT
East Grinstead Rotary clubs Christmas Appeal for 2018 starts on Saturday 24th November with the Christmas Tree Lighting Ceremony. The ceremony takes place outside Broadley Brothers in the High Street with the lights being switched on by the Town Mayor Councillor Rex Whittaker.
The following is the programme and timings for the event:
Timetable of events
2-30-3-00 pm
The "Town Crier", Father Christmas and Pantomime Characters will circulate the town to announce to the public that the Tree Lighting Ceremony will be taking place outside Broadley Brothers in the High Street.
2-50 - 3-15pm
East Grinstead Concert Band will commence playing at 2-50pm building up to the Town Crier opening the ceremony at 3-15pm.
3-15pm Ceremony to commence
The Town Crier will introduce all the participants:
The Vicar of St. Swithun's Church will deliver his Christmas message
Sackville Junior Choir will sing their chosen festive songs
Pantomime Characters will make their contribution and advertise their pantomime at the Chequer Mead Theatre.
East Grinstead Concert Band will play the following Carols and the public will join in with communal singing
· Hark the Herald Angels Sing
· Silent Night
The Town Mayor will switch on the Christmas tree lights at 4-00pm
East Grinstead Concert Band will continue by playing
· Good King Wenceslas
· O Come all Ye Faithful
4-15pm Conclusion The Rotary President will bring the ceremony to a close by delivering the Rotary Christmas message