Charlene Tait "" Scottish Autism
Thu 16th February 2017 at 18.30 - 20.30
Ms Tait will address the Club on Scottish Autism which is an organisation dedicated to enriching the lives of people with autism H&R: Charles Keeper and Ian St John VoT: Jane Allan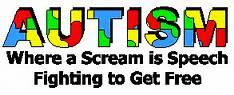 Senior Vice President Andrew Murray chaired tonight's meeting of the Rotary Club of Motherwell and Wishaw.
Our guest speaker was Charlene Tait, who comes from Wishaw but now resides in Lanark, the Director of Autism Practice and Research at Scottish Autism. She informed the members that Scottish Autism is an organisation dedicated to enriching the lives of people with autism. It was established in 1968 by a group of parents and it is now the largest provider of autism-specific services in Scotland and a leading authority and advocate for good autism practice. Scottish Autism exists to help those diagnosed with autism to lead full and enriched lives and become valuable members of the community they live in. They also seek to share their knowledge and expertise with parents, carers and other professionals in order to support the development of skills and strategies needed to provide the best care and support for people with autism.
With a head office in Alloa, and over 900 staff working across Scotland, they offer a large range of services for people with autism including education, day and vocational opportunities, supported living, outreach, respite and specialist transition support.
Charlene answered a large number of questions put to her by an inquisitive audience. Rotarian Malcolm Southern gave the vote of thanks.
Foundation convener Willie Talbot updated members on the requirements of volunteers needed for the British Transplant Games that will be held at various venues in North Lanarkshire at the end of July 2017.
The winner of the bonus ball for this week was Bob Craig.