Club Meeting - Help The Heroes
Tue 27th June 2017 at 13.00 - 14.00
Ailsa Alcock of the Help for Heroes charity was the speaker and received a cheque for £1,000 from the D-Day Anniversary Concert proceeds. Derek Hall proposed the vote of thanks.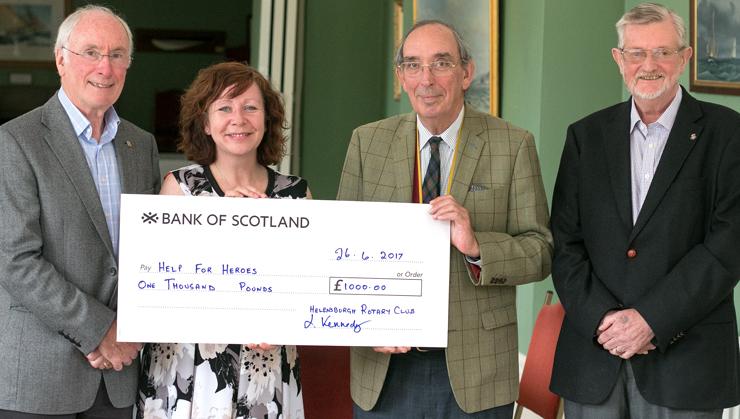 President Bill Jones, conducting his last full meeting before the handover, welcomed thirteen other members and guest Ailsa Alcock, Regional Manager (Income), Scotland and Northern Ireland, for Help for Heroes, who travelled specially from her home in Glenrothes.
Ailsa, who served for 22 years in the RAF all over the world, described the setting up and the work of the well known charity, which celebrates its tenth anniversary in October, and told how it had grown and grown with the support of the British public which she described as "amazing".
It gives lifelong support to men and women with injuries and illnesses sustained while in the armed forces, rebuilding lives and inspiring their beneficiaries. The charity works closely with specialist partners such as Combat Stress, Equine Therapy and the Prince's Trust, and is almost entirely funded by donations, fundraising events and legacies.
President Bill presented Ailsa with a cheque for £1,000 from the over £2,000 raised by the recent D-Day Anniversary Concert in the Victoria Hall featuring the HMS Neptune Volunteer Band and the West of Scotland Military Wives Choir. Concert convener Derek Hall proposed the vote of thanks and said how much he appreciated the support of club members.
The weekly raffle for a whisky miniature was won by John McCormick.