4th Annual Classic Bike and Scooter Show 2017
The Rotary club of Sowerby Bridge (RCoSB) 4th annual Classic Bike and scooter show promises to be bigger and better than before. The date was Sunday May 28th 2017 from 10.30am - 4pm
The Rotary club of Sowerby Bridge (RCoSB) 4th annual Classic Bike and scooter show promises to be bigger and better than before. The date was diary is Sunday May 28th 2017 from 10.30am - 4pm (late spring bank Sunday), and the location is at The Wharf, Sowerby Bridge HX6 2AG. Entry fee to the public for adults is £5, free for under 12s
Pre 1980 scooter and bikes can be entered into the show with 16 categories – there is a new one this year: post 1980 modern classics and custom bikes. The pre entry fee is £5 and on the day is £6. Entry forms are here: /upimages/clubfiles/247/entry form2.jpg.
Alternatively, please contact Dave Roberts to book your entry on 01422 836044 or email on internationalss@tiscali.co.uk
The pre entry fee is £5 and on the day is £6. Bikes and scooters need to arrive on the day between 8am – 10am. Winners will be announced in the afternoon.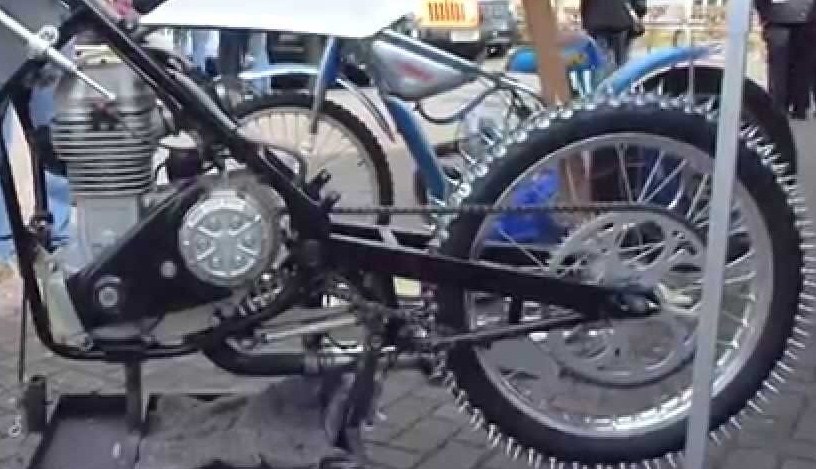 For the second year running we will have the Grand Classic Bike Show Raffle. First prize Is £500, second prize is £100 and third prize is £50. Tickets cost 20p each and can be bought at the event, from members of the club as well as shortly before the event from local businesses in the area. Proceeds from the raffle and the event itself are to go to Rotary charities including Age (UK) Calderdale & Kirkless, and Calder Valley Search & Rescue Team (CVRST).
Additional attractions on the day will include:
·food stalls (such as Tuck Truck, Royds Ices, Pancakes and Hog Roast by The Travelling Pig),
·a tombola,
·game stalls like frog in a bog,
·bike related stalls such as hand painted leather jackets & waistcoats by Lisa,
·a free cinema showing documentaries & films of classic bikes,
·a display of memorabilia from Bradford and Halifax speedways and
·a plethora of ex speedway riders will be in attendance including past local heroes, British champions and World Championship finalists.
·The Yorkshire Branch of the Norton Owners Club will be again showing a variety of models on their club stand
NEW FOR THIS YEAR – A FREE FAMILY FUN DAY adjoining the show, supported by a Community Ward Forum grant. LGS fun fair will be at the show, bringing children swing chairs, waltzer, hook a duck side stall catering van, and a bouncy castle (weather permitting). There will also be 2 donkeys for donkey rides and face painting, along with a small trampoline hoopla hoops and exercise bike for people to try out from Kate's classes. There will be a timed cycle ride on exercise bike winner to get a prize. The local Fire Brigade will be in attendance with one of their engines, subject to there being any call outs.
Also in attendance will be David Bowie and Elvis tribute acts who will be out and around the event to pose for selfies. Our resident DJ, DJ Jiving Jeff will be spinning 1950s onwards tunes with the Rock and Rollers performing some moves at selected intervals. Longswords dancers will also be performing at the Show.
The uniqueness of this event is that it is a pure bike and scooter show making it one of the few in the area, with more classes than any other show (for example there are 2 classes of Japanese bike – 2 stroke and 4 stroke). Every class winner receives a trophy as well as the overall best in show. The show is increasingly attracting pre 1950 bikes and there are 3 pre First World War Harley Davidsons are expected to be exhibited. This is a growing show with up to 50 bikes and we are looking for more including owners of Vincent Comet and Black Shadows. We have previously exhibited a Brough Superior, one of the most expensive bikes in the world. The hard standing historic surroundings of the Wharf and the Rochdale canal make this event even more atmospheric.
It has also been confirmed that Kevin Hellowell of kgh gear repairers of Sowerby Bridige recently took part in the Pioneer run, an event for motorcycles manufactured before 1915. Kevin and his 1912 New Hudson De Lux completed in the Epsom to Brighton run without incident or breakdown. You can see this machine at this years show.
UPDATE
We have already given our some of the donations from the funds we raised - £1500 to Age UK (Calderdale & Kirklees), and £1500 to Calder Valley Search & Rescue Trust.