Rotary Club of Lowestoft East Point Handover 2017
Fri 30th June 2017 at 19.00 - 22.00
Handover Evening - Rotarian Paul Tabiner as President for 2017/18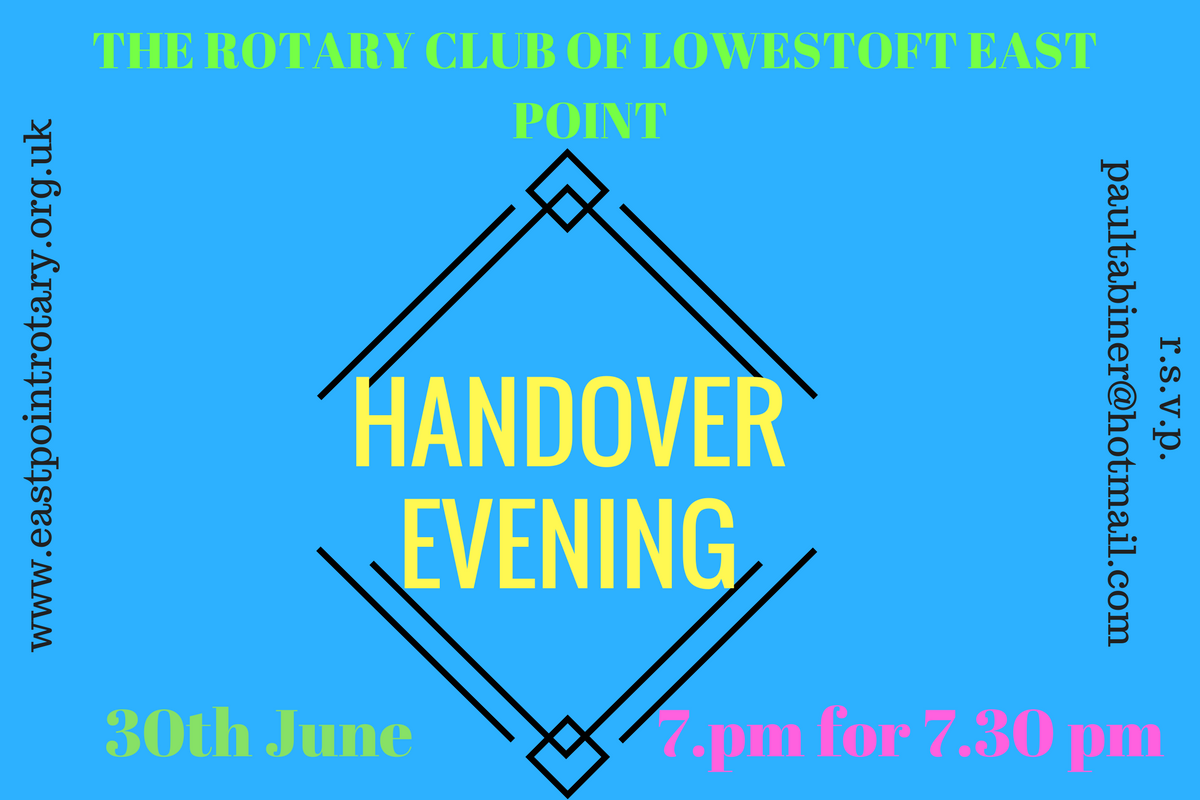 This year's Handover Evening, when the outgoing President hands over to the incoming President, will take place on Friday 30th June, 7pm for 7.30pm.
Incoming President Paul Tabiner has chosen a theme for this year's event - Lancashire, his home county.
The menu and some of the entertainment have been selected with this in mind.
Handover is one of the key events in our calendar so President Paul Wilkinson and Incoming President Paul Tabiner hope that Members, Friends, guests, and partners will join them on this occasion.
The cost of the evening is £15.50 per person and it will be a black tie event.
We need everyone to let us know as soon as possible if they are coming and what their choice of menu is.
The selection is as follows:
Main:
Lancashire sausages with Mustard Mash Potato served with Mixed Vegetables and Red Onion Gravy.
or
Roasted Fillet of Fleetwood Seabass, Chorizo and Onion Potato Hash served with Mangetout & Crayfish Veloute.
or
Cheese & Onion Pie with Roast Potatoes and Mixed Vegetables.
Dessert:
Accrington Sticky Toffee Pudding served with Vanilla Custard.
or
Traditional Lancashire Vanilla Rice Pudding.
or
Mixed Ice Cream served in a Burnley Brandy Snap Basket with Fruit Coulis
Followed by Freshly Brewed Tea & Coffee served with a Chocolate Mint.
r.s.v.p. paultabiner@hotmail.com