Social
A summary of social events which we have enjoyed in recent years, including Presidents' Weekends.
A year in the social life of our club. We work hard but we also enjoy ourselves.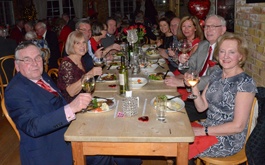 12th February 2018 - Valentine's dinner. This was held at the Rising Sun in Stourmouth. Good food and good fellowship in an excellent cosy pub made for a great evening.
Photo Gallery - Members only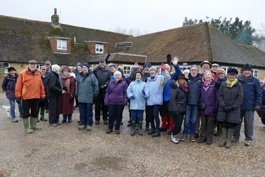 2nd January 2018 - New Year's Walk. This was a 3 miles walk on a cold wet winter's day. After the walk we all repaired to The Rising Sun where a nice lunch awaited us.
Photo Gallery - Members only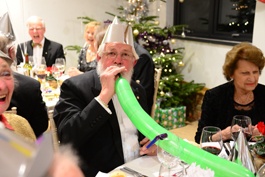 18th December 2017 - Christmas Dinner. Held at Boughton Golf Club we were serenaded by a keyboard player and singer. A number of members took the opportunity to have a Christmas dance together.
Photo Gallery - Members only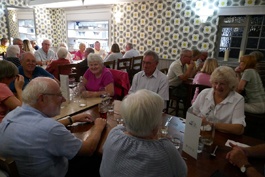 14th August 2017
-
Presidents' Walk and Supper
.
Photo Gallery - Members only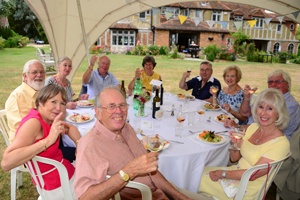 16th July 2017
-
Presidents' Party
. This was held again in the garden of Folly House. We all enjoyed a tasty buffet accompanied by music.
Photo Gallery - Members only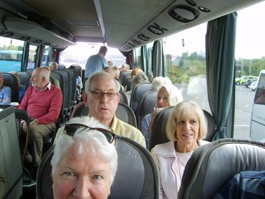 9th June 2017
-
President's weekend
. Safari to Banbury and the Cotswolds. A great weekend had by all.
Photo Gallery - members only.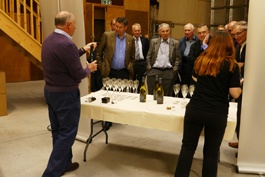 5th June 2017
-
Simpson Wine Estate at Barham
. The meeting was held at the Simpson Wine Estate in Barham and followed by supper in Barham village hall.
Photo Gallery - members only.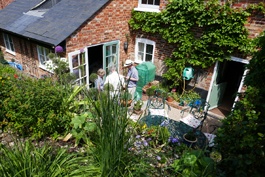 27th - 28th May 2017
-
President '
At home' in Bridge. A memorable weekend thanks to Bicky and David.
Photo Gallery - members only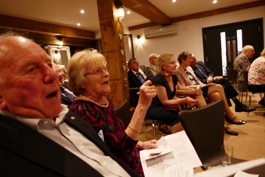 27th March 2017 - Race Night, with partners. A fun evening with money raised for charity. Photo Gallery - members only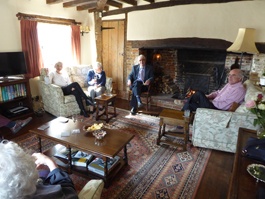 19th March 2017 - A safari lunch. This is where each course of the meal is eaten at a different members' house with a different group of people. It is an organisational nightmare but at the same time very enjoyable for those taking part. It can entail a fair bit of driving as our members are spread over a fairly large area ranging from Elham in the South to Whitstable in the North and Wingham in the East and Faversham in the West.

13th February 2017- 40th Anniversary and Valentine's Dinner at the Cathedral Lodge in Canterbury:
An excellent event attended by the Lord Mayor of Canterbury, our Assistant District Governor, Presidents of Canterbury and Whitstable Rotary and other honored guests. We were entertained with some interesting speeches, a cabaret performed by three attractive young ladies of Blean and a film show of the Club's major activities since formation. What a night to remember for all involved, crowned by the presentation of Paul Harris Sapphire Awards to David Pentin (Founder President) and David Watts (past President) for services to the Club and local community.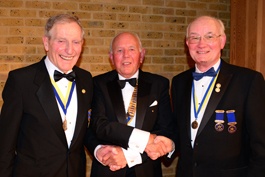 Presentation of Paul Harris Sapphire Awards
to David Pentin and David Watts.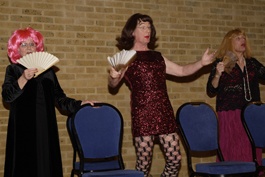 A cabaret with apologies to Gilbert and Sullivan:
Three Little Maids From Blean Are We......
Video - Members only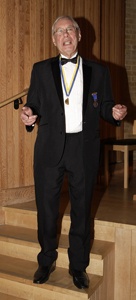 Brian Maxted's comprehensive film coverage
of Club events over the last 40 years:
Photo Gallery 1 - Members only
Photo Gallery 2 - Members only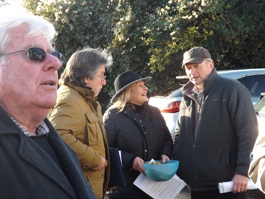 These were the social events held in the past year but of course a lot of the fund raising and community service occasions also give us plenty of social interaction between members.