Brewery Visit - JS/AR
Mon 19th March 2018 at 19.30 - 21.30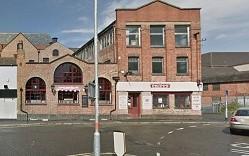 The brewery visit is to Phipps Brewery, www.phipps-nbc.co.uk , for anybody who wants to explore before the evening has been arranged for Monday 19th March. The start time is 7pm, earlier than usual but necessary so that we can eat at 8pm just after the first part of the talk.
The tour and talk will be by one of the founders and the managing director - Aleric. He is an archaeologist - which is a definite hint and clue as to why this is so much more than just a brewery tour! Jim S. went on it last year and it comes 'highly recommended' - big surprise ending!
The menu will be either steak and ale pie, or turkey and ham pie or vegetarian pie; all freshly made. They would appreciate advance notice of numbers and meal options, so names etc to Jim S. by close of business on Thursday 15th. The cost is £17 for the meal and tour/talk. Partners are very welcome.
The address is 54 Kingswell Street Northampton NN1 1PR, there is plenty of parking in the streets around or in the public car parks by TK Max. Both Alan and Jim S will have 4 spare seats in each car so please feel free to book lifts with them.
It is recommended that wearing warm indoor clothes would be a good idea and though everybody should be able to walk around the brewery (use the lift) there may be some 'tricky but not impossible' surfaces/stairs so should not be an issue but best to raise it.