PURPLE4ROTARY
Thu 8th March 2018 at 16.00 - 18.00
A tea party to celebrate International Women's Day in aid of Rotary International's bid to rid the World of Polio. The event was held at The Mercure, Daventry and raised £501.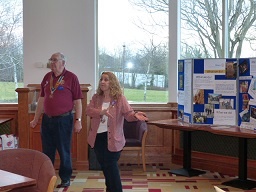 The recent and second
Purple
4
Polio
"Tea Party" organised by 'Danetre' Rotary Club was once again a resounding success.

Again this year, as Guests arrived at the Mercure Hotel for the Event, they were greeted by a large bed of Purple Crocuses in full Bloom at the right hand side of the main entrance.
The purple crocus being a symbol of Rotary's worldwide campaign to eradicate polio; with its colour representing the purple dye used to mark the finger of a child who has been immunised against Polio.
'Danetre' Rotary Club President, Nick Blunt, welcomed all the families, friends and guests who attended.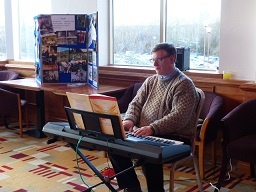 As well as a very enjoyable Afternoon Tea, there was a Tombola and a "Name the Rotary Bear" Competition. The 'Danetre' Rotary Bear's name was "Buster" – and this having been correctly guessed on the day ….. he has now gone off and is now living happily with his new family in Woodford Halse.
Guests were also entertained by well-known local Church Organist and Music Teacher – Michael Hooson – who played a wide range of very enjoyable Light Classical and '60's' Music.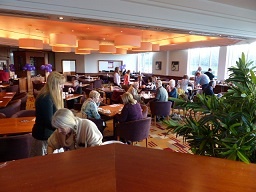 The Daventry Purple4Polio "Tea Party" was part of a concerted Final Push to raise both awareness and the necessary funds to hopefully successfully totally eradicate Polio from the World.
The Event would of course not have taken place, if it were not for the generous help and support of various People and Organisations - who 'Danetre' Rotary Club would like to both Thank, recognise and acknowledge.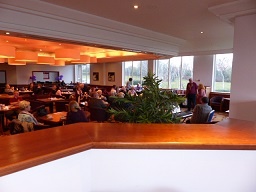 Firstly, the Mercure Hotel – [also the venue for our Monday evening weekly Club Meetings & Dinner at 7.00 pm] - who very kindly offered us the use of the room, together with Tea & Coffee also an ample supply of 'bread and butter' & 30 'Cream Teas' ….. free of charge for Purple4Polio.
So a 'big thanks' to both Sean Turton the Hotel Manager - and Laura Goodland their 'Meetings & Events' Sales Manager - for agreeing to and arranging this.
Also Waitrose in Daventry - who generously donated a further 30 Scones, Strawberry Jam and all the Clotted Cream to go with them for Purple4Polio. Again thanks are due to Claire Pollott, Waitrose's Marketing Manager - plus the Manager and various Staff of their Daventry store who helped and organised this for us.
The "Tea Party" raised a very successful £ 501.06.
So a cheque for this amount has since been sent to the Purple4Polio Charity.
This Total this year was also subject to "Double" 'Matched Funding' – so the Total Amount actually Raised was in fact ….. £ 1503.18.
This will now be used to fund the 'free of charge' vaccination of some 3600 Children against Polio.
Therefore thanks to 'Danetre' Rotary Club and the very generous people of Daventry; another small – but significant and important - step has been taken in the Rotary commitment to strive to work
…… to ensure that the Children of the World and their Mothers
are totally free of the worry and scourge of Polio in the near future.
A very big thanks again to everyone who helped and supported this Event.

Click here
for a recent update
Donate to Danetre Rotary
If you can't make it to the Tea Party please use the link below to donate funds to the End Polio Cause.
Don't forget Gift Aid as you process your donation. For UK Tax Payers this will add 25% to any donation.