Beaulieu Walk 2018
Beaulieu Charity Walk Sunday 1 July 2018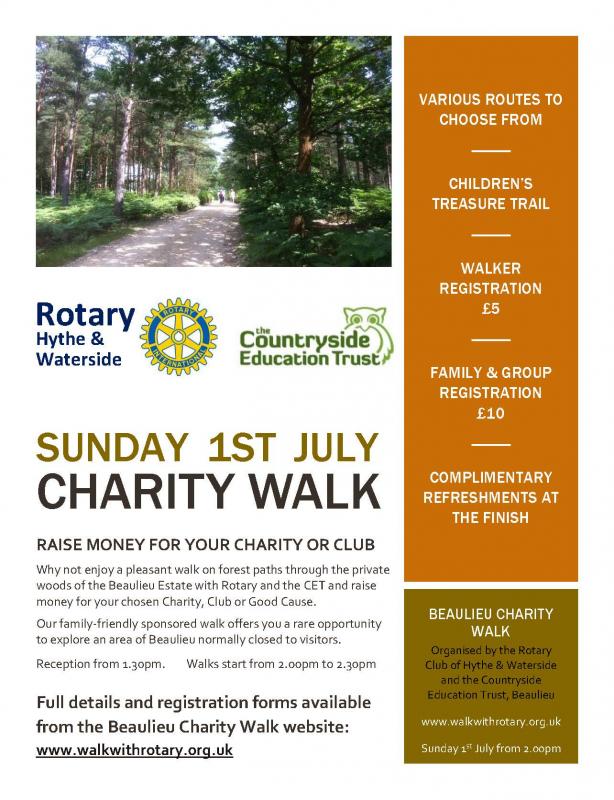 Welcome
Can we help you raise money for your charity or club?
Welcome to the Rotary Charity Walk at Beaulieu to be held on Sunday 1st July 2018
Download the Rotary Sponsored Walk 2018 registration form
Enjoy our family friendly charity walk through the private woods of the Beaulieu Estate and raise money for your chosen charity, club or worthy cause.
Since the first walk in 2011, twenty charities, most of them local to the New Forest area, have shared almost £30,000.
We are grateful to Lord Montagu who has given us permission for the charity walk to be held in the private woods of the Beaulieu Estate and in cooperation with The Countryside Education Trust.
The walk starts at the Treehouse Study Centre and passes Cob Cottage - the "House built in a day" - and "The House In the Wood" of wartime SOE fame.
The tracks are similar to those encountered in the New Forest and family dogs are welcome to accompany walkers.
Complimentary refreshments are available at the finish along with certificates for walkers.
There are walks of differing distances, from a challenging 8k to a gentle children's treasure trail.
Registration for individual walkers costs £5.00 each but a family or group registering together need only pay £10.00. Simply register your organisation with two or more walkers and you can then add others as additional walkers without further cost.
Once registered each walker will be sent an official Walk Sponsorship form which will need to be brought along on the day of the Walk to be validated.
The sponsorship money, plus 25% Gift Aid, will be shared; we will send 75% of this total to your chosen charity, and 25% will go to Rotary Charities and good causes, locally, nationally and internationally