Charity Golf Day
A golf competition to raise funds for Children's Hospice Association Scotland (CHAS)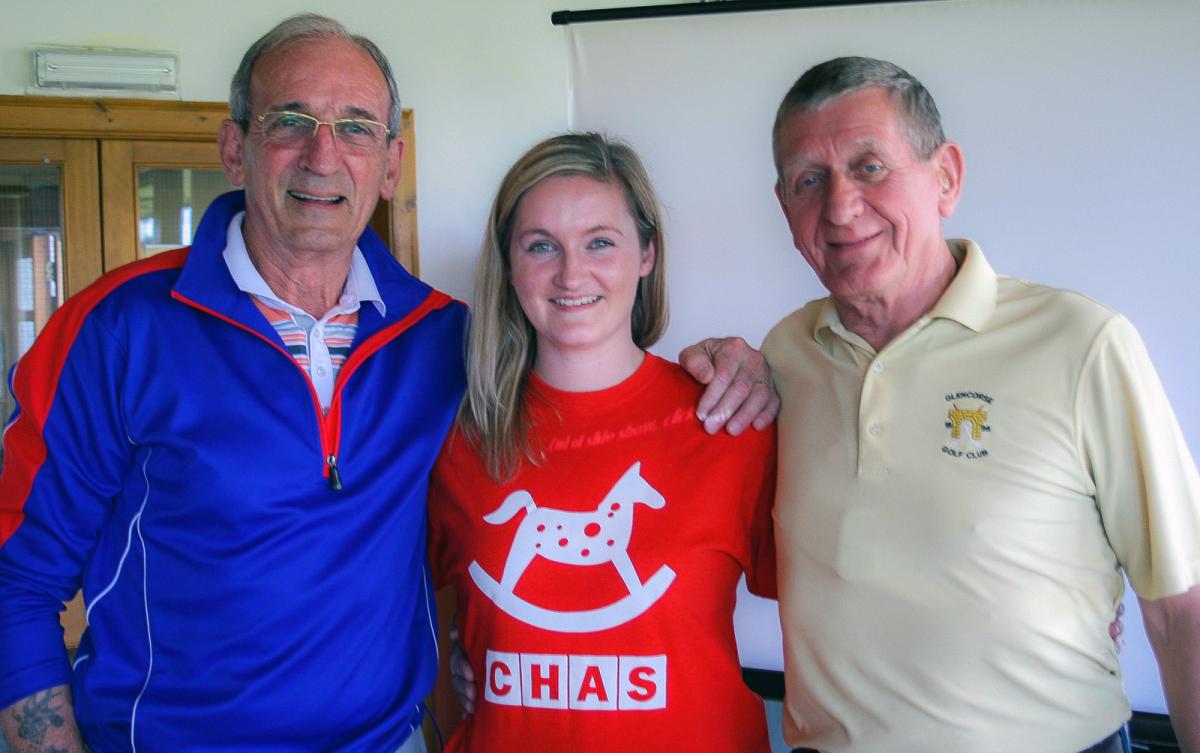 Charity Golf on 18th May report and results

On a beautiful day 52 golfers met at Glencorse Golf Club to compete in teams of two for the Penicuik Rotary Golf Challenge Trophy.

The event ran smoothly with Penicuik Rotarians in the clubhouse, collecting entry fees, collecting raffle prizes and hole sponsorship money, calculating handicaps, issuing score cards, selling raffle tickets, checking cards, noting scores and recording the winners of the various prizes on offer. Outside, other Rotarians were busy taking photos and announcing the teams as they approached the first tee. Judging by their tee shots this formality seemed to unnerve some of the competitors! It did however, add a nice touch to the event. Particularly as the photos of each team were shown on screen in the clubhouse during the day and were to be e mailed to a team member after the event.

With a first tee off time of 11:00 am and a final tee off time of 14:30 there was an anxious wait for the early starters before they could find out how they were finally placed. In events, the 1st and 2nd places went to teams who were among the first out in the morning.

Towards the end of the afternoon we were joined by a representative from CHAS who following the vote of thanks by Club President, Reg Dunbar and immediately prior to the presentation of prizes gave a brief outline of the great work being done by CHAS.

We were delighted to be able to report to those present that almost £1,500 for CHAS had been raised at the event. This will be topped up from our Charity fund and a cheque will soon be sent or taken to the CHAS office in Edinburgh.

We are grateful to all those who sponsored holes and all who donated prizes for the raffle which itself, raised £400 of the total.
The Sponsors were:

Flowers by Lindsey, Penicuik
Howdens, Penicuik
Golf Clubs 4 Cash, Bilston
Top Class Turkish Barbers, Penicuik
Bill McKenzie
AMS Ltd. Architects, Edinburgh
Reg Dunbar, President of Rotary Club of Penicuik
Motavation, Penicuik
Hope & Co, Architects, Penicuik
Avenue Stores, Edinburgh
The following were the winning teams
1st - Doug Wilson and Peter Carde with a net score of 60
2nd - Bruce Boyd and Gordon Smillie with a net 63 and a better second half on countback.
3rd - Simon Rennie and Chris Bruce also with a net 63

Longest Drive - Chris Bruce
Nearest pin at 8th - Kerr Middleton
Nearest pin at 11th - Ian Crichton
Nearest pin at 12th - David Hinton

Highest placed sponsors team – Golf Clubs 4 Cash – David Hinton and Mark McAdam with a score of 66.