Club Meeting — Helensburgh Sea Cadets
Tue 12th September 2017 at 13.00 - 14.00
Lieutenant Commander Lesley Leckie, officer commanding Helensburgh Sea Cadets, spoke about the unit and received a £300 cheque from the June Victoria Hall D-Day concert proceeds.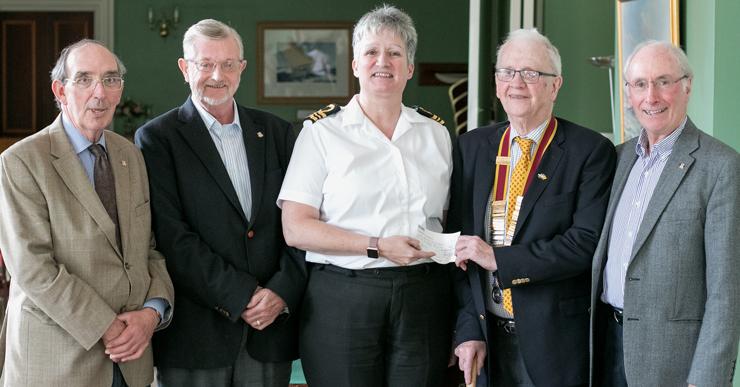 President Gordon Burgess welcomed eleven other members and guest speaker Lieutenant Commander Lesley officer commanding Helensburgh Sea Cadets. Douglas Dow reported that the Salvation Army shop was willing to take all the books currently stored in Lesley Kennedy's garage, and said that he would arrange to have them moved.
Derek Hall reported on proposed venues for next year's foreign trip. Marseilles and Madrid had been ruled out because of return flights in the early hours, but Lisbon and Riga remain possibilities. Members will be circulated with details, and are asked to reply to Derek.
Lt Cdr Leckie described her work with the local Sea Cadets, TS Neptune, since she moved to Rhu in 1999, and said that her husband and daughter were also involved. The unit has 19 staff and 52 cadets, and offers many different opportunities to the young people. There are 14,000 cadets in the UK.
"The kids have fun, make friends, and gain a sense of belonging," she said.
The president presented her with a cheque for £300, part of the proceeds from the June Victoria Hall D-Day concert organised by community service convener Bill Deans and his committee. It will be put towards the purchase of a new boat trailer.
The weekly raffle for a whisky miniature was won by Bill Deans.