Business Meeting and Visit of DG Beryl Cotton
Tue 1st August 2017 at 12.45 - 14.15
1st Steward Tony Coxhill Raffle:- Geoff Parsons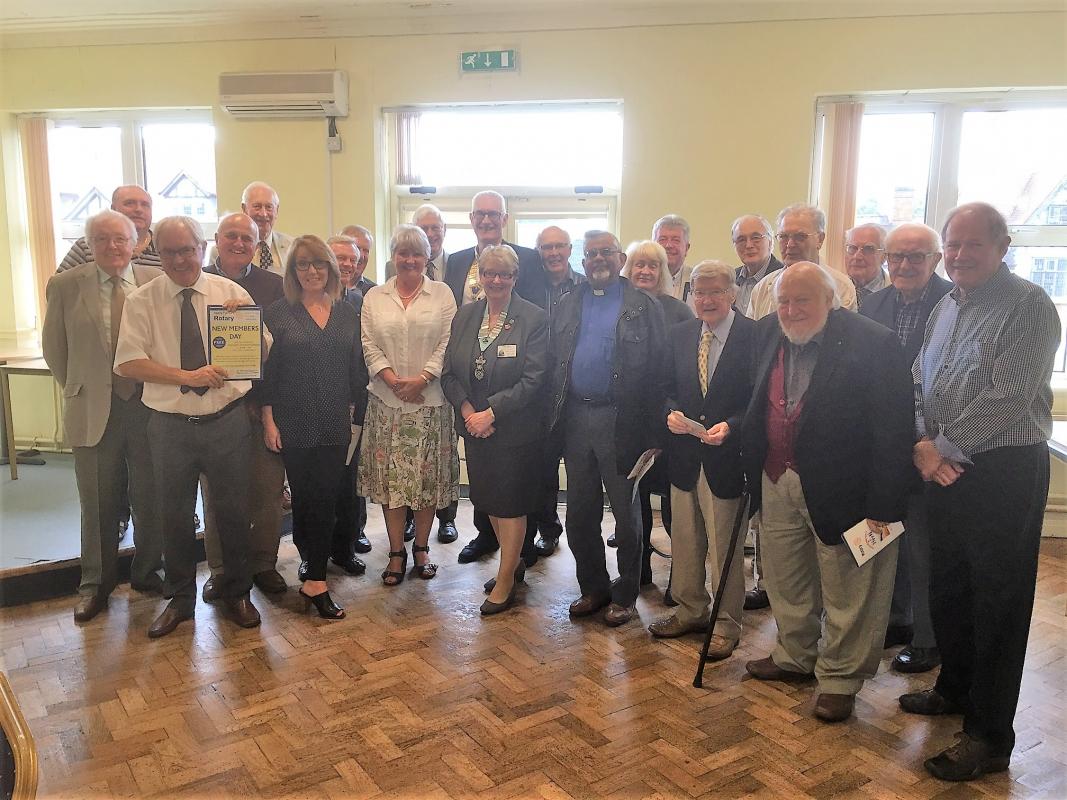 DG Beryl Cotton's address to the Club:-
President Tony, PDG John, fellow Rotarians
Internal themefor the year – Rotary Making a Difference
The logo represents the diversity of the people of the world.
Making a Difference will follow through with everything we do in 2017/18 and I sincerely hope that it is a year when we really do as Rotarians – Make A Difference.
Greeting from RI President Ian Riseley, RC Sandringham in Australia
Greetings from RIBI President – Denis Spiller from RC Stroud in Kent – who recently visited our District and will be back for our District Conference in November
Greetings from my own Club President – Denise Harding, RC Saughall
Strategic priorities for 2017/18
Support and strengthen our clubs
Enhance public awareness
Increase humanitarian service
The number one priority – all over the world – is MEMBERSHIP.
We must build on the work of oursuccessive leaders and,continuing on from 2016,we look for 10 per cent netmembership growth.I feel that lots of Rotarians have forgotten how to recruit.
We should have a membership dividend at every event /project we undertake
Need to strengthen our Clubs and encourage them to be flexible and innovate.We want all our Clubs to be vibrant and diverse.
All clubs are important and individual.
However we must all remember that membership is not just my responsibility, the AGs responsibility, the Service Chair responsibility, the Club President's – it is the responsibility of every Rotarian in our District and more members mean more service.
That brings me to the second strategic priority - Enhancing Rotary'sPublic Image –
We have the ability to increase understanding of what Rotary ISand DOES
We all know, you do not rely on luck and instinct to guide you through business.You need to have a plan and set goals and achieve.
Refresh public window
New DVD available - People of Action
I wonder what your Rotary club will look like in 10 years time? Perhaps a subject for later debate.
We can't stand still in time whilst the rest of the world moves on.
Indeed there havebeen huge advances in technology and demographic shifts
so we have to move forward to ensure there is no downfall of the greatest service organisation
Over a third of the worlds population is under 33 years of age- 68 per cent of the current workforce is under the age of 50,
I ask a question:IS THIS DEMOGRAPHIC REFLECTED IN OUR CLUBS?
Change can be exciting and change can be fun but change should not be feared.
As Rotarians you are the champions of change and we should encourage our membersto participate in this process.It is the road map to Rotary's future
The 3rd strategic priority - Focus and Increase humanitarian service
The number one humanitarian priority is POLIO ERADICATION.Hence, I ask you to encourage every Rotarian to support the End Polio Now programme.In Atlanta Bill Gates made an announcement – for every $50 million dollars donated every year by Rotary, he would donate a 100 million per year – for the next three years.(450 million dollars total for three years)
Our District Foundation giving is 'okay' but certainly not exceptional.
We need to make a difference and encourage Foundation giving from our members .I feel we have a lot of work to educate some of our members about the benefits of OUR Foundation.Can I ask you all to make a special effort to support OUR Rotary Foundation this year.
With this in mind – The DG's Christmas Do on 24th November at Connah's Quay Civic Hall, 7 – 11 p.m.– to raise funds for our Foundation.
Looking at the Environment – PE Ian Riseley has asked that every single Rotarian plant a tree in 2017/18.That would be 1.2 million trees but even if it was one tree per club it would be 35,000 trees.A project to encourage our Clubs to take on board from July.RIBI President Denis is currently in touch with the CEO of the Woodland Trust to pursue the idea of establishing small Rotary woods and coppices within their managed sites.
Rotary Club Central
When someone asks you what is Rotary – what do you say – it's a deceptively simple question but sometimes we find ourselves short for words – (1.2 million members, maybe polio eradication or some other specific aspect of our humanitarian service come to mind. )
Even the most articulate amongst us have problems in capturing the essence of Rotary.and our organization has a difficult time in explaining not just what we do,but how we do it, as we have no particular measure.
There are a huge range of projects within each club but do we know the value and how much time isexpended on each project?
The simplestway, of course,is via entering it either every month or quarter on RCC.
That tool is being completely rebuilt to be significantly more useful and easier to use than it is now.
The goal is simply to have numbersthat can bepresentedconfidently in our public image work , numbers backed by accurate data!
To be truly effective we need to have every club participating and the data has to be accurate.
We all know, other charities can demonstrate this and so shouldRotary!
If we want people to pay attention to us to join us, partner with us,take us seriously, we have to take ourselves seriously. It is a minimal investment in time but willdemonstrate the value of Rotary making a difference.
The District Conference-
Now the TV commercials …….
The Conference team must have had a crystal ball – as we were spot on with our conference strap line – Make A Difference – Inspire the Future.
I hope you will promote the Conference to the hilt in our District and the 2017 team look forward to welcoming youto the Lion Quays Hotel, Oswestry on 3/4th November.You have all received booking forms to promote the conference and, of course, we encourage on line registration.
Finally, the Theme Citation-if every club in our District is encouraged to embrace the theme goals for the year they will find it easy to achieve the themed citation.
Thank you for the kind hospitality and great to be with member from Nantwich Rotary.
Let's celebrate in MAKING A DIFFERENCE.
BERYL COTTON