2017 - 18
Adrian Cresswell is our President and the following report gives a flavour of what we are doing in his year.Adrian joined Vale of Belvoir Rotary in 1991 and, despite airline pilot duties keeping him out of the country, has been an active member throughout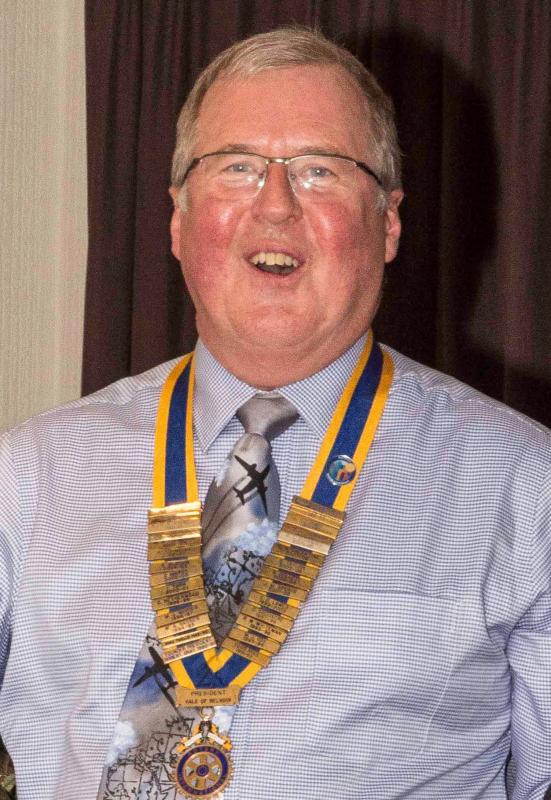 /upimages/clubfiles/1697/Our sixth 2 months(May-June 2018).docxAt the end of his year President, Adrian said "At the end of yet another successful year for the Vale of Belvoir Rotary Club, and as I handover the Club to Trevor, the incoming President for 2018-19, I would like to reflect on some of activities and achievements of the past year.
12 months ago, I described our Club as "a lively, boisterous club enjoying both our weekly meetings, and a full and varied social calendar". We have certainly maintained that tradition during the past year, with a very varied and interesting speaker programme, and a multitude of other social activities, including a popular club away weekend to York.
The past year has been both very varied and very busy, perhaps too much! We have had considerable success with our involvement in the local community with our many activities and fundraising events.
Our ever popular Memory Café for sufferers of Dementia goes from strength to strength, our very successful Art & Craft Fair raised a significant donation for the Air Ambulance, our annual Vales Got Talent competition once again surpassed all expectations with outstanding contributions from all of the acts, and yet again, our ever popular Santa Claus Float was well received and supported in the local community.
Once again we have had considerable success with our relationship with local schools, with the distribution of Dictionaries for Life to junior schools, a well-supported junior Art Competition, and ending the year with the formation and chartering of a Rotakid's Club, the first in our District.
And Internationally, we have once more supported the Rotary Foundation Charity in its campaign to eradicate Polio, supplying solar lamps for schools in Uganda, as well as again purchasing Aquaboxes and Shelterboxes for international disaster relief.
All of this activity was only possible due to the considerable involvement of each and every member of the Club, and I would like to thank everyone for their support and assistance during the year. We have had a very busy and successful year, all due to your efforts – a massive thank you to you all
Finally, I would like to wish the new President, Trevor , and all of his team, every success in the forthcoming year, and hope that they enjoy next year as much as I have enjoyed representing the Vale of Belvoir Rotary Club this year."

Our first 2 months (July - August 2017)
Our second 2 months (September - October 2017)

Our third 2 months (November - December 2017)
Our Christmas Party at Ashmores December 2017

Burns' Night Celebration January 2017
Our fourth 2 months(January - February 2018
Our fifth 2 months(March-April 2018)
Our sixth 2 months(May-June 2018)
Here's Adrian's message at the beginning his year as the Club President for 2017-18:

"I am delighted to welcome you to the Vale of Belvoir Rotary Club website
Our Club is currently thriving with over 40 active members, including 8 lady members. We come from a wide variety of backgrounds, and are able to contribute in many different ways with the skills and experience we have gained over many years.
We are a lively, boisterous club enjoying both our weekly meetings, and a full and varied social calendar.
However, our main philosophy is in providing assistance for communities and charities, both locally and internationally. We all share a great deal of enthusiasm for fund raising through a range of activities and events, such as our annual Vale's Got Talent contest, our Santa Claus Sledge, and our Cabaret night and Charity Frog Race Evening. All are great fun, and visitors are always welcome to any of our events.
This year we are raising money for a diverse selection of local causes including: Dictionaries for Life, Memory Café ,Life Education Caravan ,Ash Lea Special Needs School, Notts Air Ambulance, First Responders, Village Defibrillators, Bingham Audio Project, Medical Detection Dogs and the Friary Homeless Drop In Centre. We will also be running once again our successful Art competition in local primary schools.
And internationally, as well supporting the global Rotary project to eradicate polio from the face of the planet, we are also supporting the Fishtail Project in Nepal, a scheme for providing schools in Uganda with Solar Lamps, and we are also purchasing Aquaboxes and Shelterboxes for help in disaster areas.
We have a busy year ahead of us, and you will find more information on all our fundraising events, and our charitable donations in our website.
Why not come and see us? We will always welcome guests and indeed new members. We meet every Thursday evening, and you can be sure of a warm welcome at any of our meetings."
21st June 2018 Club Assembly
28th June 2018 - Handover to Trevor was a brief, low key affair with none of the usual confusion - other than Trevor dropped his chain of office, Maggie & Jane looked bewildered when Trevor asked that they both join him to receive the regalia for Senior Vice president. The usual "photo call" took place and the meeting was closed at just after 8.30.
At the beginning of Trevor's year he said:
"Our New Year, will it be a good year? I hope so.
Ours is an innovative Club, we take on many challenges and help people in our Community and Internationally.
I hope our work with the Community continues, particularly the newly established RotaKids, with Robert Miles Primary School in Bingham. The School has an enthusiastic group of pupils who have shown they can come up with good ideas. We will support them, where they want us.
The Memory Café continues its work with those experiencing memory problems. It is good to have a strong group of Rotarians and family volunteers, who run and present monthly entertainment.
As I write this the detailed planning work for the 9th Vale's Got Talent Show, has already begun. Each year the competitors astound us with their talents. Sponsors and advertisers in our Programme help fund the event, which also raises money for our Community and International work.
Our annual Charity Programme will shortly be confirmed. This year, more than ever, we will need to balance the effort required to raise Charity Funds and the Programmes of donations we can afford to support.
There are already procedural changes in hand to review how we assess the work of charities we may support. Ensuring that we introduce Conflict of Interest in the way we work will be important for now and in the future. There may be other new requirements to consider. Internally we have had to adopt new forms of working within our Club to ensure day-to-day management continues to run smoothly.
During the recent, visit by our new District Governor, Dr. Cheryle Berry, she recognised that we were an inspirational Club, and one which has a positive attitude. I know this spirit will continue.
Thanks to the Members of the Vale of Belvoir Rotary Club for their hard work." MM