What we have done in 2017 - 18
Adrian Cresswell is our President and the following report gives a flavour of what we are doing in his year.Adrian joined Vale of Belvoir Rotary in 1991 and, despite airline pilot duties keeping him out of the country, has been an active member throughout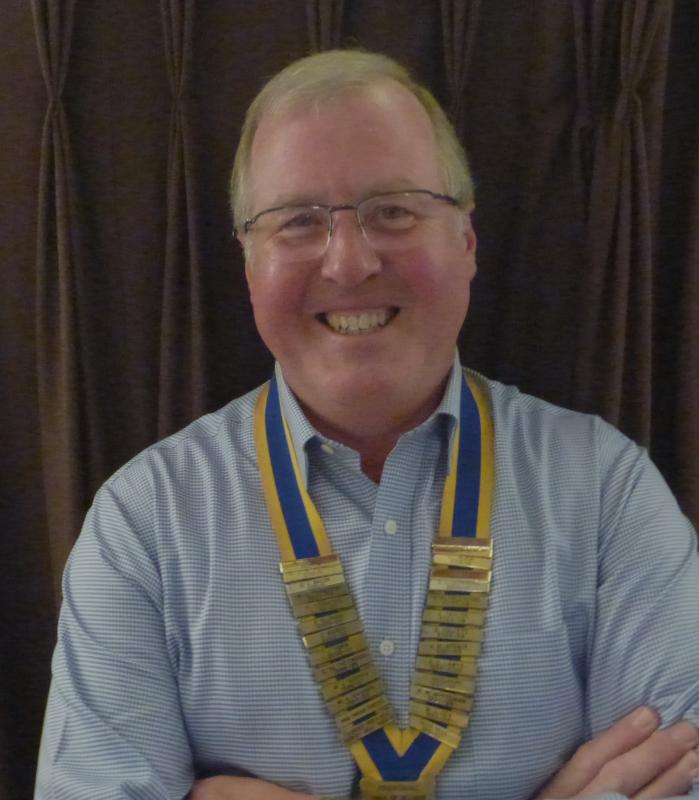 As the Club President for 2017-18, I am delighted to welcome you to the Vale of Belvoir Rotary Club website
Our Club is currently thriving with over 40 active members, including 8 lady members. We come from a wide variety of backgrounds, and are able to contribute in many different ways with the skills and experience we have gained over many years.
We are a lively, boisterous club enjoying both our weekly meetings, and a full and varied social calendar.
However, our main philosophy is in providing assistance for communities and charities, both locally and internationally. We all share a great deal of enthusiasm for fund raising through a range of activities and events, such as our annual Vale's Got Talent contest, our Santa Claus Sledge, and our Cabaret night and Charity Frog Race Evening. All are great fun, and visitors are always welcome to any of our events.
This year we are raising money for a diverse selection of local causes including: Dictionaries for Life, Memory Café ,Life Education Caravan ,Ash Lea Special Needs School, Notts Air Ambulance, First Responders, Village Defibrillators, Bingham Audio Project, Medical Detection Dogs and the Friary Homeless Drop In Centre. We will also be running once again our successful Art competition in local primary schools.
And internationally, as well supporting the global Rotary project to eradicate polio from the face of the planet, we are also supporting the Fishtail Project in Nepal, a scheme for providing schools in Uganda with Solar Lamps, and we are also purchasing Aquaboxes and Shelterboxes for help in disaster areas.
We have a busy year ahead of us, and you will find more information on all our fundraising events, and our charitable donations in our website.
Why not come and see us? We will always welcome guests and indeed new members. We meet every Thursday evening, and you can be sure of a warm welcome at any of our meetings.
Our first 2 months (July - August 2017)
.Our second 2 months (September - October 2017)
3 November 2017 Rosie May Charity - Mary Storrie & Emma Davis
Mary Storrie & Emma Davis gave a clear & comprehensive talk on the Rosie May Foundation which had been formed in 2004 after the tragic killing of Rosie May, Mary's daughter. It was out of this tragedy that a small local charity with big ambition was born - "out of tragedy comes hope". It was clear in the talk that the co-founders of this charity are determined and innovative and one sign of their success is that they have had to move from the office on the dining room table to premises in Bingham.

Mary told us that they currently are working with 60 children and their families and on involvement they work to the principle of giving a "hand up" rather than a "hand out". It's a guiding principle that will ensure sustainability in the future and enable the charity to be constantly "taking on new" families. Project Hope is about "keeping children together" and it aims "to support families through their crisis" and give them the skills to be function after their involvement with the project. Their intervention at an early stage gives family the hope and the skills to avoid placing their children in orphanages. Mary explained that normally they point their involvement towards single parent families with an under three year-old (this are the formative years) where they feel their work will be most productive.
We soon became aware that the Charity, whose main work is in Sri Lanka and Nepal is not short on ideas. As not content with "skilling up" women to be insence stick makers & seamstresses they have started up a new project - "Think Pink". This satisfies two issues: firstly enabling women to learn to drive, be issued with a licence & earn money from a new found skill; secondly it offers safe transport for women & children (the research shows that an alarmingly high number of women & children are abused on public transport). The new Tuk-Tuk drivers will be offered support with a savings account with the hope that they will be able to save enough from their earnings to lease the vehicle with a view to ownership in the longer term. In time this project will be self funding and enable further women to embark on the training programme.

Another project provides families with solar lights to enable children to study and complete homework during the evening. Eductaion & training is certainly at the heart of the work undertaken by this Charity. MM
9 November 2017
No meeting as Committee Meetings week