What we are doing in 2017 - 18
Adrian Cresswell is our President and the following report gives a flavour of what we are doing in his year.Adrian joined Vale of Belvoir Rotary in 1991 and, despite airline pilot duties keeping him out of the country, has been an active member throughout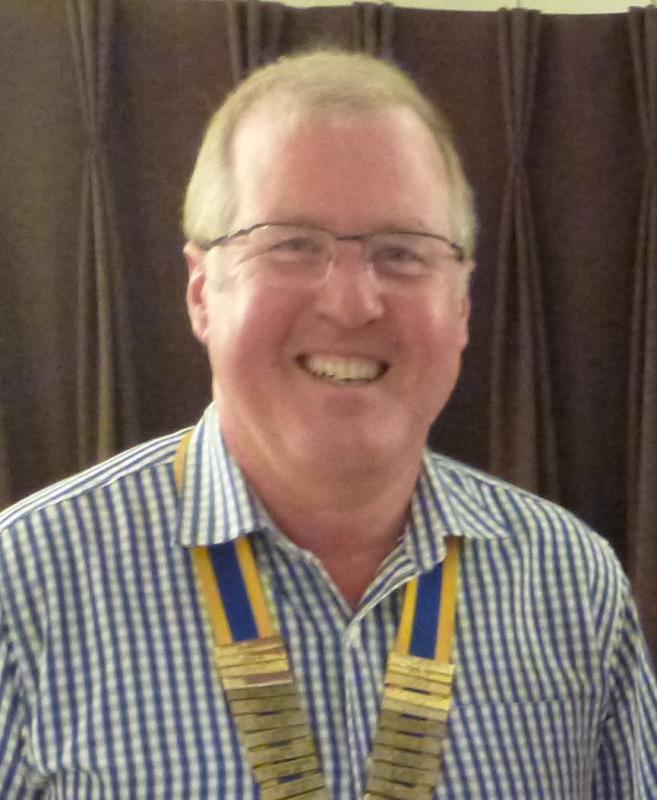 6 July 2017 - Visit of District Governor Michael Longdon
Before we started the meal a cheque presentation was made to Elizabeth Ellis, student who had applied to our Community Fund to enable her to go on a World Challenge event to provide sanitation to schools in rural Morocco. She was also hoping to do some trekking in the Atlas Mountains and be back to tell us all about her experience in the near future.
Michael suggested the possibilities of 'satellite Clubs'. He was also focusing on Youth activities, hoping to resurrect Youth Exchange.
Another initiative related to 'preserve Planet Earth', with a challenge to each Club to plant at least one tree per member, with Peter Moralee as the District 'Tree' Officer. Naturally he was promoting The District Conference in Llandudno, late September, with our very own Steve Lawes as Director.
He also mentioned the good work our vibrant Club is performing, mentioning in particular The Memory Café and the local Defibrillator installations.
13 July 2017 nottinghamshire Search & Rescue Team – Terry Smith & Dave Gratton
Before we started the meal a cheque presentation was made to Kate Rowlston, a student who had applied to our Community Fund to enable her to go on a Guide Leader Event to be held in the Netherlands in July 2018, where she would be doing some community work.
Kate enthusiastically explained that she had been in the Brownies/Guides organisation since she was 5 years old and had progressed to becoming a Leader and still loving it!
Terry, who is Vice Chair & Founder of NSART then gave us an insight into their organisation, founded only 5 years ago and now with 40 volunteer members. He outlined the major difference with Mountain Rescue, who generally know who and where there help is required, whereas they do not have that luxury. They are self-funding and are generally called out by the Police to help find our more senior citizens, suffering from dementia, who have left their Care home. They have regular specialist training and have people who can deal with flooding, water situations as well as a search dog.
There are 33 similar units throughout the UK, with 1500 members who have dealt with1805 call outs over the last 2 years. In terms of cash, it's estimated that they 'save' the Police around £3.8m per year!!
Dave went on to give some specific examples (although they haven't been called out since last October, which is considered a blessing really).These covered a lady who had drowned in the River Trent, a young girl from Mansfield who had committed suicide. But he concluded with the story about an 85 year old man who had gone walking in North Muskham, fell at a fence, and was not found for about 25 hours, but found by NSART and lived to tell the tale, which was most uplifting for the Team. AR
20July 2017Ash Lea School Cotgrave –Head Teacher Dawn Wigley
Following our recent support towards funding an Arts Fortnight at Ash Lea Special School, Head teacher, Dawn Wigley gave us an interesting presentation of the activities the children experienced during the project.
We were shown pictures of the children working towards the creation of two enormous collaborative pieces of artwork in response to the book "Where the Forest Meets the Sea". The other piece took Cotgrave and its mining history as its inspiration. The work produced was excellent and Dawn and her staff expressed pride in their achievements.
Ash Lea school started in 1973, serves the needs of children aged 3-19, currently with 72 pupils on roll with a wide range of severe and complex needs, requiring a staff of 60.
Following an Ofsted inspection it was felt that the accommodation didn't meet the needs of all pupils so, Dawn approached local Rushcliffe MP, Ken Clark about the issue and he arranged a visit to see the Education Minister, Vicky Morgan. With additional funding the school is now in temporary accommodation in West Bridgford, a brand new school is being built on the original site at Cotgrave and should be completed within a few months. We were shown pictures of work in progress.
The two works of art which were produced by the children will be taken to the new school when it is completed. GT