What we have done in 2017 - 18
Adrian Cresswell is our President and the following report gives a flavour of what we are doing in his year.Adrian joined Vale of Belvoir Rotary in 1991 and, despite airline pilot duties keeping him out of the country, has been an active member throughout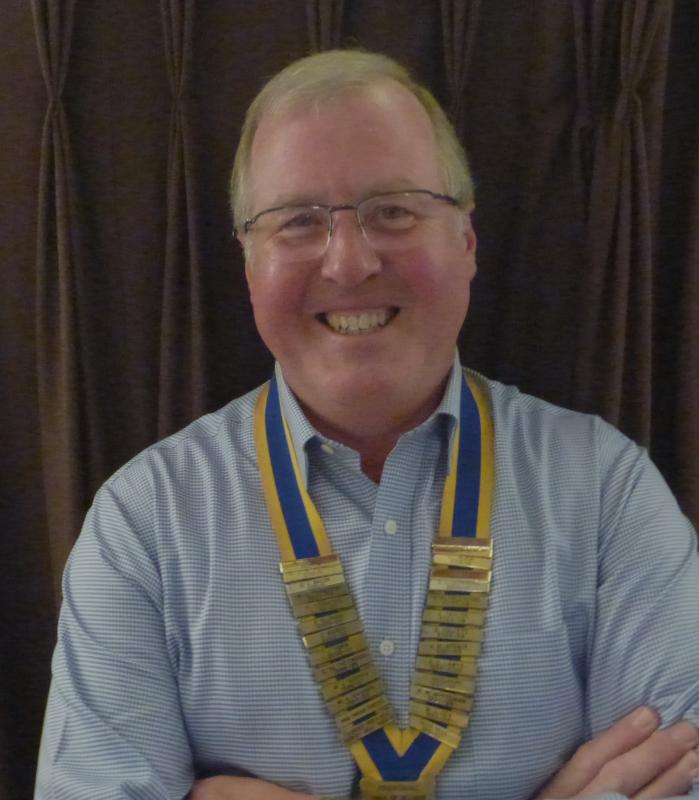 As the Club President for 2017-18, I am delighted to welcome you to the Vale of Belvoir Rotary Club website
Our Club is currently thriving with over 40 active members, including 8 lady members. We come from a wide variety of backgrounds, and are able to contribute in many different ways with the skills and experience we have gained over many years.
We are a lively, boisterous club enjoying both our weekly meetings, and a full and varied social calendar.
However, our main philosophy is in providing assistance for communities and charities, both locally and internationally. We all share a great deal of enthusiasm for fund raising through a range of activities and events, such as our annual Vale's Got Talent contest, our Santa Claus Sledge, and our Cabaret night and Charity Frog Race Evening. All are great fun, and visitors are always welcome to any of our events.
This year we are raising money for a diverse selection of local causes including: Dictionaries for Life, Memory Café ,Life Education Caravan ,Ash Lea Special Needs School, Notts Air Ambulance, First Responders, Village Defibrillators, Bingham Audio Project, Medical Detection Dogs and the Friary Homeless Drop In Centre. We will also be running once again our successful Art competition in local primary schools.
And internationally, as well supporting the global Rotary project to eradicate polio from the face of the planet, we are also supporting the Fishtail Project in Nepal, a scheme for providing schools in Uganda with Solar Lamps, and we are also purchasing Aquaboxes and Shelterboxes for help in disaster areas.
We have a busy year ahead of us, and you will find more information on all our fundraising events, and our charitable donations in our website.
Why not come and see us? We will always welcome guests and indeed new members. We meet every Thursday evening, and you can be sure of a warm welcome at any of our meetings.
6 July 2017 - Visit of District Governor Michael Longdon
Before we started the meal a cheque presentation was made to Elizabeth Ellis, student who had applied to our Community Fund to enable her to go on a World Challenge event to provide sanitation to schools in rural Morocco. She was also hoping to do some trekking in the Atlas Mountains and be back to tell us all about her experience in the near future.
Michael suggested the possibilities of 'satellite Clubs'. He was also focusing on Youth activities, hoping to resurrect Youth Exchange.
Another initiative related to 'preserve Planet Earth', with a challenge to each Club to plant at least one tree per member, with Peter Moralee as the District 'Tree' Officer. Naturally he was promoting The District Conference in Llandudno, late September, with our very own Steve Lawes as Director.
He also mentioned the good work our vibrant Club is performing, mentioning in particular The Memory Café and the local Defibrillator installations.
13 July 2017 nottinghamshire Search & Rescue Team – Terry Smith & Dave Gratton
Before we started the meal a cheque presentation was made to Kate Rowlston, a student who had applied to our Community Fund to enable her to go on a Guide Leader Event to be held in the Netherlands in July 2018, where she would be doing some community work.
Kate enthusiastically explained that she had been in the Brownies/Guides organisation since she was 5 years old and had progressed to becoming a Leader and still loving it!
Terry, who is Vice Chair & Founder of NSART then gave us an insight into their organisation, founded only 5 years ago and now with 40 volunteer members. He outlined the major difference with Mountain Rescue, who generally know who and where there help is required, whereas they do not have that luxury. They are self-funding and are generally called out by the Police to help find our more senior citizens, suffering from dementia, who have left their Care home. They have regular specialist training and have people who can deal with flooding, water situations as well as a search dog.
There are 33 similar units throughout the UK, with 1500 members who have dealt with1805 call outs over the last 2 years. In terms of cash, it's estimated that they 'save' the Police around £3.8m per year!!
Dave went on to give some specific examples (although they haven't been called out since last October, which is considered a blessing really).These covered a lady who had drowned in the River Trent, a young girl from Mansfield who had committed suicide. But he concluded with the story about an 85 year old man who had gone walking in North Muskham, fell at a fence, and was not found for about 25 hours, but found by NSART and lived to tell the tale, which was most uplifting for the Team. AR
20July 2017Ash Lea School Cotgrave –Head Teacher Dawn Wigley
Following our recent support towards funding an Arts Fortnight at Ash Lea Special School, Head teacher, Dawn Wigley gave us an interesting presentation of the activities the children experienced during the project.
We were shown pictures of the children working towards the creation of two enormous collaborative pieces of artwork in response to the book "Where the Forest Meets the Sea". The other piece took Cotgrave and its mining history as its inspiration. The work produced was excellent and Dawn and her staff expressed pride in their achievements.
Ash Lea school started in 1973, serves the needs of children aged 3-19, currently with 72 pupils on roll with a wide range of severe and complex needs, requiring a staff of 60.
Following an Ofsted inspection it was felt that the accommodation didn't meet the needs of all pupils so, Dawn approached local Rushcliffe MP, Ken Clark about the issue and he arranged a visit to see the Education Minister, Vicky Morgan. With additional funding the school is now in temporary accommodation in West Bridgford, a brand new school is being built on the original site at Cotgrave and should be completed within a few months. We were shown pictures of work in progress.
The two works of art which were produced by the children will be taken to the new school when it is completed. GT
27 July 2017Climate Change – Dr. Peter Allen
Peter was formerly a Director at the British Geological Survey at Keyworth, so spoke on his subject with great authority, knowledge and experience. He explained that there was much misunderstanding about the terms: Climate change and Global Warming, then proceeded to clarify the details for us.
He started way back, 430 000 years ago when Nottinghamshire was under about 500m of ice, then 23 000 years ago it was an arctic desert. Cycles of extreme cold, then extreme warm/dry were identified. The term 'ice age' was thus proposed by Louis Agassiz in 1840. A Serbian mathematician called Milutin Milankovitch (1879 to 1958) demonstrated in the 1920s that there were cycles relating to the Earth and its relationship with the Sun: 21 000 years – wobble on the axis; 41 000 years tilt on the Earth's axis; 100 000 years – eccentricity of the Earth's orbit (which he identified as the cycle for the 'ice age'.) Then in 1967 Nick Shackleton used ocean sediment cores to prove Milankovitch Cycles on the ice age. In the 1990s ice core from boreholes in the Greenland and Antarctic icecaps were analysed for the greenhouse gasses. He described the 'Greenhouse gasses' of Carbon Dioxide, Methane, Nitrous Oxide and their impact on the environment and showed the results from the Vostok ice core analysis
He then showed graphs of how these cycles were changed, 8000 years ago when humans started farming, clearing trees which absorb CO2. Similarly the Methane graph changed 5000 years ago when Asians started making Rice Paddies. In the current Milankovitch cycle the Earth should be cooling, but human interference with the atmosphere is causing warming, which has been most intense in the last 200 years.
The impacts of the consequential environmental changes are: Change in the boundaries of the climatic zones; increase in the number of severe weather events; sea level rise; disruption of rain and weather patterns; possible runaway global warming.
The conclusions are somewhat alarming. The disruption of rain and weather patterns is already having a profound impact by forcing migrations out of dryland areas and threatening agricultural yields.Other changes are unlikely to impact in our or our grandchildren's lives. Runaway warming, caused by the release of methane from permafrost, could be averted by taking action on carbon dioxide emissions now in order to avoid reaching the trigger point.
Questions were raised about Carbon capture and storage (Sequestration) which is currently uneconomic and the politics involved in solutions to Climate change, so the future is not 'rosy'! BN/AR
3 August 2017 Tonight, although a little late in our Rotary year (normally this takes place at the beginning of July), Past President Jennie made an award presentation. Jennie said "It is always a pleasure to be able to hand out awards, and we are particularly lucky in Club to have the Harry Thompson Award to present to a Rotarian who has made an outstanding contribution during the year.
This year, unusually, there are two recipients who will share the award. As with many clubs, the activities we are able to run for the benefit of our local community change and evolve, and it is only recently that the Art Exhibition and Craft Show has taken root in our calendar.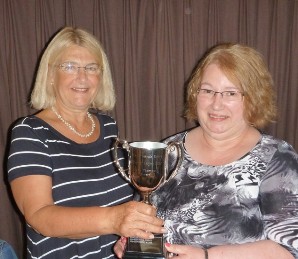 Our two winners are inseparable for the time and effort they have put into making this event a firm fixture for us as a Club. They have worked tirelessly to do all the unglamorous work behind the scenes with countless meetings, phone calls and emails. They have been a constant source of good humour and effective diplomacy in persuading and cajoling everyone into playing their part, and they deserve our thanks and our admiration.
Our two winners of the Harry Thompson Award for 2016/2017 are Mary Bridge-Collyns and Lesley Lumbers.
Civil Engineering Update - Mauricia Nambatya
Mauricia Nambatya from Uganda was welcomed back to our club after 2 years to speak about her work. When she first came she was studying for an M Phil in Engineering for Sustainability at Cambridge and she recently returned to England to receive her Master's degree and an Ashden international award for sustainability for the Haileybury Youth Trust
Mauricia's enthusiasm shone through as she spoke about her job as Manager of The Haileybury Youth Trust. This trust is involved in educating young people in Uganda in social enterprise and building sustainable constructions such as housing and schools.
Mauricia told us that Uganda has the fastest growing population in the World (it doubled in the last 25 years) and its natural resources are shrinking rapidly. Uganda has 80% of its population under 30 years of age. They now have one million refugees and affordable housing is urgently needed and also water tanks and schools. Fired bricks have been used for building but this has meant that huge areas of forest have been demolished to bake these bricks which also create CO2 emissions. The charity Mauricia works for have researched the use of making compressed interlocking earth bricks to save the environment. These bricks are made from the surrounding earth, with a small 7% cement added to improve strength, and there are less transport costs. The trust are employing school leavers to train them in construction and therefore providing these young people with skills and work and education in helping the future of their country. To date the HYT charity have constructed 139 buildings, trained 100 unemployed youths and improved the lives of 40,000 people.
She also manages her time to volunteer for an organisation called 'Dreams of Tropical Youth (DROTY), working with young people to improve their education and self confidence in the skills they have.
We were all impressed with Mauricia's enthusiasm to build a better future for the country and congratulated her on a very informative talk, the trusts international award and her rising career. MBC
10 August 2017Call my Bluff
Our joint President nominee was presented with her "official gong"
Good fun and well organised at late notice when members were give 4 alternative definitions of various obscure words. Teams were taken on their different tables, with one table outlining their 4 options (although one table opted for 6 variations, with 2 members imaginations doing overtime!). The other tables had a few minutes to discuss and consider, then declare their choice, with Jane keeping a tally on scores. We finished with The President's table & 'the table of 6' drawing, so a tie breaker was declared with Maggie & Jane reading the alternative definitions. After two tie breakers, a draw was agreed which didn't cause too much of an issue, as there was no prize!
Our table (anonymous) became winners of the most 'gullible table', having succeeded in getting only one answer correct. This occurred on our last game when we went for the 'least likely answer' in an attempt to get a "full house".
The Club was very pleased to welcome Will Pressley, our Honorary member in joining us for the evening. AR
17 August 2017 - Bingham Bowling Club
To ring the changes from our indoor meetings, and to take the opportunity to experience the warm summer, we played Green Bowls. We had the offer of four rinks on the hallowed turf belonging to Bingham Bowling Club.
There were 26 players and despite the cloudy evening it was dry, enjoyable and exciting. There are Rotarians who are also regular Bingham Bowling Club members, and the idea was that 4 would guide the inexperienced. Sadly Mike Morris developed Man Flu so he couldn't demonstrate his skills. No matter, because Ian Cole and Richard Montgomery, respectively Captain and President of the Bowling Club, introduced us to the bowling terms woods, ends, bias, and jacks.
Having got their technique nearly right, there were some fun and games and some successful players, with Chris Netherwood winning the competition.
After retiring to the bar for liquid refreshments, we enjoyed an excellent BBQ, courtesy of Paul Aspinall, an Associate Member of the Bowling Club, accompanied by salad and dessert courtesy of Pam Richmond. Jennie, Maggie, Jane, Mary and Gerry, expertly managed the clearing up and washing up and Trevor thought up and created the whole evening, naturally with the usual help from Pam! TR/ar
24 August 2017The Newark Torc – Maurice Richardson
What a coup? Members were treated to an enthusiastic presentation by the man who had metal detected and discovered the Newark Torc, currently classed as the second best of its kind in the world! (and estimated current value £6m, although Maurice altruistically sold it to Newark museum, so that it would remain in the area it was found, sharing the £350000 with the landowner.)
It is Iron Age, 2200 years old, 2lb of solid gold, made from 150 feet of gold wire, found in February 2005 in mud and rain 2foot 4inches underground.
As a well-established Tree surgeon he had many rural contacts and was invited by one particular Farmer to do some metal detecting in his fields. For two years he searched the fields finding all sorts of Roman 'stuff', but one field he got lots of 'beeps', but reckoned, from the stuff he found it was the wreck of an aeroplane, so he almost gave up on it. One late wet afternoon he returned and the field was so muddy he started detecting at the hedge side & discovered what at first he thought was another Wilko's brass curtain rail, but further digging opened up the second 'terminal' of the Torc and the rest is history.
He was understandably overcome with his discovery, put it on the passenger seat of his car & drove home. Showed his wife, who was underwhelmed, but reading up in his many books found reference to similar items and was then concerned about being burgled, so he wrapped it in cloth, first putting it in the wardrobe. However, unable to sleep, he then transferred it to an underfloor place. He then made arrangements to take it to the Coroner (Dr. Nigel Chapman) with his brother, a CID man, to register the find, carrying it through Nottingham in a carrier bag!
Naturally once the Coroner realised what an amazing discovery Maurice had made, the British Museum were notified, the BBC, then ITV interviewed him & the story went viral worldwide via the internet.
Not only did he regale us with entertaining anecdotes, but brought with him a wide array of his local finds from his many years of detecting.
There was a £500 cheque presentation to Bill Banner in support of the Newton Defibrillator. AR
31 August 2017 The Furniture Project Nottinghamshire – Mike Manning & John Bradford
Club members were expecting to hear a talk from Carole Batey who is the Project Manager, but instead, Mike (Chairman) and John (Secretary) came to our meeting to outline the history and progress made by this registered charity since its start in 1992(after the pilot scheme in 1991) and how well they did, as it was their first presentation.
The project was described as a Social Enterprise and from the presentation it was clear that the business model not only provided a 'house into a home' service for disadvantaged people living in deprived communities in the County, but also had a structure that was fully funded and has long-term plans for future development. There are some 150 agencies (such as the Probation Service) referring people to the charity that deals with an average of 10 enquiries per day. The project celebrated its 25th anniversary this year and since its inception, the project has helped over 30 000 families and individuals in Nottinghamshire.
Based in Boughton where they have warehousing in 3 former Nissan huts on the ex-MOD prisoner of war camp, and benefitting from Funding from the Coalfield Regeneration Trust and other award granters, the business has grown significantly, has a 9 person management group and employs 11 staff and 17 volunteers.
It has 5 vans that are used to collect donated furniture –these are warehoused before items being delivered to needy families at a very economic price….the donated items and sales made are documented in detail and by use of the Gift Aid Scheme (introduced in 2009) the charity currently raises some £30,000 per annum. In accordance with the agreement, the sale price is offered back to the donor, less costs of 75%, but donors very rarely claim the money.
Only reasonable quality furniture is collected with fire certificates where appropriate, but the charity will dispose of unwanted items for a small fee (£10) collected by their drivers. There is an excess of items being collected so storage is important and enables the charity to meet the item needs of most referrals, but also sell surplus stock to the public to help fund the project. Surplus new clothing is also collected from major retailers and has become another important avenue of funding. Furniture removal will also be undertaken within the Nottinghamshire boundaries. Last year recognition was given to the project for their recycling work in helping to prevent household waste going into landfill sites, it was a winner of the Nottingham Evening Post Environmental Award 2016, for recycling and waste management.
The project also has a shop in Ollerton which sells excess stock and the charity plans to have one in Newark if suitable premises become available at the right rental. BB