2017 - 18
Adrian Cresswell is our President and the following report gives a flavour of what we are doing in his year.Adrian joined Vale of Belvoir Rotary in 1991 and, despite airline pilot duties keeping him out of the country, has been an active member throughout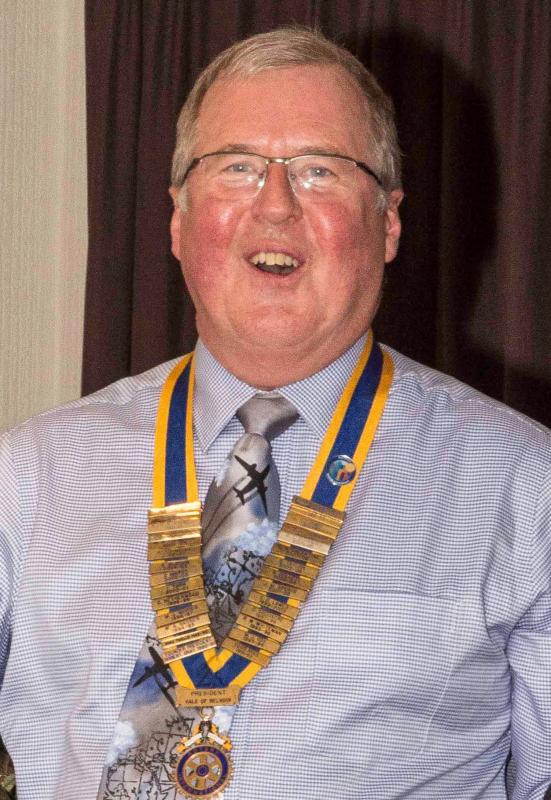 upimages/clubfiles/1697/The last week or two Adrian January_Feb 2018.pdfOur first 2 months (July - August 2017)
Our second 2 months (September - October 2017)

Our third 2 months (November - December 2017)
Our Christmas Party at Ashmores December 2017

Burns' Night Celebration January 2017/
Our fourth 2 months(January - February 2018
Here's Adrian's message at the beginning his year as the Club President for 2017-18:

"I am delighted to welcome you to the Vale of Belvoir Rotary Club website
Our Club is currently thriving with over 40 active members, including 8 lady members. We come from a wide variety of backgrounds, and are able to contribute in many different ways with the skills and experience we have gained over many years.
We are a lively, boisterous club enjoying both our weekly meetings, and a full and varied social calendar.
However, our main philosophy is in providing assistance for communities and charities, both locally and internationally. We all share a great deal of enthusiasm for fund raising through a range of activities and events, such as our annual Vale's Got Talent contest, our Santa Claus Sledge, and our Cabaret night and Charity Frog Race Evening. All are great fun, and visitors are always welcome to any of our events.
This year we are raising money for a diverse selection of local causes including: Dictionaries for Life, Memory Café ,Life Education Caravan ,Ash Lea Special Needs School, Notts Air Ambulance, First Responders, Village Defibrillators, Bingham Audio Project, Medical Detection Dogs and the Friary Homeless Drop In Centre. We will also be running once again our successful Art competition in local primary schools.
And internationally, as well supporting the global Rotary project to eradicate polio from the face of the planet, we are also supporting the Fishtail Project in Nepal, a scheme for providing schools in Uganda with Solar Lamps, and we are also purchasing Aquaboxes and Shelterboxes for help in disaster areas.
We have a busy year ahead of us, and you will find more information on all our fundraising events, and our charitable donations in our website.
Why not come and see us? We will always welcome guests and indeed new members. We meet every Thursday evening, and you can be sure of a warm welcome at any of our meetings."
8 March 2018 Rotary in Bermuda Stella Herbert
Stella, President of Sherwood Forest and Assistant District Secretary, joined us to give us an illuminating and hugely entertaining talk on Bermuda, an island where she has family links and which she has visited for over thirty years. She started by giving us an Alan Whicker style travelogue of the Atlantic island, 60 000 population, 26 miles long and 1.5 miles wide. She warmed the cockles of our hearts as we listened to tales of summer warmth on a cold March evening, but she went on to talk specifically about the Rotary Clubs on the island. It was heartening to remind ourselves that Rotary is not just about our bubble here in the Vale of Belvoir or even District 1220, but we are part of a global organisation united in our vision of making the world a better place. So many of the activities and initiatives of the Clubs in Bermuda closely mirror our own, and reminded us that we are all one Rotary family. CH
15 March 2018 - Alan's Quiz Night
Tonight we were put through our paces with a quiz prepared by Alan F. He set out the ground rules clearly & concisely confirming that we would NOT be partnering the people who were sat next to. So we were all issued with a playing card & then those sharing the "same value" were instructed to "get together". Alan was certainly going to be a firm quiz master!
20 questions were asked and were led into a false sense of security as the first few were easy and then a couple of tough ones thrown in. Just as we were getting frustrated Alan introduced another couple that were "gettable or guessable" and then finished us off with the impossible. It's no good suggesting that it was only difficult if you didn't know the answer - nobody got it so it was IMPOSSIBLE and somewhat sneaky. I'd share the question with you, but I'm afraid I've forgotten both question & answer!
Despite the above we all enjoyed what was a great social night and only a handful of Rotarians demanded the return of the "Clever Trevor" Quiz....
22 March 2018 Genealogy - Jonathan White
Jonathan visited our Rotary club for an interesting talk about genealogy or more commonly known as 'Family Trees'
It was surprising for me to discover how many people in our club had already looked into their own family trees, with at least 12 Rotarians responding when asked the question.
Jonathan had been researching his ancestors for many years, with 3026vpeople and 751 marriages, going back to 1370. He gave plenty of excellent suggestions as how to proceed, ranging from the many census, births, christenings, marriages, deaths, wills, probate and military records. Although 90% of his own research was derived from the internet he suggested that we should question "internet certainties", don't trust everything you see and have lots of patience and perseverance. There was a cost to the research in joining a group and for copies of certificates (£9.25), however Jonathan offered to assist any member who would like some help at NO COST, as it is his hobby and he enjoys it so much.
One can only think that it takes time, lots of it, to find out your roots but it must be satisfying. SB
29 March 2018 Masters of Mirth – The Sequel Mike Storr
Mike Storr, 'resting' thespian of Burton Joyce amateur dramatics club, demonstrated his vocal mimicry skills when he presented his second instalment of Masters of Mirth, a light hearted look back at the Music Hall artists of the late 19th and early 20th centuries. The Music Halls expanded dramatically as towns and cities grew, with over 300 in London.
First up was Odd Ode Man - Cyril Fletcher and he told us the Tale of Sonia Snell, To Whom an Accident Befell. Next up was Marriott Edgar who teamed up with Stanley Holloway to write many of Stanley Holloway's famous monologues such as Sam, Sam Pick up Thy Musket. Then Al Read made an appearance with Our Mabel's Going to Get Married. Pam Ayres allowed Mike to show off his feminine side when he slipped on his favourite bead necklace to recite Clive, The Fearless Birdman. Next followed Sir Bernard Miles with his tale of Over The Gate followed by a video clip of Norman Evans who was the forerunner of Les Dawson's Cissie and Ada's characters and Mrs Brown of Mrs Brown's Boys. Stanley Holloway OBE came next with The Runcorn Ferry.
Mike rounded off the evening with another Pam Ayres' poem (probably because he wanted to put the necklace on again) They Should Have Asked My Husband.
Over the past 5 years, Mike has done almost 300 presentations to Rotary Clubs, U3A, W.I. TWG, and numerous other organisations…….he takes no fee or expenses, all donations go to his favoured charity ASTHMA UK, totalling to date £15,240 and with over 75 bookings in his diary, he should hit his target of £20,000 in a little over a years' time. Duncan
19th April 2018 - Reach Learning Disability Anna Joyce

Her illustrated talk was very interesting, extremely informative and delivered with great enthusiasm,very much enjoyed by members together with invited spouses.Anna's talk was mainly concerned with the branch of Reach UK called Flower Pod but she first outlined the purpose of the organisation.The registered charity was formed in 1999 in Southwell to support people with learning difficulties in Nottinghamshire and now numbers over 200 "clients". The charity runs learning and recreation courses,social activities to help people of all ages to improve their personal independence and individual lives within the community.

Flower Pod offers the clients the opportunity to participate in growing,caring for and selling cut flowers,again another opportunity to build new friendships,enjoy physical activity and learn about the natural world and environment and also be a part of the community.

The location is set in 1.5 acres at Brackenhurst Southwell,part of the Nottingham Trent University.The flowers are sold for weddings,funerals and a range of special events and sells organic confetti which is becoming very popular.It is hoped that the public will become more aware of such effective community service and certainly Anna through her talk has "reached" out to us.

A cheque was presented by the President to Anna to support her charity and a raffle prize of a delightful bouquet of flowers was a fitting end to an enjoyable evening.

It is hoped that a club visit can be arranged to see Flower Pod at work. MT
24 May 2018 Treasure Hunt
What a well organised event, but what else would you expect from Alan & Sue Folwell, they even have contact with the 'man upstairs', with a glorious evening of sunshine & warmth.
So despite the concerns of the majority of the Club having to traverse the ever congested Gunthorpe bridge, we all set off nice and early (5.20pm!)
The clear instructions were issued by Alan and off we set, first travelling through the delightful village of Caythorpe, just so we could see a corrugated tin tabernacle of St. Aiden's and enjoy a brief passage by the River Trent. By the edge of Hoveringham, then crossing the A612 through Gonalston and to our first village walk stop in Epperstone, guiding us and explaining exactly where to cross the road for the next clue.
On the to the second village walk at Oxton, with an old petrol pump clue, which clearly fooled some of our younger members, as the currency was pre-decimalisation!
We finally arrived at the Ramsdale Golf Club, where the food served was excellent, easily surpassing the 'normal golf club fodder'!
So onto the results with winners Anne & Dermot Daley, only a two person team, so well done!
However, there was a sting in the tail, Alan had given President Adrian an envelope with clear instruction on the selection of 2019 Treasure Hunt Organisers. We ("Don't tell them your name Pike" Team of President, Gina & moi) believe we managed 39 point from 42 questions, but somehow managed to land in 5th place, which is the TH2019 organisers! Not that we're suspicious, but Alan knew the contents of his letter and also marked the quiz results. He either 'set us up' or learnt a few tricks from the table magician who entertained at our Charter.
All in all, a great evening, enjoyed by all, so WELL DONE Alan & Sue!
31 May 2018 Flower Pod visit – Jane and Tracey
Following on from Anna's talk at Club on the 19th of April, we made an outside visit to their Flower Pod near Brackenhurst campus of Nottingham Trent University. 21 of Club members plus attended and were entertained to an enjoyable experience.
Jane (The General Manager) and Tracey (Client Champion) made us most welcome in this relaxed environment allowing us to make our own tea or coffee on arrival.
They explained that Flower Pod is a horticultural based enterprise producing and selling cut flowers and natural confetti. Part of Reach Learning Disability Charity that provides day services and care support for people with learning disabilities.
The eco-friendly site began with a ploy tunnel in 2010 followed by the construction of their straw bale double workshop building, creating a nurturing environment for their clients, of which they currently have 30.
Communication with their clients is a demanding issue which is now assisted by the use of Makaton sign language and the involvement of many willing and able volunteers (for which Reach received the Queen's Award for Voluntary Service in 20116)
They outlined wonderful anecdotes of how specific clients had been transformed by their experiences at the Flower Pod, but not surprising as you could feel the enthusiasm of these two 'stars'!
We were treated to some tasty homemade cakes (one of which disappeared in seconds, termed a chocolate Guinness cake) and finally to a raffle draw for a superb bouquet that they had produced, which fittingly went to Gina, President Adrian's "11 month suffering wife"( nearly there Gina, only one month to endure!)
President Adrian gave a heartfelt vote of thanks and congratulated them on their outstanding work.
AR
13 June 2018 W(h)ither the Vale of Belvoir Rotary Club? Rob Gray (Whither: - to what place? Or Wither:-shrivel)
Following 2 cheque presentations, first to Georgia Buxton, who is raising funds for her volunteers' trip to help in Sri Lanka in July and the other to Robert Whiteman of the First Responders, both from our Community Fund Rob presented Club with some thought provoking questions for our Club's future.
He did a SWOT analysis for which he proposed some internal Strengths and weaknesses, which were supplemented by members' suggestions. Then a similar process for the external Opportunities and Threats.
The conclusion to the exercise was that due to our age demographic profile, loss of existing members (3 in last 2 months), lack of recruitment of new members that despite the Club currently being vibrant and with healthy numbers, the future is of concern, unless we take ACTION.
Rotary has for some time had issues in the community perception and the many changes that have happened with businesses, local authorities and lifestyle in general. However, there are actions we can take in terms of possible recruitment or alternative type of Rotary Club through transition or formation of a new club. Such alternatives as an e-Club or Satellite Club of 35 to 45 year olds.
There was a general acceptance that this is an important issue that must NOT be forgotten, complacency is not the solution. A first step would be to invite speakers from Clubs that have formed a satellite club, or even the Satellite Club members themselves.
President Elect Trevor thanked Rob for his thoughtful and logical presentation that will get all the members thinking. AR