2017 - 18
Adrian Cresswell is our President and the following report gives a flavour of what we are doing in his year.Adrian joined Vale of Belvoir Rotary in 1991 and, despite airline pilot duties keeping him out of the country, has been an active member throughout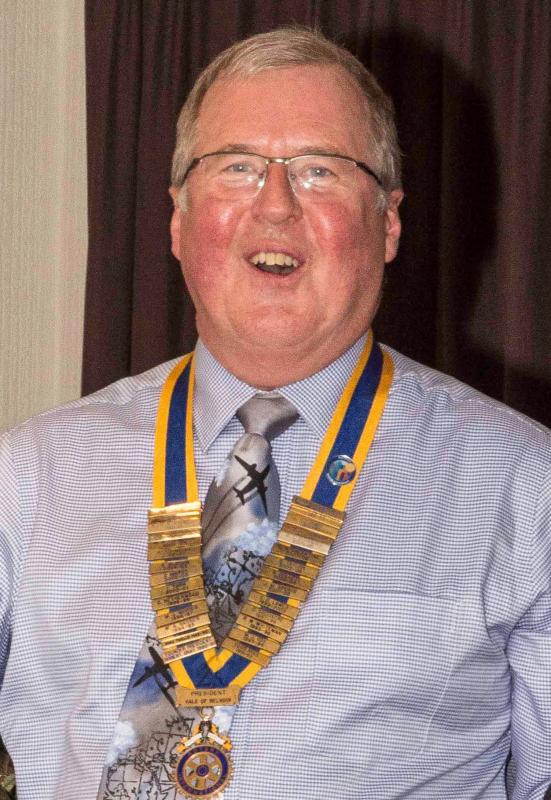 Our first 2 months (July - August 2017)
Our second 2 months (September - October 2017)

Our third 2 months (November - December 2017)
Our Christmas Party at Ashmores
Here's Adrian's message at the beginning his year as the Club President for 2017-18:

"I am delighted to welcome you to the Vale of Belvoir Rotary Club website
Our Club is currently thriving with over 40 active members, including 8 lady members. We come from a wide variety of backgrounds, and are able to contribute in many different ways with the skills and experience we have gained over many years.
We are a lively, boisterous club enjoying both our weekly meetings, and a full and varied social calendar.
However, our main philosophy is in providing assistance for communities and charities, both locally and internationally. We all share a great deal of enthusiasm for fund raising through a range of activities and events, such as our annual Vale's Got Talent contest, our Santa Claus Sledge, and our Cabaret night and Charity Frog Race Evening. All are great fun, and visitors are always welcome to any of our events.
This year we are raising money for a diverse selection of local causes including: Dictionaries for Life, Memory Café ,Life Education Caravan ,Ash Lea Special Needs School, Notts Air Ambulance, First Responders, Village Defibrillators, Bingham Audio Project, Medical Detection Dogs and the Friary Homeless Drop In Centre. We will also be running once again our successful Art competition in local primary schools.
And internationally, as well supporting the global Rotary project to eradicate polio from the face of the planet, we are also supporting the Fishtail Project in Nepal, a scheme for providing schools in Uganda with Solar Lamps, and we are also purchasing Aquaboxes and Shelterboxes for help in disaster areas.
We have a busy year ahead of us, and you will find more information on all our fundraising events, and our charitable donations in our website.
Why not come and see us? We will always welcome guests and indeed new members. We meet every Thursday evening, and you can be sure of a warm welcome at any of our meetings."
4 January 2018 The Vale of Belvoir Rotary Website - Mike Morris & Allen Richmond
Mike opened the batting with a little history of the RI website and our reason for moving to this platform. One important aspect was the cost, the money we have to pay (£50 annually) goes directly to Rotary Foundation (£61k raised each year for Foundation through this hosting website). He described the benefits of the site and named the Website team, showed a simplified website plan, expanding the "What we do" layout.
Allen logged live into the website (eventually) and took the Members through some of the navigation, extolling the virtues of the wide range of information Mike had developed. The audience became engaged in the dialogue, questioning where to find certain information. The main message that evolved was that, both the public and members could easily access the weekly programme, both historically and yet to come, giving a flavour of what Rotary and our Club in particular is about both locally and internationally.
On the Members section, apologies could be made and an email system used for circulation to all or specific members. The request was made for members to take some time to explore the website, use it and provide feedback with regard to any problem issues (like Rob's inability to register and successfully log in!) or any areas for general improvement.
President Adrian decided that despite the interesting and informative presentation, no 'vote of thanks' was necessary, but after taking a "sincerity" pill had a change of heart with a heart wrenching thanks!
11 January 2018 Clipper Round the World Race 2017/8 - JulianLowes
Julian, visited Club to tell us about his imminent adventure aboard the Clipper 70 Qingdao. He has recently retired from teaching, and has sailed for around thirty years. Knowing that it was an ambition of Julian's and that he wanted a new adventure in retirement, Julian's wife sent off for the details of the round the world Clipper race. Having gone through a rigorous selection and training process Julian leaves for Australia next week to join the clipper Qingdao. The Clipper is sponsored by the port of Qingdao, this city is bordered on two sides by the Yellow Sea. (and apparently has the largest bathing beach in Asia.) The total round the world race will take approximately 11 month and cover 40,000 nautical miles. The crew mantra is Eat, Sleep, Sail, Repeat and is basically what will be happening during the race. Crew work six hour watches during the day and four hour watches at night. Julian's presentation gave us information about the size of the clipper and the sails. There was lots of technical information and health and safety points too. The race is not without its dangers and we were told of deaths that had occurred in this race and the previous race. We wished Julian 'Bon Voyage' and he agreed to come and talk to us again on his return. The clipper will be at sea generally for over 30 days on each leg and communication is limited. Julian's wife is going to write a blog for him, and you can follow the progress of Qingdao in the skipper's reports at https://www.clipperroundtheworld.com/team/qingdao/news LL