Monton Festival
The annual Monton Village Community Association Festival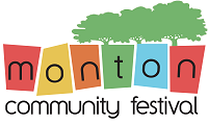 For the first time the club took part in Monton Festival at the start of July. We assisted with marking out the site on Duke's Drive on the Friday and the car-parking on the Saturday morning.
Our stall, between Patricroft Methodist Church and Mary Magdalene's was split between our free books for children, sale of Eccles cakes and the "Beat the Buzzer" game featuring the Rotary wheel.
It was also an opportunity to display our new banner and showcase Rotary and this brought us a visit from an Israeli Rotarian who had a nearby stall.
The books were very popular and the final ones were distributed by Sharlie & Katie our younger family members. During the day we also collected contact details of people who may help us plant bulbs in Monton during September.
We'll be back in Monton in September to plant purple crocuses, raising money for Polio Eradication.