GUEST SPEAKERS 2017-18
A SELECTION OF SOME OF THE FASCINATING SPEAKERS THAT WE HAVE HAD AT OUR CLUB MEETINGS FROM 2017-18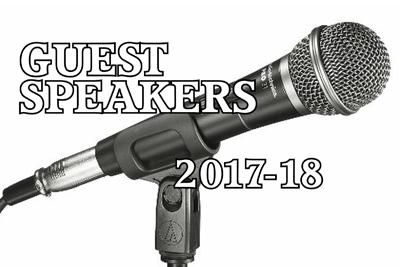 5 GOALS, 5 YEARS, 5 MILLION CHILDREN 20th.June 2018
Linsey McCabe's fascinating talk to the Rotary Club of Houghton-le-Spring. was sometimes overwhelming by the sheer unimaginable statistics. The NSPCC Schools Service deals with 7,800 primary schools to educate children about the horrors of abuse and support those who are already victims. The hidden number has been estimated as 1 in 20 children in a lifetime. (only 1 in 3 of those will admit it at the time) Lynsey's team covers the area of Yorkshire and Cleveland around Darlington yet she is the main professional relying on 15 volunteers to offer free advice to schools. The title comes from their aim to provide five goals over five years to save five million children
Contact can be made through www.nspcc.org.uk
And lynsey.mccabe@nspcc.org.uk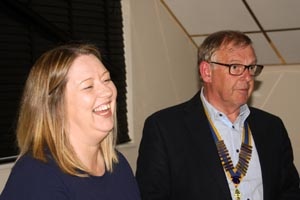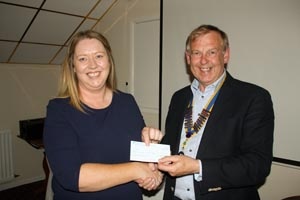 MAKING A DIFFERENCE 16th.May 2018
For 20 years Ken Clark has been the Secretary of the Burnmoor Conservation Group. In that period it has expanded dramatically. It started from the fairly conventional aim of tidying the village. Soon a simple idea to coppice willows led to a creative plan to weave the willows. Next they were expanding the woodland, planting new trees, and making their own woodchips for paths and allotments. Their expanding group of volunteers started working with schools, churches and organisations like the Wear River Trust. The quality of Burnmoor life in the future will be much better for the difference that this active group's efforts has made.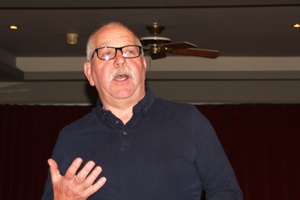 A WATERY PATH TO HEAVEN 2nd.May 2018
To the Hindus of India the River Ganges is the holiest of rivers. The water flows 1560 miles from the Southern Himalayas to the sea. There are a number of pilgrimage sites along its banks and bathing in the river is believed to wash away your sins and has healing powers.
However as Len discovered the actual pollution level of the river might easily put off non-Hindus. He visited Varanasi where 200 cremations a day take place on the banks. Your position in the caste system will define how high up the steps your body will be burnt. Each funeral pyre will burn for four hours but the skulls and hips fail to render and are tipped into the river with the ashes. Hindus believe that this will guide the souls of the deceased straight to paradise.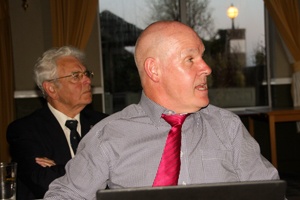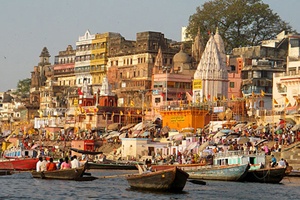 WAY BACK YONDER IN HOUGHTON LE SPRING 25th.April 2018
Cliff took us back to the Houghton-le-Spring of the 1930s and the 1960s with film footage that he had found on the internet. It was a very nostalgic evening although the 16mm black and white film of garden parties at the Rectory in 1930 was a bit before our time. However conversation flowed as recognisable streets and shops of the 1960s flickered on the screen. Even those who are new to the area enjoyed all the fashions and cars seen on the streets, even if the policeman on point duty has long since gone.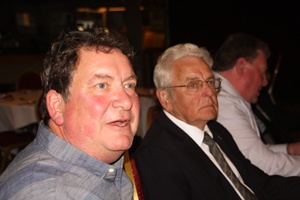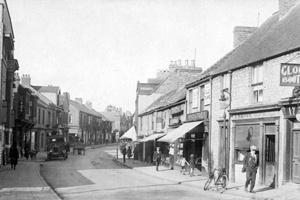 STORY OF A STORE 4th.April 2018
Syd's talk on the Doggart family brought back many memories for those members who have lived their whole lives in Houghton. In 1892 Arthur Robert Doggart moved to Bishop Auckland to work in a drapery business based in Auckland House. Within 3 years he had taken over the business and changed the style of retailing by setting up the Doggarts Club which was an interest free way for poor mining families to buy furnishing and clothes. He rapidly expanded to open 17 branches across the North East, including one in Houghton-le-Spring. At one time there were 800 staff travelling across County Durham collecting weekly payments from Doggarts customers. Eventually the business struggled to compete with the larger national chains and in 1980 the last of the branches closed. The site in Houghton is now occupied by M&Co.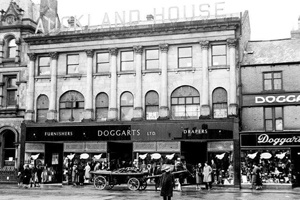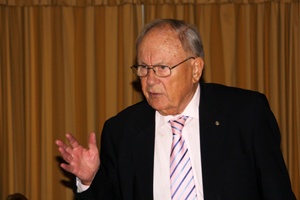 TECHNICALLY NOT A SPEAKER BUT WORTH REMEMBERING
HELPING "BUTTERFLIES" FLY 28th.March 2018
The members were delighted tonight to receive a card from the Wheelchair Foundation UK thanking them for their donation of two wheelchairs for Botswana. Our interest in this deserving cause was raised a few years ago by a talk on the subject. It ended with a poignant quote from a young recipient who expressed his delight with his newfound mobility in the wonderful phrase "Yesterday I was a maggot crawling on the ground. Today I am a butterfly". No one in that Rotary District audience could forget the chance appearance of a butterfly flying across the room. Since then our Club have regular donated at least two chairs per year based on our Christmas Card donations.

For more Charity details see their website at www.wheelchairfoundation.org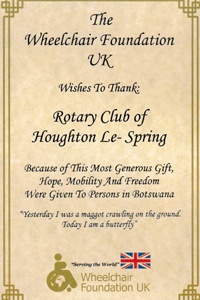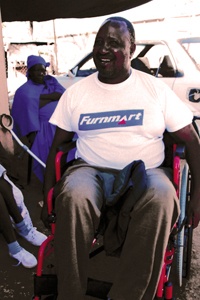 MY OH MY OMAN! 21st.March 2018
Ray had been working in the oil industry in Saudi Arabia and Kuwait but in 1986 he moved for a year to Oman in charge of the engineering workshops. The first oil had been found there in 1967 and prior to that Oman only had two surfaced roads. It is now a flourishing modern country. It is an absolute monarchy, and Sultan Quaboos bin Said al Said has been the third longest serving current reigning monarch in the World.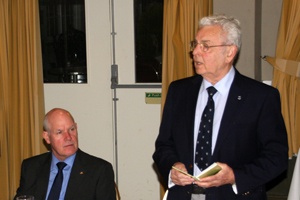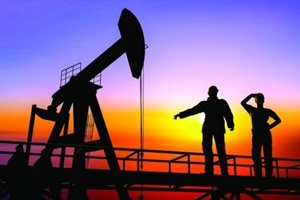 HE NEVER SAID IT WAS EASY! 7th.March 2018
Derek Moss challenged us all with a Quiz about the 50s and 60s. We all struggled, some more than others. Ironically Cliff, who was hardly born at the time, got most answers right.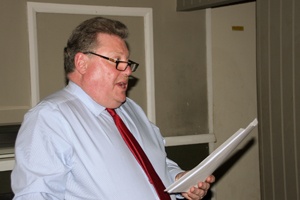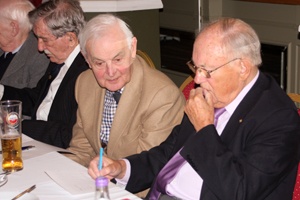 MOSCOW IS ALIVE WITH THE SOUND OF HOUGHTON 21st.February 2018

Kevin Reilly is known throughout the region as being a key member of Houghton Pipe Band. Every year you will see him as part of the Houghton Feast Parade, kilt swirling to the beat of his bagpipes. However 2017 saw him taking his musical skills further afield as he and 120 other amateur pipers from countries as far apart as Scotland and South Africa were invited to join 25 professional bands as part of Moscow's Tattoo. Altogether there were three representatives from Houghton. The combined Celtic Pipes and Drums had never played together before. They met and rehearsed for the first time the morning after they arrived. There were then two rehearsals for the finale which involved all 1400 musicians before the first show that night in Red Square.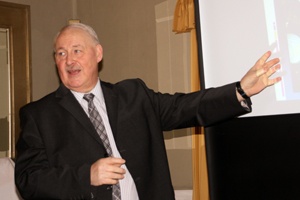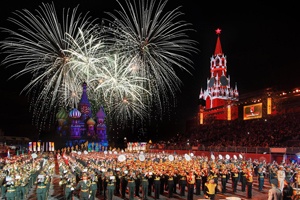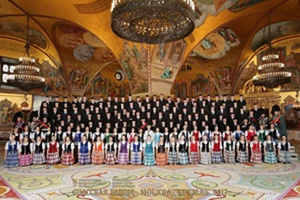 SURPRISE AN AMERICAN BY TELLING HIM THAT THE ROOF REPAIRS
PRE-DATE CHRISTOPHER COLUMBUS 31st.January 2018
A Club Guest Night deserves the very best guest speaker and we found one in the form of Keith Bell. Twenty one years ago he and his wife Maggie had the crazy idea of buying Crook Hall in Durham. They were looking for a family home big enough to also run a business. Suddenly the Hall and garden came up for sale and they took the plunge. Although it was beautiful there were times when they thought they had taken on a bit too much. After all parts of it have been standing for over 800 years. This was definitely a high maintenance project. To help with the finances they started allowing visitors. Although part of the house is still a private home thousands of visitors a year now wander through the rest and enjoy the beautifully renovated gardens.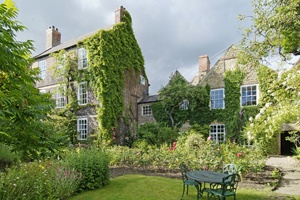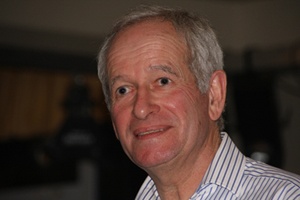 THE FALLING LEAVES, OF RED AND GOLD 17th.January 2018
Last Autumn Len and Lynn ticked another holiday off their bucket list with a visit to New England in the Fall. They missed the peak period by about one week but still enjoyed the spectacular scenery. Len's travellers' tales ranged from the strangely unexpected to the distinctly uncomfortable. From a restaurant which cancelled his bill because he had asked for it three times without success, to a family with three handguns under the bed and more on order! Clearly three is a significant number in New England.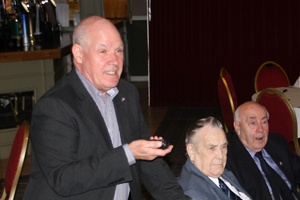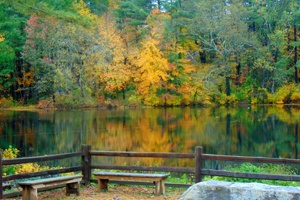 TO A POSITIVE PERSONAL FUTURE 3rd.January 2018
Our regular New Year Message is always an inspiring start to a new year. This year it was presented by Steven Mapstone, Methodist lay preacher on the Sunderland Circuit. He started by asking what images we choose for our phone screen savers. Like many, his personal choice was a picture of himself and his wife. Like many, he is more critical of his own image than hers. Looking at himself he is reminded of his past with much happiness but some regrets of lost opportunities. But a new year is the perfect moment to look forward, to love others, to seek and see a real positive difference within ourselves.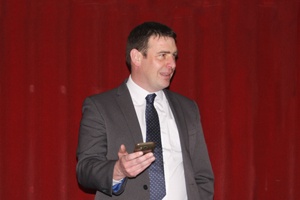 WE WEREN'T EXPECTING THAT 29th.November 2017
Stewart Atkin, District Governor Elect, was Question Master for our quiz night against Barnard Castle (we won, but that's another story) What was a complete surprise was that he brought with him a certificate from Kalyan Banerjee (Chairman of the Rotary Foundation Trustees) and John F.Germ (President of Rotary International) He presented it to the club in appreciation of our financial support for the "End Polio Now: Make History Today Campaign". We are one of the few clubs to receive this honour described on the certificate as "fulfilling our promise to the children of the world to eradicate polio"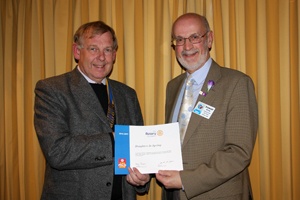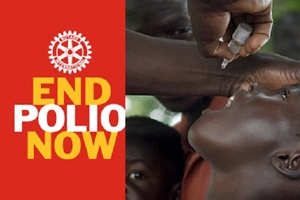 CHILL OUT & CHILL INN 1st.November 2017
Suitable for Halloween President Iain was in a chilling mood as he told us about his New Year visit to Lapland. Ice sledging seemed exhilarating. Eating off a plate of ice sounded delicious. Being wrapped in an arctic sleeping bag on a bed of reindeer fur sounded cosy. But there was some doubt about a bedroom of carved ice and having your nose sticking out into a room temperature of -5 degrees.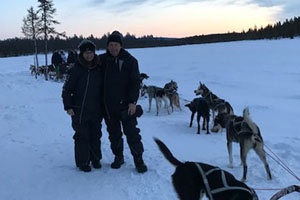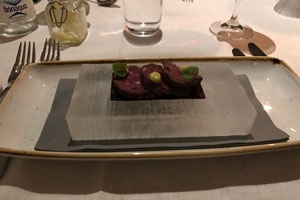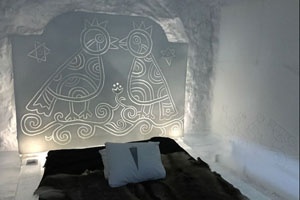 WHICH WHEELS ARE WHICH 13th.September 2017
Our own club member, Derek, has always had a passion for cars, particularly old classics. This provided the source material for a fascinating picture quiz. For most of us the challenge was with our own personal limited knowledge but on one table the two keenest petrol heads were sitting next to each other and the friendly rivalry entertained us all. In the end Iain nudged ahead of Cliff and we all applauded.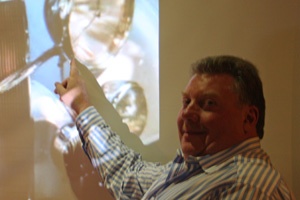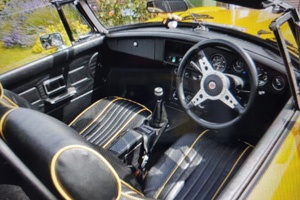 THE LATEST BUZZ FROM BOURNMOOR 30th.August 2017
Tonight's speaker for our Guest Night was Secretary of Bournmoor Conservation Group, who talked about his latest interest in beekeeping. Knowing very little about their care he had to quickly take charge of 11 beehives containing half a million bees! He joined Durham Beekeeper Association and was soon asking all the right questions and learning some of the answers. He recognised that he was on a steep learning curve. He brought along a typical hive (luckily without it's swarm of bees) and described the various levels within it. He donned his beekeeper suit which hadn't always fully protected him from being stung. Despite describing himself as "still learning" he gave a fascinating talk, sadly without any sweet samples.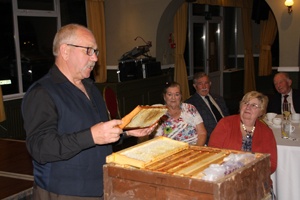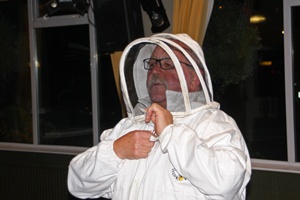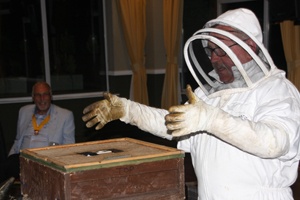 THE PERFECTLY PLANNED SANDWICH 23rd.August 2017
Tonight was not so much a guest speaker but Ron sharing his thoughts about planning this year's Oxroast. As usual it will be our club's contribution to Houghton Feast with roasting over 24 hours and sales on Monday 9th. October. In the midst of all the decisions about potential sales figures it was fascinating to hear how Ron's personal experience stretched back 50 years. His has been a familiar face over the years, whether putting the ox on the spit in the 1960, overseeing the Mayor's carving in 1976, or planning the next one in 2017.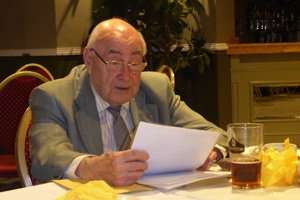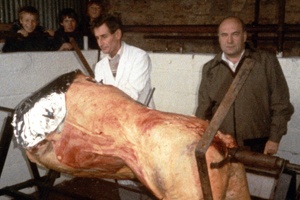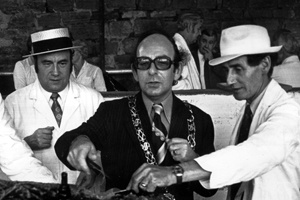 PLANE IGNORANT 16th.August 2017
President Iain stepped in at short notice to provide the after dinner entertainment and choose to arrange a quiz based on photos of planes that he had taken around various air museums. He had been passionate about planes since he built them in plastic kit form as a child. However his fondness for obscure details was only matched by the general ignorance of the club members. Luckily the final questions were of general knowledge which managed to partly hide the embarrassment of most of the members.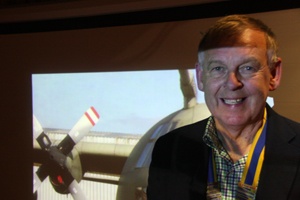 RAY'S RIVER REMEMBERED 2nd.August 2017
Although Ray's engineering career took him all over the world his first 7 years of work were building ships at Doxford's on the River Wear in the 1950s. Doxford's was unusual in that it made the engines as well as building the ships that made Sunderland the biggest shipbuilding port in the world. At one time there were 68 shipyards along the River. Ships were built in such large numbers that in 1947 3 ships were launched in 60 minutes. In 1855 Laing's yard built the biggest ship in the world. In 1875 the Torrance was launched and held the record as the fastest ship in the World. Some ships were so large that they were launched in two halves which were then welded together in the water. Ray showed photos of ships that were so large that they were launched without funnels so that they could sail under the bridges. Sadly this industrial landscape no longer exists, the river is silent but Ray's memories set in motion similar memories of many of his audience.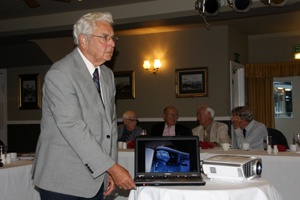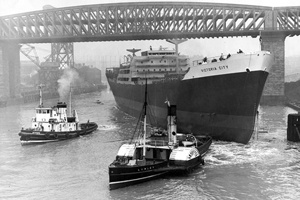 MATCHDAY MEMORIES 26th.July 2017
When Rotarian Bob Hodgson first started kicking a football around the local backstreets he never realised how far it would take him. He admits that in the school team he "had a lot of stamina but only average ability" but it didn't diminish his hope to succeed doing something in the game.
After National Service he took up refereeing schools games and quickly developed a reputation. In 1955 he was invited to be a linesman at an International Schools Match between Scotland and Wales at Everton. The next year he refereed a School's International Final between England and Scotland at Wembley. This was an historical moment for him but also memorable for being the first floodlit game televised from Wembley. During his talk he passed around the plaque that was presented to him after the game.
Out of a number of key games his major achievement was probably acting as Senior Linesman in the 1973 World Cup match between Belgium and the Netherlands. He still recalls the delightful surprise when he received a photo in the post showing him watching Johan Cruyff exchanging national banners.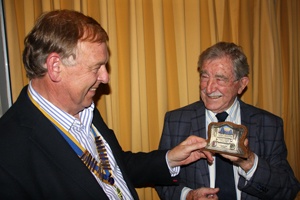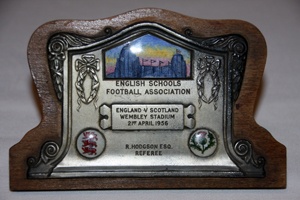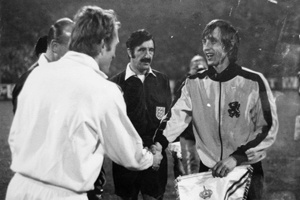 BLOOMING WONDERFUL 19th.July 2017
Alison Morgan, County Organiser for the National Garden Scheme, presented a fascinating history of the origins of this scheme which arose out of a training scheme for District Nurses created in the 1860's by Lord Rathbone and Florence Nightingale. Much later someone had the bright idea of raising money for the charity by charging visitors to see previously private gardens. The first Nationally organised NGS open days were held in 1927 and since then then £50 million has been raised for various caring charities. This year there are 3,643 gardens (including two owned by our own members, President Iain and Godfrey) open to the public. This led to Alison's colourful tour of the 34 gardens in the Durham/Teeside Area ranging from a walled garden, a quarry garden, a totally organic one and a previous winner of the BBC Gardene of the Year.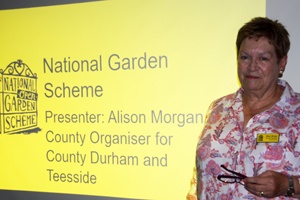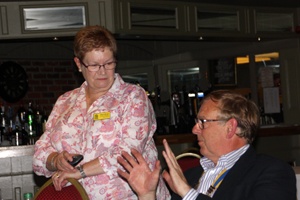 FILMING IS FUN 12th.July 2017
Newcastle ACA Film and Video Makers have just celebrated their 90th. Anniversary as the oldest such Club in the world. Michael has been a member since 1972 and tonight he gave us a programme of comedy videos made by his Club colleagues. Some were dialogue based, some relied on special effects, some were just quirky but all were entertaining. Illustrations are from "Dog Gone" by Walter and Sylvia Clark and Stephen Green appearing three times in his own film "The Presentation".