Art and Craft Fair
Sat 28th April 2018 at 10.00 - Sun 29th April 2018 - 16.00
This annual event is for local artists and photographers to display their work for sale. Additionally there are craft workers selling their goods. Entry to the fair is FREE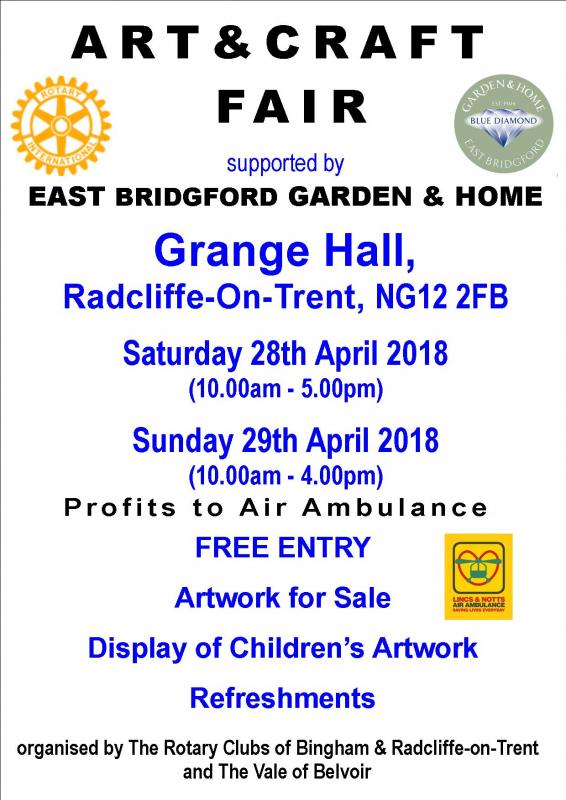 Following the success of last years Art and Craft Fair at Radcliffe on Trent the Rotary clubs of the Vale of Belvoir and Bingham, Radcliffe and District are again holding the event this year to raise money for the Air Ambulance. This year the event will be held on the Saturday 28thand Sunday29thApril at the Grange Hall Radcliffe on Trent NG 12 2FB. The exhibition is open to artists from a wide area who would like to exhibit their work for sale (download the application form). We are aiming to give artists, photographers and crafters the opportunity to display and sell their work and raise money for the Air Ambulance.
All art work must be for sale and the event takes 15% of the sale price for this worthy cause(see rules for exhibitors). Crafters pay a small fee to have a stall.
Come and browse the stalls and art displays and buy some unique work and relax over a cup of tea with homemade cakes made by the local Inner Wheel Club.
In the last couple of years a highlight of the event has also been the large display of children's paintings from the local school art competition,
Lesley, our organiser says "I am pleased to advise you that our annual Art Exhibition is once again taking place at Radcliffe-on-Trent on 28 and 29 April 2018. We are again opening the exhibition to photographers and to crafts.

Exhibits will be received between 6:30 pm and 8:30 pm on Friday 27 April with the official opening at 10:00 am on Saturday 28 April. Hanging Fees will be £3 per picture or £10 for four. As our regular exhibitors will be aware, this exhibition, which was first held in 1992, has become a popular and successful event, which is supported by a large number of local artists.
I hope that you will wish to submit some of your work and, if so, will be grateful if you will complete and return the attached entry form as soon as possible. Hanging fees may be paid with your entry form or will otherwise be collected when work is submitted on Friday 27April. Cheques made payable to Vale of Belvoir Rotary Club. Last year we were fortunate to welcome a number of new artists and we were very nearly at capacitiy. I would suggest you return your application as soon as possible and no later than Monday 26 March.
I look forward to hearing from you and should you know of any other person who may wish to enter our exhibition please let me know "