2017/18 Speakers at M&P
Rebecca's account of her climb
Club Meeting: Monday 30th April 2018

Speaker: Rebecca Stephens - Climbing Mount Everest

Rebecca lives with her family in South Harting. She organises Treks, mostly to the Himalayas , writes books, does talks, and is involved with The Himalayan Trust.

Her talk gave an insight into the history of ascents of Everest. Rebecca had two attempts, the first in 1989 and her successful attempt with 2 Sherpas in 1993. As I said on the evening she talks with great modesty of her achievements and has the uncanny ability to transport & take her audience with her, though the events happened some 25 years ago! The message she would also like us to take from this is that we really only move forward in life when we venture into new, unknown territory. Have the courage to follow your own chosen path with conviction.

A thoroughly inspirational and motivational talk by a truly humble achiever.

Geoff Payne.







Club Meeting: Monday 19th March 2018

Speaker: Lorie Coffey - "Project 71"

In 2013 the government decided to no longer sponsor the D Day war veterans landings. With her military background, Lorie decided a separate organization needed to be founded to support these war veterans. Project 70 was formed. With typical fund raising and enthusiasm, she and her many friends in private cars took the vets across. The following year it became project 71, which it remained. Approximately £30,000.00 needs to be raised this year as next year it is the 75th anniversary and the final trip. Sarah Vincent accompanied Lorie as she will be cycling from Normandy to Arnham on her own to raise funds. Stedham is holding a Wartime weekend August 18th-19th to help raise funds. We wish Lorie all the best for her fundraising. David Burton







CLUB MEETING – 5th March 2018

Speaker Martin Drury CBE on The National Trust




Martin is a former Director General of the National Trust and began by giving us a brief outline of the origins of the Trust. It was formed in 1896, given statuary powers in 1907 and covers England, Wales & Northern Ireland. (Scotland has a separate organisation with a similar remit.)

Initially the Trust's aim was the preservation & protection of places which were considered to be of great historical value with owners who were unable to afford their continued upkeep.

Its first property was the Old Clergy House in the village of Alfriston, Sussex. Much grander properties followed, particularly after the 2nd World War as many country estates struggled rising costs & death duties.

More recently the National Trust has widened its portfolio by taking on coastline protection through Operation Neptune and by purchasing less grand properties such as the house where Paul McCartney was born.

It is now the largest membership orga

nisation in the UK with an annual income of nearly £500 million. Volunteers still play a pivotal role. Some 70,000 people giving almost 4 million hours to Trust every year.

Alan Austin

CLUB MEETING – 5th Feb 2018

Speaker – John Flint ex Royal Marine




We were treated to a fascinating talk by John Flint an ex-royal marine who served with the Royal Marines for 12 years. Even today John bases his life on the royal marine ethos which signifies courage and positivity in the face of any challenge.

As a young lad John always dreamt of being a soldier and joined the Royal marines when he was just nineteen. He performed three active tours and was promoted to lance corporal. After serving in Northern Ireland in 2002, John was sent into active combat areas of Iraq and Afghanistan. He has also visited USA, Jordan and Norway as part of the royal marine core.

Returning home John continued to serve his country by training to be a policeman in Chichester when he met the love of his life Sarah. In 2006, he was requested to return to Afghanistan as a specialist advisor to provide training for the Afghan National Police. He returned back home safely but remembers with sadness some of his colleagues who did not return or got injured.

The years of combat have however taken a toll on his health and he has found himself in constant pain with his health going downhill. In spite of multiple surgeries to his spine, he now uses both a cane and a wheelchair. John attributes his courage to move forward in spite of health deterioration to the arrival of his first support dog Barracks. Having lost Barracks, he now has Jessa and they have done a lot together.

John has met Prince Harry and participated in the Invictus games. The Invictus games has been a tremendous help to him and others like him, especially those suffering from PTSD (post traumatic stress disorder) Having participated in 2014 Invictus Games in London, John bagged the bronze Invictus medal for archery in the 2016 Orlando games.

He has overcome physical and psychological challenges, but says challenging himself academically is what he is most proud off; having managed to get a first in his degree course. John is ably supported by his close support network that includes his wife Sarah, his dog Jessa both of whom accompany him everywhere. He is able to rely on the Invictus foundation and the Canine Partners for extended network support.

John is looking forward to being employed, we Rotarians wish him the very best in his pursuit.

Nallan Rangesh
Monday 29 January 2017
Alan Dower Blumlein 1903 - 1942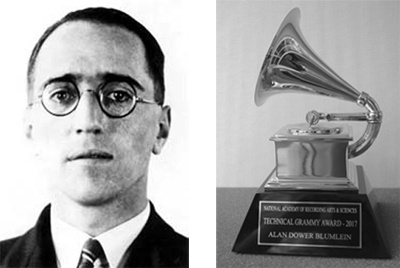 Alan Dower Blumlein and the Technical Grammy Award 2017

Alan Dower Blumlein was born in Hampstead, London on 29 June 1903. Although he struggled through his school years he clearly showed an interest in electrical engineering and focused on books and publications in this field. At age 18 in October 1921, Blumlein entered the City and Guilds College on a Governors' scholarship straight into the second year of a four year course. In July 1923, after only two years, Blumlein graduated with a first class honours degree in electrical engineering.
At age 21 in September 1924, Blumlein joined International Western Electric (IWE) (later becoming Standard Telephones and Cables (STC)) where he worked on reducing cross talk over long distance telephone lines along with many other key telephony and signalling projects. By early 1929 and in less than 5 years working for IWE & STC, Blumlein filed 7 patents.
At age 25 in March 1929, Blumlein joined Columbia Gramophone (later merging with The Gramophone Company to form EMI) where he would stay employed until his untimely death in 1942. It was during his time at Columbia and EMI where he would truly thrive filing 121 patents in the space of 13 years covering key developments in the field of stereo, television and radar.
At age 28 in December 1931, Blumlein filed his most famous patent Number 394.325
"Improvements in and relating to sound-transmission, sound-recording and sound-reproducing systems". This patent contained 70 individual claims including the positioning of a pair of microphones, processing of sound from the microphones and cutting equipment to record two channels into a single record groove.
At age 38 on the 7th June 1942, Alan Blumlein's life was cut tragically short when a Halifax bomber he was on board, testing H2S airborne radar, caught fire and crash landed killing Blumlein and the other 10 passengers and crew. Two other key members of the EMI team, Cecil Browne and Frank Blythen, were among those killed.
Despite this tragic accident development of H2S radar had been in the final stages and production continued contributing hugely to the war effort.
Alan Dower Blumlein was one of the most prolific inventors of the twentieth century earning a total of 128 patents in his short life. Blumlein's Stereo invention is just one area of his incredible contribution to the world of audio and electrical engineering.
Alan Blumlein (grandson of Alan Dower Blumlein)
Midhurst Then and Now

Peter Nightingale 22 January 2018


At our meeting at The Grange apart from a small bit of business we had surprise (to me anyway) entertainment from our very own Peter Nightingale who gave us what amounted to a quiz of whether we recognised shops or places in Midhurst from the past, then compared them with today - in fact most of these ones taken that very morning in the rain!
This was probably the most interactive meeting I have ever witnessed at M & P Rotary with everyone keen to add a bit of their knowledge of the history of trade and buildings in Midhurst.
Well done Peter
Does anyone else have a short presentation to bring to a Grange meeting?
Andrew Mitchell
Petworth Community Garden

Kate Brickell – 15th January 2018



Kate Brickell, the gardener at the heart of Petworth Community Garden project, talked about the establishment, development and work of the Garden. Kate is a professional organic gardener who was inspired by Garden Organics 'Organic Food for All' (OFfA) scheme, and trained under the scheme so that she could use her skills within the community. She was then more or less told to go out and put what she had learned into practice. A search for a suitable plot of land resulted in her being offered two adjacent overgrown allotments in Petworth. With the help of just one local lad she set about clearing the plots and was delighted almost immediately to be joined by another lad who was hanging about basically with nothing better to do. The two lads set to work, supervised by Kate, and the project was underway. That was 2005.
As they cleared the site they were delighted find established fruit trees and bushes and land suitable for organic vegetable production. Others joined in and a third plot was added. Then a polytunnel! The project offers free fresh food and gardening knowledge, and, very importantly is accessible to all. The group works with people of all abilities and includes members with learning difficulties, physical difficulties, older people and others with limited means, along with local all-comers. Gardening is a very therapeutic activity, and there is always a job for every ability or need. Working together in a community group offers social support and companionship, a chance to work in a friendly accepting team, share knowledge and skills, gain self-esteem and confidence, and, encourages members to focus on their abilities, rather than our limitations.

The resultant garden not only produces an abundance of fruit and vegetables but is a thing of beauty with flowers grown alongside the edible plants. The garden operates organically and sustainably, looking after the soil by mulching, composting, using green manures and growing on raised beds. Wildlife and beneficial insects are encouraged. There is a pond and a children's garden.
Not only does the garden teach the growing of food, but the project has broadened to include cooking training to help members produce wholesome food from the products grown. All members share the produce grown, and surplus fruit is turned into jams that are sold locally to help fund the project.
Various 'offshoot' projects have developed. For example, Kate has helped local schools develop their own gardens to act as teaching aids. Kate described the joy and amazement on the face of children when they dig up a potato tuber they have planted only to find a great mass of new potatoes underneath.

Perhaps the most surprising part of the garden is the Men's Shed – literally a shed where local men can meet for a chat and a cup of tea, and to make rural crafts. Loneliness, amongst, particularly, older men is a real problem and one not easily addressed by many conventional community projects. But 'The Shed' gives men a chance to meet, talk and 'be productive'. The shed creates a range of products that are sold in aid of funds.
A truly inspiring project, and one of which Kate and the team can be justly proud. More information about the project can be had from the Petworth Community Garden website: www.growingforall.org.uk . Kate would welcome enquiries from any of our Club members who would like to become involved with the garden project, and of course all offers of financial assistance would be gratefully received!
Nigel Goodenough

Visit from Rother Valley Together

4th December 2017



On Monday Rotary Club of Midhurst and Petworth were delighted to receive a visit from Rother Valley Together, a vital local charity providing a lifeline against loneliness and isolation for elderly and disabled people in our area.

Unusually for our speakers, they came in force; their manager, Caroline Henderson, was accompanied by trustee and town council member, Margaret Guest, and by the legendary Pat Ralph, member of Rother Valley Together but also a founder member of Inner Wheel Midhurst and Petworth, and wife of one of our own founding members. Notably Pat seemed to be in almost every photograph shown during the presentation…..

Rother Valley Together arose when the County Council decided to stop their own lunch club for the elderly and disabled at the old Grange. We heard that Margaret and other notable town councillors took action to preserve such a vital service and this resulted in a 3 day per week club, run in conjunction with Age UK.

When the new Grange was built in 2012, their vital work was recognised and Rother Valley were offered a space. They decided to become their own independent charity and company, and have never looked back.

Nowadays the service is doing very well, employing a manager, 2 support workers and a driver, supported by 10 volunteers and the staff at the Grange, who cook a 2 course home made lunch for the members.

Currently they have 66 members who use the service, 38 of whom live alone, 31 of whom have mobility problems and 22 of whom need collecting from their door by specially adapted minibus. I thought that statistic really highlighted the importance of the service; without this, some of these people would never leave their homes and this is their only outing each week.

The service covers quite a wide area and they regularly travel to Petworth, Northchapel and Plaistow. As well as a good lunch and a chat, Rother Valley Together provide a wide variety of activities. Members can get as involved as they wish. Pat Ralph was described as being "a delight …… most of the time" in this context. Activities include:-

· Arts and crafts.

· Pottery on Thursdays.

· Board games.

· Bingo – 2 of the membes are actually proper bingo callers and appanrely know all the "sophisticated" bingo terminology.

· Armchair exercises and other mobility exercises to keep people moving.

· Speakers about anything and everything, from someone who has just been on an interesting holiday to someone talking about a hobby that is of interest.

They also undertake an outing, usually once per month, in their fully adapted minibus. This can include going to the cinema, going to events like Festival of Flowers, going to the Rural Life Centre and an infinite variety beyond. I was rather struck by the story of one member breaking down and saying they had not been to the cinema in 30 years, because they just could not get their on their own.

Thanks to the efforts of the trustees, Rother Valley Together's funding from the Council is relatively stable, though more cuts are coming. However, at best this only covers their day to day activities – for any new piece of equipment, or indeed replacement equipment, they have to raise the funds themselves. At the moment they are trying to raise funds to reach out more to the community including having their own gazebo to keep them dry at events, and a music system to help at their meetings (said to be very important in view of the "mixed" ability of some of the singing members).

Volunteers are a core part of the service and more volunteers are always needed, particularly for:-

· Helping out on the minibus – as well as the driver, some of the members need a lot of help getting on and off.

· Music and singing – all abilities welcome.

· Help with armchair exercises and mobility.

· Web design – their website needs an update and anyone with some skills in that direction would be welcome.

· Presenting talks – this could be on anything; perhaps an interesting holiday? Even one extremely modest and handsome local lawyer has volunteered to tell some amusing stories.

· Helping out with crafts and games.

Photos and stories show clearly a lot of laughs are involved but it is still shocking to me that such a clearly vital service is – yet again – run by a charity and significantly self funded. As such, the donation from Rotary Club of Midhurst and Petworth was extremely well received.

If anyone can help out, in any way – and we certainly have a lot to offer, in terms of interesting talks on travels etc. – just contact Caroline via their email address, rothervalleytogether@gmail.com.

Tim Melville-Walker


Monday 30th October 2017
Speaker: David Nagle - The Brooklands Museum Trust
.


At the Partners' Meeting our Speaker was David Nagle, fundraiser for Brooklands Museum Trust in Weybridge, Surrey. David gave us an in-depth talk and slide show on the history of Brooklands, built and opened in 1907 by the wealthy Hugh Locke-King and his wife Ethel. The cost was £150,000 and the circuit was two and three-quarters of a mile long.
It was a pleasure to hear a Speaker who was so knowledgeable and told us of so many "firsts": The first purpose-built motor circuit in the world led to many innovations in motoring technology, particularly in motoring endurance. Many of these records still stand. The advancement of early aviation.
The motor circuit closed at the outbreak of the Second World War in 1939 and Vickers Armstrong took over Brooklands for production of the Wellesley and Wellington bombers. In addition, 3,012 Hurricane fighters were built at Brooklands. Later BAC produced the Concorde which unfortunately became the last aviation project at Brooklands.
The Brooklands Museum is open daily between 10am and 4pm. Do go along, I'm sure you will enjoy the visit.
Antony Williams.


Monday 16th October 2017
Stuart Edwards, Principal at MRC with Pres Hazel Morley

We were privileged to be addressed by Stuart Edwards, Principal of Midhurst Rother College. Stuart began (and finished!) by thanking the Club for all the help we give to the College in many ways and he also said "Thank you "on behalf of the pupils who have benefitted.

On his first day at the College his wife told him to be "Brave, Bold and Brilliant" These are all qualities he has obviously shown in the first 14months at the College.

Stuart described some of the challenges he met in the first term which included 3 ambulance calls in a 3 week period. Work was done with both teachers and students on identifying the Values and Ethos of the College. Values were seen to be Respect, Happiness and Achievement and the New Ethos was agreed to be High standards with High Expectations, No Barriers and to Celebrate Success.

How do you measure success? The College has gone from being in the bottom 20% in the National League tables to the top 30 % which is a great achievement for all. That really is a success worth celebrating.

What impressed us all is the emphasis on developing all students. Academically, Personally and Socially aiming to equip all students for the next stage in their lives.

In summary Midhurst Rother College really is a college to be proud of by all and we wish Stuart the Teachers and Pupils continued success.
Stuart Edwards told us what he has been doing at Midhurst Rother College since he took up this position. The school has gone from strength to strength. One of the main goals at MRC is to develop every member of our community academically, personally and socially to enable them to lead happy and successful lives.
Tricia Saunders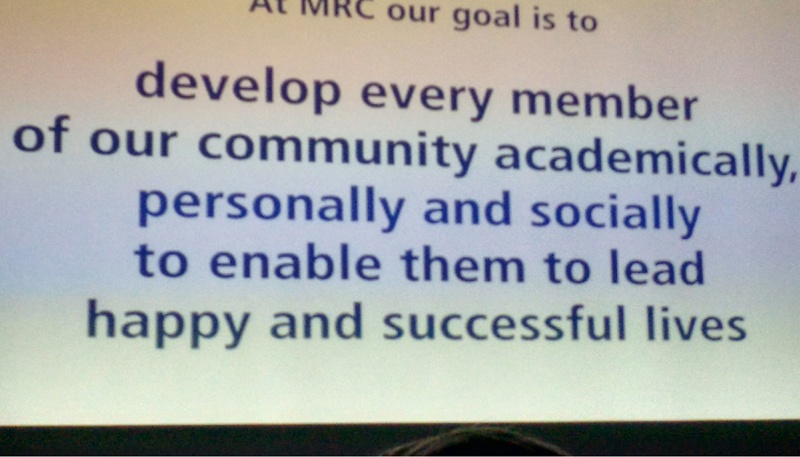 Monday 2nd October 2017 Rotarian Nallan Rangesh
Business in the Far East

Rangesh was born in Madras India and after completing a law degree he left for Singapore to set up an import/ export business. During the 1970/80's (now free from Malaysian influence) Singapore under Lee Kuan Yew's policies moved from a Third World economy to become a First World country. Entrepreneurs such as Rangesh were encouraged to trade through Singapore. He highlighted one benefits being able to switch customers from one manufacturing source to another without the end customer having contact or knowledge. This was all achieved by routing the business through the very efficient processes set up in the newly developed Singapore.
Later, Rangesh established new partnerships in South Korea manufacturing modern bus shelters incorporating adverts. He also spoke about Samsung and touch screen technology which is incorporated in many of todays' products e.g. mobile phones. In all his career Rangesh involved himself at the selling end of the business while his partner concentrated on the manufacture. Ultimately the centre of manufacturing moved to mainland China where labour costs remained lower.
Overall this was a fascinating insight on how the global economy has developed across the Asian countries and where technology opened up new opportunities for a Rotarian who has now chosen his home in Midhurst.
Rangesh was assisted by his "matchbox" sized screen projector controlled from his iPhone which produced illustrations to support his talk. Thanks to Rangesh for an insight into the world in which we live.
Robert
.
Jim Onions, District 1145 General – 18 September 2017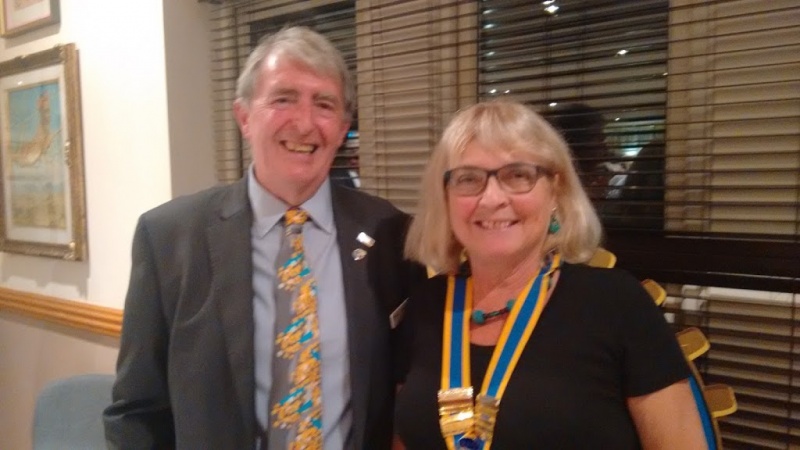 Mon 18/9/17 District 1145 Governor James Onions with President Hazel Morley
Jim Onions, District 1145 General – 18 September 2017
Jim commended Midhurst & Petworth Rotary Club on maintaining a welcoming environment and its excellent support of youth activities. However across the District he was seeking to redefine "community" as he set out a number of challenges.
His recurring theme was "multiple life styles" and he is looking as part of a three year plan to develop vertical strategies to attract new members. The new initiative has the title "Rotary2" and has the target of setting up 250 new groups. Is Midhurst & Petworth a leader or a follower? He wanted to move away from the public image of a comfortable male elite retirement club. He aims to attract younger people, more women and different ethnic groups. He wanted to use tradition to the advantage of Rotary rather than it to be a barrier to progress.
He outlined a series of initiatives across the District eg Dragon Boat Racing. He encouraged members to attend the Conference on 6-8 October 17 with the added draw of being able to dance with Strictly star Ann Widdecombe
He went onto say that Rotary is highly influential on the global scene. Going back to 1946, it helped in the drafting of the UN Charter, its CEO, John Hewco was a representative at Davos and Rotary was the third most effective charity in gaining maximum benefit from its interventions. He highlighted the initiative to provide safe water in Asia and Africa, in which Rotary has £652,000.
The international dimension was extended through his passion to support global scholars. This has provided opportunities to a variety of people including two US Peacemakers.
He returned to John Hewco to illustrate and encourage members to embrace social media and, in particular, Twitter. This argument was extended into the need by all of Rotary to work at its public image. By example, he used the "People of Action" campaign which is designed to raise the profile of Rotary in the community.
In conclusion, his commitment is to broaden the appeal of Rotary and where appropriate to achieve this through the use of modern media.
Simon Flint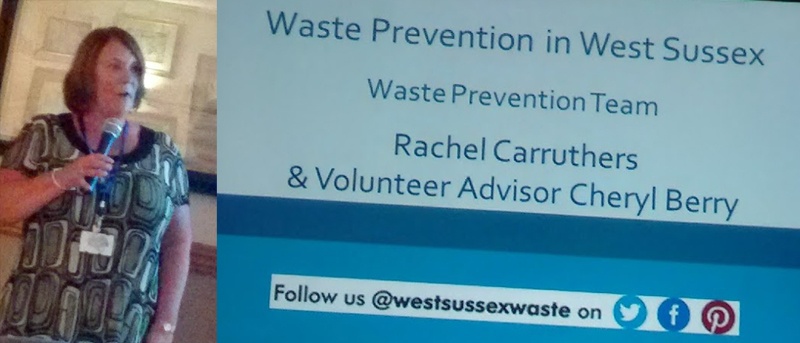 ROTARY MEETING AT COWDRAY PARK GOLF CLUB
MONDAY 4th SEPT 2017
SPEAKER RACHEL CARRUTHERS - WASTE PREVENTION IN WEST SUSSEX
Rachel really knows her stuff when it comes to types of plastics etc that can be recycled. We are lucky in West Sussex that the council has the facilities to allow for separation of their collected waste. Every distrrict has very different capabilities.Shredded paper must go in general waste as it clogs up the recycling machines.


Rotary 7thAugust 2007
Guest Speaker Ruth Flint; "Tackling Current Challenges in Health: Prevention and Treatment."
Simon's daughter Ruth was a very special guest speaker. Growing up in Midhurst, PPE at Oxford; working for PWC in Australia, and a Rotary Foundation Scholar at Harvard makes a splendid cv.

As a professional economist specialising in Health she illustrated her presentation by showing how the Melinda and Bill Gates Foundation is investing $3.8 billion per year in drug and vaccine development; and how this can be "seed corn" to Big Pharma – persuading them to produce new products for the benefit of mankind. Ruth met Bill Gates whose proudest achievement is "Polio Plus," though he said, "It is taking longer to eliminate Polio than I expected."


Currently Ruth is employed by a consultancy. In this arena, she is working to ensure that her analysis and advice enable a Clinical Commissioning Group to regain financial control of its expenditure whilst ensuring high quality clinical outcomes. Analysis of referrals, seeking agreement to process and procedures, within the financial and social constraints of the whole is a daunting task.

John Fitch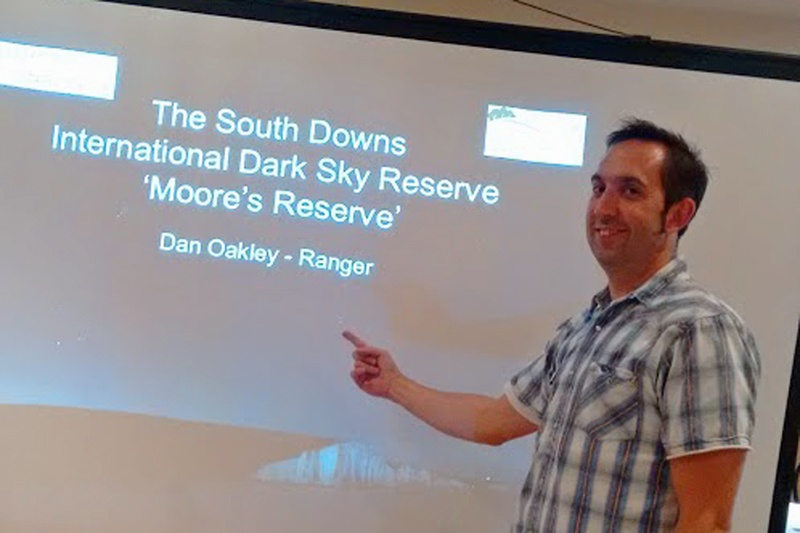 Rotary Club of Midhurst & Petworth Meeting date : July 31st 2017
Speaker : Dan Oakley – South Downs National Park Authority
Subject : South Downs Dark Skies Project
The South Downs Dark Skies Project came to fruition in 2016 when the International Dark Skies Association certified the SDNPA as an International Dark Skies Reserve following 3 years of work in measuring the extent and degree of dark skies above the National Park area. It became the fourth accredited Dark Sky National Park after Exmoor in 2011, Brecon Beacons in 2013 and Snowdonia in 2015. There are only eleven accredited areas in the entire world. It is especially significant in that the other three UK parks are largely areas with very low population densities whereas the SDNP has approximately 110K people living within its' boundary and a further 2 million within its' 5Km buffer zone.
While there are many locations in the UK which are unofficially nominated as Dark Skies Sites these are isolated areas whereas to be certificated as a Dark Skies Reserve the analysis of the measurements of the quality of the night sky must show that there exists a contiguous area meeting the official criteria. The 3 year project resulted in thousands of measurement points before the contiguous area meeting the criteria could be defined. With the need for clear skies and the rapid variability of our weather it involved many, many nights of work. Suffice to say the enthusiasm of the rangers was paramount and after accreditation they named the area as "Moore's Reserve" in tribute to Sir Patrick Moore, a similarly enthusiastic local astronomer.
With the South Downs surrounded by several large towns and cities, especially on the southern side, the biggest problem was light pollution from street lighting. Fortunately the Hampshire, East and West Sussex County Councils had adopted a plan to replace the outdated and expensive mercury discharge lighting systems, which projected a high proportion of the light upwards from high poles, with more modern installations. These used low power consumption LED lighting with variable timing on/off controls installed in modern housings and on shorter poles. These were designed to project their light downwards where it was of use and not upwards illuminating the sky. As our speaker reflected on an early television personality, namely Frankie Howard, the Councils had adopted his frequent hand gesture and saying. The timing of this change made a significant impact of the level of street lighting pollution.
As the SDNPA are the planning authority within the National Park the issue of potential light pollution from new commercial developments in respect of industrial and housing projects is in the hands of the Planning Committee and can be a constraint on planning approval. However the control of domestic lighting, ie., the post build addition of personalised security lighting, for example, is outwith their scope. This means a programme of education is necessary to ensure that this source of light pollution is kept within bounds. All lighting should therefore reflect the "Frankie Howard attitude".
What are the benefits of the Moore's Reserve? It means that if you live in or travel into the South Downs NP at night you would be able to see star filled skies, weather permitting, from most locations. You may also see the Milky Way and shooting stars. From the more remote spots within the confines of the Reserve itself, such as Iping Common, the Trundle etc, photographers can practice astrophotography without traveling to exotic locations. In short it increases the tranquillity of the Park, which was one of the original objectives in its creation.




Tony Jones
Speaker Peter Buckroyd of Farnborough Air Sciences Trust - Rotary 17th July 2014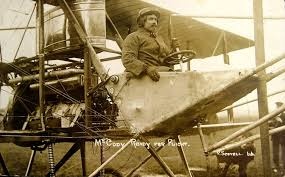 Peter, a good friend of several members, gave us a splendid illustrated history of aviation as displayed in the Museum.
The Museum records and celebrates Farnborough's central role in the UK's aviation history – from the mid-19th Century until the closure of the facility in 1993. The Grade 1 and 2* listing of the central buildings (and their three wind tunnels) prompted the setting up of the Trust (Peter is a Trustee) and the establishment of the museum.
The Royal Aircraft Establishment at Farnborough over-saw the full range of developments from the pioneer Samuel Cody; World War 1 and 2 aircraft; Whittle's jet engine; supersonic flight including Concorde; on the way it dealt with many other issues including Air Accident Investigations eg Comet. Fundamental to all of this were the Wind Tunnels.
The museum has free entry, is open at weekends and maintained solely by volunteers. There is something for all from small children to their grandparents!

John Fitch