Grand Draw 2017
Details of this year's Grand Draw and RESULTS!!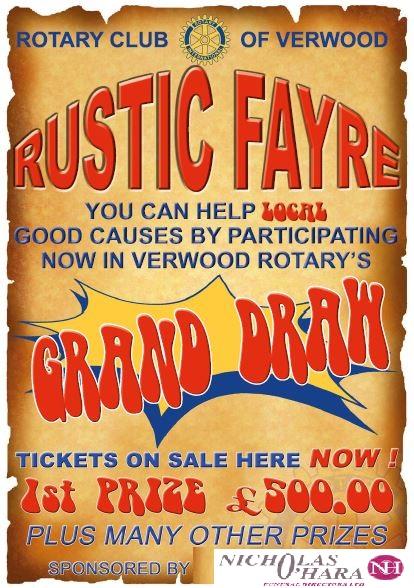 Tickets for the Rustic Fayre Grand Draw are now on sale at local outlets.

All profits go to the Rotary Trust Fund to be used to support good causes throughout the year.
Draw to take place at the Rustic Fayre on Bank Holiday Monday

    AND THE £500 WINNER WAS A VERWOOD MAN.

    OTHER PRIZES WERE - - -   £75;  MORRISONS HAMPER; M-O-T from EBBLAKE AUTOS;

£25 Voucher PETALS FLORIST; HUB CINEMA TICKETS;  JULNAILZ MANICURE;WYEVALE GARDENS Voucher

BRADFORDS TOOLS; DeLUXE WHISKEY  - - - -
Much Thanks for the generous support of our many Sponsors.