Blood Pressure Testing
Our on-going campaign to ensure Sowerby Bridge is a heart and stroke safe town!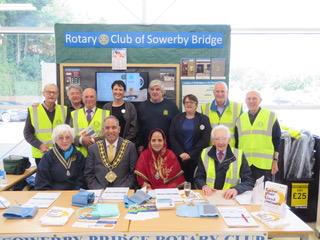 We attended Tesco Sowerby Bridge recently in our campaign to get people tested: blood pressure tested! Here's the breakdown of what happened from our roving reporter Richard Goodwin
Jul 25th - Well done to the 7 Rotarians with a terrific score of 66 Blood Pressure checks in the two hour period of 14.00 to 16.00hrs.
It was busy from the off with the expert registration procedures from Hazel and Derek with Roger red hot with others helping on the taking table.
Carolyn has obviously missed her vocation being a superb 'whipper-in', hardly accepting a NO from anyone.
Brian, our resident GP, however was disappointed in not having to refer anyone concluding that Tesco must be a far more laid back employer than Lloyds! (we have previously done blood pressure checking at Lloyds in Copley)
Everyone concluded it was a fun session.
Jul 27th - Someone once said 'I don't believe it!' Well its true............... the Thursday shift beat the Tuesday team by 5!
Yes, in two hours we took 71 blood pressure readings with this time a few more referrals to Brian but no great findings and certainly nothing found that caused him to have high blood pressure!
Good fun was had with many of the clients.
As for us, Paul excelled himself with Hazel and Jo as expert whippers-in; John as chief registrar combining with Jeff as the takers with Brian in support at busy times with his antique instrument which was an added attraction, did stirling work.
We included youngsters over about 12 as a first and it worked as a good education resource for them, entering their age manually on the register sheet.
Lloyds Chemist took an interest and are displaying a poster with all BP test dates for us and are taking Hazels display boards about the defibs to use in the chemist as community education tool at the end of the Tesco two weeks. All publicity helps!
It was tight again with 7 of us there, one member not reporting.
Jul 29th – it was torrential rain but John kept counting AND a grand total off 88 clients passed through the expert hands of the Friday evening team!! A record so far beating the 66 and 71 of previous shifts.
Yes it rained hard (that is not how some Rotarians described it!) but despite a lack of customer flow (even Tesco admitted it was quiet) the increased team of whippers-in seemed to 'click' with those they spoke with.
Families had wagers to see who had the lowest results; tattooed hairy bikers and 'others' offered themselves up meekly; elegant young ladies all seemed to be interested all falling to the magic of Ken, Ian, Jo and Hazel.
Robert (doing the same job as he is doing for the Rotary Conference) on registration coped well with help from Hazel (who adopts a duel role determined to get through a whole pad of forms (50) and as for 'takers', John seemed to attract all the younger ladies (for some reason), leaving Roger and Brian with the rest!!
Brian's mercury old style blood pressure measurer was of great interest to some younger members and Brian was busier with referrals but none of major concern, thank goodness!
We had 9 members on duty, thank you all for turning up as volunteered, we needed you and were duly sustained with Tesco coffee thanks to Jo.
August 1st - Hazel gave the news on Monday, 88 tested over the 2 to 4pm slot, equalling the Friday top score. It was a noticeably slower start than previous days with figures down in the first 30 minutes but then things really got going in earnest. The running total is now 313 tests!
Hazel in her dual role got through her whole pad again (such determination!!!) with Jo, Dave (in his first role at an event), Ken and Carolyn whipping them in at a steady rate to the tables.
Derek, Lyn (in her friends role, thanks Lyn) as takers just kept up.
Brian had more work to do as he helped take the strain of some 'normal' tests as well as those referred by the main table, thanks Brian.
It was noticeable that some folk came straight to the tables and asked to have their BP checked - word of mouth may be getting round or is it the Facebookers/tweeters that are doing their bit?
Lloyds Chemist poster and word of mouth from them may be helping as well as the piece in the Courier - who knows but it has meant that I have had to order more pads again to cope with the numbers. The Stroke Association seemed very pleased however.
August 3rd - We only made 54!
It was not from lack of trying (although we were short with one volunteer not turning up) it is a struggle with 7, but we coped!
Hazel was not able to complete a full pad - Jo and Ian were also whippers-in with Jeff, Shabir and Brian as the takers doubling up with registrations when necessary.
Tesco car park was deserted, in fact we started to pack up from 7.50pm - one theory for the slow customer flow was the ladies football; can it really make that much difference?? Anyway, good fun was had with many of the customers and we had a visit from a S/B Councillor whose picture is now on Facebook.