Good Food Matters
The speaker on 12 September 2017 was Evelyn Findlater MBE and CEO of Good Food Matters.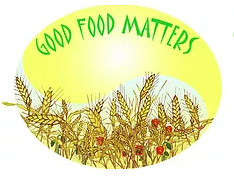 Our speaker today was Evelyn Findlater MBE, CEO of Good Food Matters. Unfortunately, she could only stay for a short time as, following a serious incident at the Centre where the head gardener was attacked, she had an appointment with the police to discuss the situation.
But before leaving, Evelyn talked about her long wish to build a community food learning centre which started to become a reality in 2013 when work began on the site in New Addington.
The Good Food Matters Community Food Learning Centre in New Addington, Croydon, London, is a 1.5 acres bio-diverse green space with a large eco-built, fully equipped, accessible to all, teaching kitchen, two large traditional, wooden traditional greenhouses and an amazing world food polytunnel. The bio-diverse area has an apiary, six bee hives, a pond and hundreds of bee and wildlife-friendly plants. The whole site is surrounded by native hedging thanks to The Woodland Trust.
The aim of the centre is to work with the community to help connect us all to the food we eat and how it is produced. Also, to empower people in the community by teaching the invaluable skills of growing and cooking with sustainably produced food and, as the centre grows, it will strive to give better access to affordable healthy produce to the local community.
Good Food Matters https://www.goodfoodmatters.org.uk/works with partner organisations, community groups, GPs, children's centres, schools, Youth Offending Services (YOS) disengaged young people not in education, employment or training (NEET), in particular children leaving care, young carers, refugees and asylum seekers, older people and people with mental and physical disabilities, including wheelchair users.
After 10 years of dedication and perseverance in establishing Good Food Matters, Evelyn was made an MBE for her services to education.
President Peter thanked Evelyn for giving up her time and said that we would be sending a donation, and Pat Painting gave the formal vote of thanks.