2017 Christmas Pudding Appeal for 'Meningitis Now' - 11 Dozen Puds Ordered! ManyThanks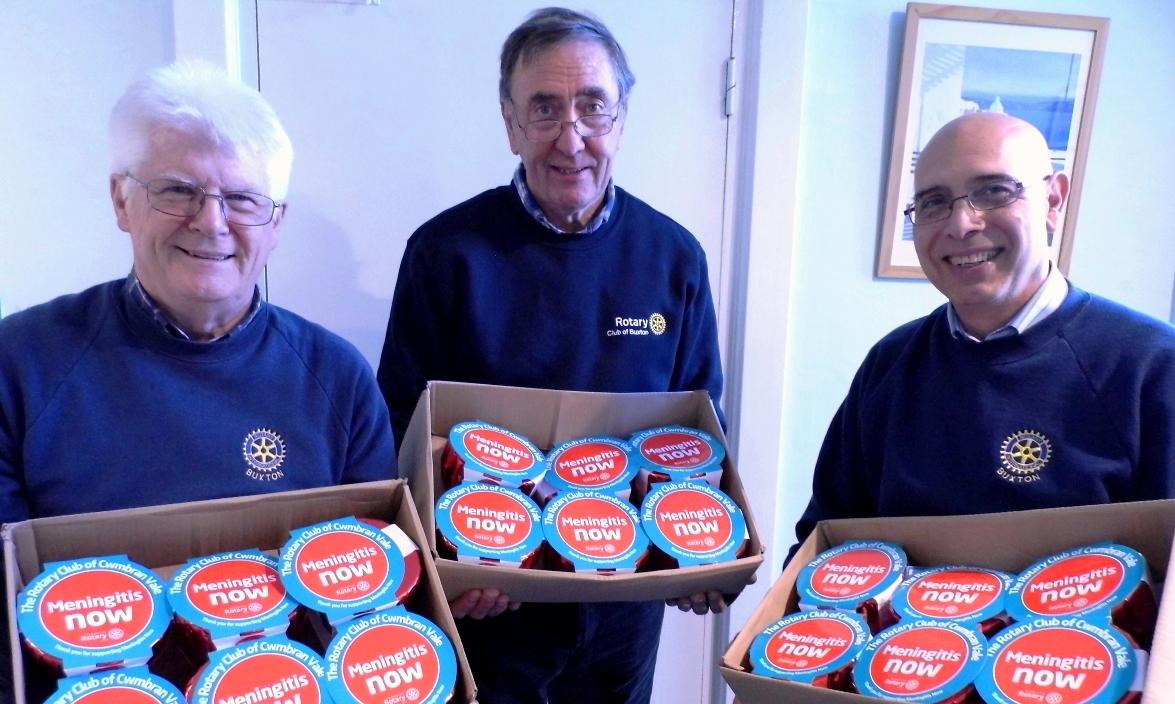 In 2014 and 2015, £24,000 was raised for the Stroke Association by this Rotary Club of Cwmbran Vale Initiative and participating Rotary Clubs. However only £5,500 was raised in 2016 for Meningitis Now - hence the 2017 Appeal is for them again.
PUDDING DELIVERY: Christmas Puddings will be delivered by early December to Buxton, Dove Holes, Chapel-en-le-Frith and Earl Sterndale addresses. Arrangements will be made with those outside these areas to collect their orders in Buxton. If you can display a POSTER that would be much appreciated.
ORDERING: Order your 908g (2 lb.) Ultimate Christmas Pudding using our ORDER FORM or just write your order and send/drop it in to Buxton Rotary c/o Buxton Podiatry Practice, 1A The Savoy, Hall Bank, Buxton, SK17 6EW. Please make cheques payable to 'Rotary Club of Buxton' and include your telephone number and email and postal addresses. You can call in to the Practice* to give your order and pay cash if you wish (*Open: Mon & Thursday 8-5; Tuesday, Wednesday & Friday 8-2; short lunch break between 1-2; t: 01298 23715).
BACS PAYMENT: Our Treasurer is willing to try BACS as an experiment. Our General Account details: Sort Code: 20-53-77 Acc. No: 00840637. As your payment identifier, please put 'PUDx' (x = no. of puddings - 1, 2 etc) plus 'your name' - e.g.'PUD3 S Claus'). IMPORTANT: Please email that same identifier with your address details and phone number to rotarypuds@gmail.com.
PROFIT: All profit from your purchase of this light, sweet (but not too sweet), luxuriously delicious, celebratory pudding goes to 'Meningitis Now'.

INGREDIENTS: Vine Fruits, free range egg, dark sugar, carrot, fresh breadcrumbs (wheat, flour water, yeast, vegetable oil, salt, spirit vinegar, soya, flour), apple flour, mixed peel, dates, brandy, sherry, cherries (natural colour), stem ginger, non hydrogenated vegetable oils, almonds, walnuts, apricots, syrup, spices, salt, preservative – potassium sorbate.

ALLERGENS: Contains egg, wheat, nuts, soya. May contain mustard. May also contain fragments of shell or kernel or small stones.
GROUP PURCHASE: If you have a group of friends to make up an order of 12 puddings (they are sold in units of a dozen) you can order direct at http://rotaryxmaspuddings.co.uk/ and pay by PayPal; free shipping is included in the £120 cost. Turnaround is usually a few working days.