Genealogy - No Ordinary Hobby - Muriel Alexander
Thu 26th October 2017 at 18.00 - 20.30
Genealogy - No Ordinary Hobby - Muriel Alexander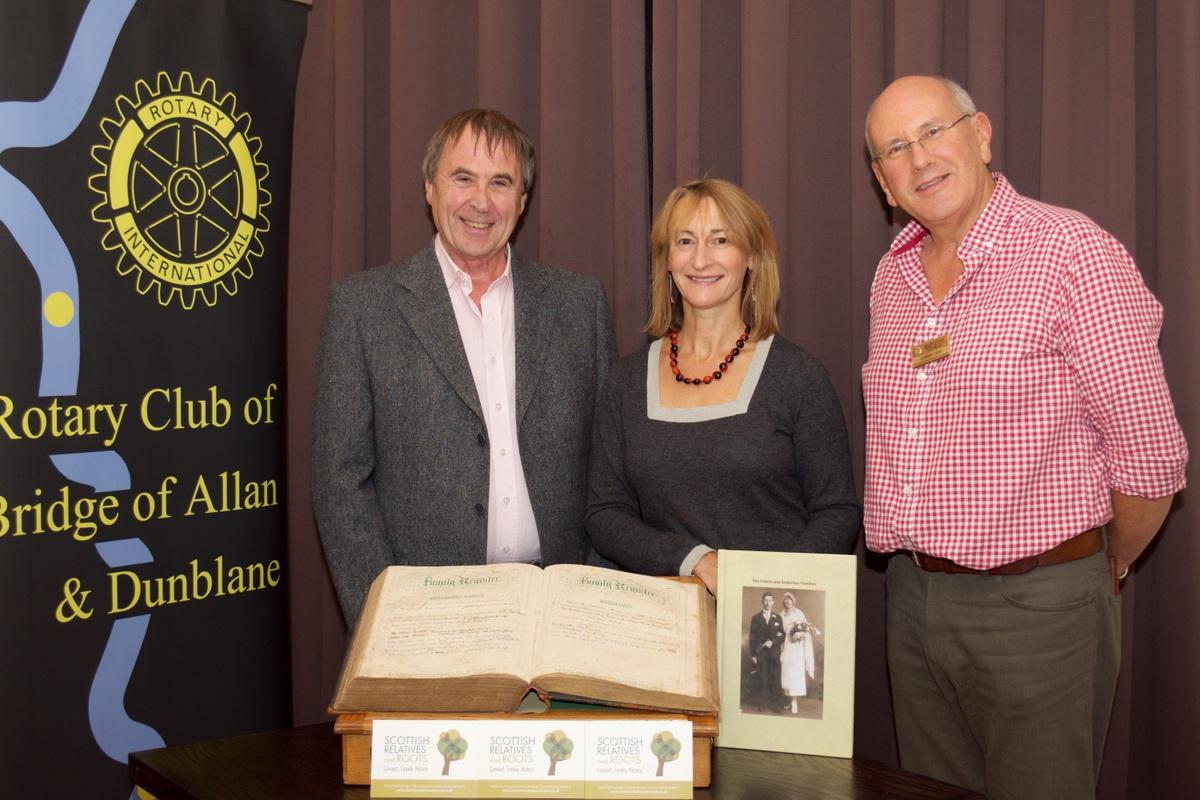 After 28 years working in Higher Education, industry and careers related organisations, I now own a small business in genealogy and family history research with a special interest in house histories and the lives of the people who lived in them. I offer an enthusiastic, thorough, professional and personalised approach to genealogical and family history research, and house history research whether clients have roots in Scotland, rest of the UK or overseas.
Further information can be found at www.scottishrelativesandroots.com or by contacting me at muriel@scottishrelativesandroots.com
Genealogy – No Ordinary Hobby
There is an increasing interest in discovering more about our family histories. This was the message from Muriel Alexander to Club members on Thursday. Muriel, who runs a genealogical business in Dunblane, suggested that the popularity of TV programmes such as Who do You Think You Are? is an obvious indication of this. Genealogy, she claimed, "is no ordinary hobby; you never know where it will take you. History remembers only the famous; our family histories take us into the lives and times of our forebears." But, she warned, it is infectious; the task of tracing the family's history can become very engrossing.
Starting on this search can seem somewhat daunting. Where to begin? Muriel's advice is that the best way to start is to tap into the information still existing in the family: the oldest relatives can start the process by leading back to great- and even great-great grandparents. Another valuable source, if available, can be the family Bible particularly if it has been handed down from generation to generation, giving the names of births, marriages and deaths. Muriel demonstrated this vividly by reference to a large Bible from her own family (see the photograph) which allowed her to reach back to family members living in the early part of the 1800s.
But if such information is not available, there is no need to despair. There now exists a considerable number of on-line sources which can be accessed, though sometimes for a fee. However, this often allows for a search extending over a day, which can reveal a great deal of information. Such sites as Scotland's People, Ancestry and Family Search are popular starting points, as are clan websites.
But many other sources are available, including the Register of Births, Marriages and Deaths in Scotland, old parish registers, the censuses from 1841 to 1911, graveyards, and old newspapers which are often held in libraries. Muriel warned that there can be pitfalls for the unwary, particularly where naming is concerned. A frequent pattern was to name the first son after the father's father, the second son after the mother's father, and the third son after the father. A similar pattern applied to girls. Hence, it is very easy to confuse one generation with another. Similarly, in records, a name can be recorded in a different way. So, Elizabeth can also be Liz or Beth, with obvious scope for confusion.
Muriel's own researches into her family history revealed some fascinating facts, including the story of her great-great grandfather, a land steward in Wales, who had been murdered by a poacher. Through her research, she was able trace the story of his life, visit his grave, and hear about his ghost which, it is claimed, still haunts the house.
Speaker's Host Billy Phillips thanked Muriel for giving a fascinating insight into this very interesting topic. Many will have been encouraged to delve into their family's past, and been helped by Muriel's advice as to how best to approach this.